Whether you use it to supplement your existing inbound marketing efforts or it makes up your entire strategy, you've probably used social media to meet your marketing objectives.
There are various social media platforms to choose from, and each comes with a user base that brings different advertising potential. Even though there are so many platforms, HubSpot marketing experts Kelly Hendrickson and Andrew Delaney don't think that you should be using all of them.
Featured Resource: Digital Advertising Training Course
Hendrickson says, "When it comes to choosing which social platforms to invest in, there's often not a one-size-fits-all answer." This is because, based on your business's buyer personas and marketing goals, certain channels will help your advertisements gain more traction, while others may not be as impactful.
This post covers six different social media platforms to give you an understanding of when you should and shouldn't elect to use them in your social media advertising strategy.
Which social networks should you advertise on?
When deciding which social networks to use, Delaney says, "It's difficult to recommend one platform or another for social advertising." It's best to take a holistic view of your needs, what the platform has to offer and go from there.
That being said, some social networks are better equipped for meeting overall marketing needs than others, and we'll discuss those below.
Facebook
Facebook has around 1.82 billion daily active users and is one of the most popular social media platforms. It is also the leading marketing platform worldwide, with 91% of B2B and 96% of B2C marketers using it for advertising and marketing.
Given this, Hendrickson says, "For better or for worse, every business needs a Facebook advertising presence." The platform has the most powerful tools for optimizing and targeting, enabling marketers to create a true buyer's journey within the platform. Hendrickson adds, "It's also a lot of bang for your buck," meaning that conversion rates on the platform are high (4.7%, to be exact).
Whether you're a software company or a clothing business, you'll likely find success on Facebook, especially if you use their ad management tool and create a Facebook marketing strategy that carefully considers your target audiences.
You can think of it like this: 15% of Facebook users use the platform to find and shop for products. Suppose you're an eCommerce business that has targeted the right audiences for your advertisements. In that case, the networks' high conversion rates say that your target market, who are already using the platform to shop, are likely to make purchases based on your ads.
Should you choose to use Facebook, you can use automation software, like Perfect Audience, to ensure that you're continuously nurturing leads and targeting the most qualified customers. Perfect Audience helps you generate lists of users on Facebook that are most likely to become customers and re-targets them for continuous influence.
If you're a HubSpot user, the tool integrates with Marketing Hub, and you can analyze campaign success and track conversions. Once you understand who your most qualified customers are, Perfect Audience helps you continuously re-target those customers to maximize your influence. The image below displays a summary of a campaign analysis on the Perfect Audience platform.
When shouldn't you advertise on Facebook?
Despite being useful for most businesses, there are still times where advertising on the platform is not as beneficial.
For example, if you don't have a deep understanding of who your target audience is, it might be best to place Facebook on the back burner until you can gain a thorough understanding of who they are. While ad targeting on Facebook is specific, and the algorithm learns from your leads over time, the process begins with a pre-existing list of groups to target.
Instagram
Instagram is a visual social media platform, favoring high-quality images and video content. The network has around 500 million daily active users, and 62.7% of its global audience are between 18-34 years old. In terms of user activity, 70% of shopping enthusiasts report using the app for product discovery.
Considering those facts, Instagram can be very profitable for B2C businesses (82% of B2C marketers are already using it), especially those that use high-quality photos and visuals to attract leads and drive conversions. Instagram has recently re-designed their mobile application to be more shopping focused than ever before, making it easier to advertise and sell products without needing customers to navigate to a website storefront.
In addition, Instagram is beneficial for eCommerce businesses as a means of customer service. Rather than having users email questions or call customer service, you can ask followers to directly message you with questions, comment on your posts, and you can even post instructional videos explaining how your products work.
So, in sum, if you're an eCommerce business that can produce high-quality visual content to attract and engage leads, Instagram is worth considering.
When shouldn't you advertise on Instagram?
Unlike Facebook, Instagram really only caters to B2C businesses. If you're a more corporate business not focused on individual consumer purchases, you'll likely have some trouble marketing on Instagram and cultivating engagement.
However, using Instagram and not producing the high-quality content that the app requires won't aid in your marketing efforts. Users on the app expect high-quality content, so having these visuals is crucial, regardless of your business type. If you don't have the time or the means, turning to a different platform will likely bring more success as you dedicate time to learn about Instagram and create high-quality visual content for future use.
Twitter
Twitter is a micro-blogging social media platform, with 330 million monthly active users and 145 million daily active users. It's popular in 20 different countries, and its users send out around 500 million tweets per day. It's also popular with businesses, as 59% of B2B marketers and 53% of B2C marketers use the platform to meet their marketing goals.
Like Facebook, the possibilities for exposure on the app are incredibly high because of user count. Hendrickson says that, because of this, "Twitter is great to build awareness for your brand and reputation as a thought leader."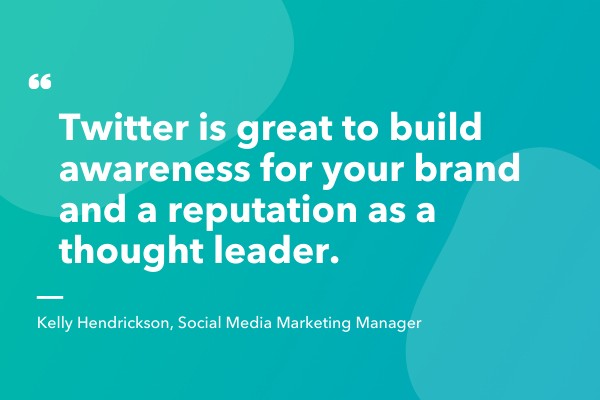 Some of Twitter's main features, like hashtags, make it easy to reach a wide variety of audiences without having to target them specifically (plus, hashtags don't come with a price tag). It's worth noting that tweets with hashtags get 100% more engagement.
In addition to organic advertising, Twitter also has targeted marketing options that allow you to promote content to your key audiences.
In short, there are a variety of businesses that can advertise on Twitter. Smaller companies that may not have a large advertising budget can use free targeting with business-related hashtags. So can larger B2B enterprise businesses (as HubSpot does) that use paid advertising. Twitter can also be beneficial for any business with a significant understanding of their customer base, as ad targeting allows you to select relevant categories and demographic groups that may become qualified leads after seeing your campaigns.
However, Twitter is not the platform that will bring in a significant amount of site traffic conversions.
When shouldn't you advertise on Twitter?
Hendrickson says, "Looking for site traffic? Twitter is probably not your friend. It's tough to ask that audience to click and leave the platform." If your overall marketing goal is to drive conversions to generate site traffic, it's best to look elsewhere for those metrics.
Even though there are ways to target specific groups through hashtags without spending money, there is only so much you can do organically on Twitter to generate consistent engagement without consistent virality. If you're a smaller business with a limited budget, relying on hashtags and mentions to advertise your business will make it challenging to hold out against larger, established businesses on the platform.
It may be best to then choose a platform that speaks more to your needs and use Twitter as a supplementary marketing channel.
Which social networks shouldn't you advertise on?
All of the above platforms work for specific advertising needs. However, marketers with different goals can still develop a presence on the app and build their strategy until they need those marketing objectives. Delaney says, "Your success on different social media platforms can vary depending on your goal or objective, as well as your industry and where your target audience spends your time."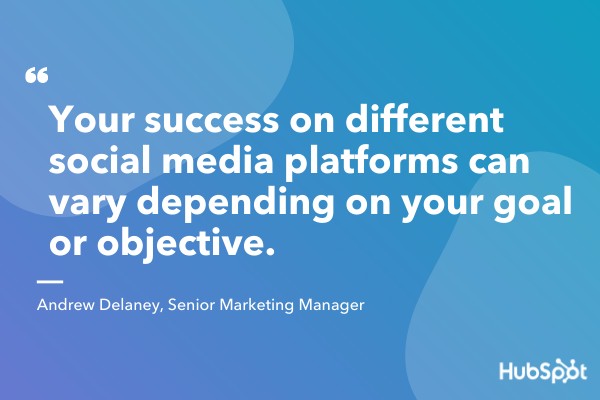 There are other social media platforms whose audience and target demographics are so specific that it will be challenging to find success without meeting their niche requirements, like LinkedIn and TikTok.
That being said, this doesn't mean that you should never consider these platforms. Instead, their user base is so niched that businesses who don't have an explicit need for what the platform has to offer likely can't make use of it.
Below, we'll go over these two platforms, what they can be used for, and give marketers an idea of when they may be able to make use of these platforms in the future.
LinkedIn
LinkedIn is a unique social media platform, catered entirely towards businesses and working professionals. Although its user base is extremely specific, LinkedIn has powerful, targeted ad capabilities that can help marketers reach over 690 million users.
The costs of running LinkedIn ad campaigns are relatively high. Still, the audiences you'll reach are higher-quality than other sites because leads are much more qualified than other social media channels. Your ads will always be seen by business-minded individuals targeted based on relevant demographic information like job title, claimed industry, and working location.
In addition to its higher costs, LinkedIn doesn't have high click-through rates (the average is .45% lower than Facebook).
Because of its exclusivity, eCommerce businesses and B2C businesses will likely have little success in their LinkedIn marketing efforts, as platform users don't browse with the intent of making purchases as they would on Instagram or Facebook, and even less than they would on Twitter.
Having said that, B2B businesses that use the platform may have something to gain.
When should you advertise on LinkedIn?
82% of B2B marketers report using LinkedIn as a means of networking and making professional connections. Whether you're hoping to raise brand awareness, get event registrations, advertise job opportunities, or recruit new employees, LinkedIn's ad manager will help you designate target audiences and draw in the leads you need.
If you're looking to advertise a new job opportunity, use LinkedIn. If you're hoping to network and grow connections in your field, use LinkedIn. If you're a recruiter, use LinkedIn. The cost of advertising on the platform pays off for those who use it because, as mentioned above, the leads are significantly more qualified than they would be if you were to advertise a job on Facebook.
If you choose to incorporate LinkedIn into your B2B marketing strategy, using a platform like RollWorks can help you track campaign success and understand if the platform is worthwhile for your marketing strategy. RollWorks will give you campaign metrics in the form of activity graphs that provide overviews of conversions, cost per click (CPC), and return on investment (ROI).
RollWorks can be integrated with HubSpot, allowing you to get an overview of your campaign success across all platforms.
Nevertheless, B2C businesses do have opportunities to use LinkedIn for a variety of different scenarios besides engagement and conversions. For example, if you're a B2C company looking to open a new storefront in an entirely different city, using LinkedIn to advertise job postings can be beneficial. The ad targeting will help you segment relevant audiences in that location and recruit professionals best suited for those positions.
TikTok
TikTok is a relatively new advertising platform for marketers to use. The company recently launched TikTok For Business, where marketers can learn about TikTok advertising and create ads that are best suited for the app.
The social media network has recently taken off and is available in 155 different countries, with over 600 million active monthly users. These users spend more time on the app than any other social media site, having an average session time of 10.85 minutes. Given this, the advertising potential on TikTok is high, especially when it comes to awareness and engagement.
TikTok, like over visual platforms, favors high-quality videos, but the preferred type of video content is different, which makes it more difficult to find success. This is because TikTok is popular among Generation Z, and most of its users are between the ages of 10 and 19. While the app can give you exposure to a younger audience than most other social media apps, this demographic is very specific in the types of content they enjoy. They shy away from 'sales-to-drive' leads promotions and prefer informal behind the scenes content ads.
They like to see a more human side of your business, like who creates the products you produce and what day-to-day looks like for your business employees. If your business is not prepared to meet these needs, it will be hard to benefit from the high engagement rates that TikTok has to offer. However, there is always room for growth and businesses to devise a marketing plan that favors TikTok preferences.
When should you use TikTok?
Businesses that will find the most success on the app are ready to, or already, create and post behind the scenes, organic content on their account. If you're a clothing company, this could look like a behind the scenes video of a photoshoot for your new clothing line.
If your brand or business is B2B focused and typically creates sales-driven formal content, utilizing the platform would require a significant amount of focus diverted to a TikTok marketing strategy to make the content it prefers. Henrickson says, "When it comes to newer or more experimental channels like TikTok, they're worth trying if you have the resources. Beating the competition to a platform and succeeding is great, but if your other tried and true channels suffer because of it, it probably isn't the right move for your brand in the long run."
That being said, if your business is looking to branch out and produce content to display a new, human side of your company, TikTok is a great place to start, especially since engagement rates are higher than Instagram and Twitter across all follower levels. Using the platform can help you diversify your content types and share a creative side of your business.
Additionally, TikTok does favor influencer marketing and influencer content. If your business already uses this type of advertising, using TikTok as a place to post this content is worth considering.
Making Your Final Decision
Choosing the platform you'll use to execute your marketing strategy depends on your overall business goals and business type. If you're consumer-purchase focused, you want to use a platform that will entice your audience to purchase your products, like high-quality Instagram photos. If you're a recruiting company, you want professionals to know that you're serious about your efforts and not running a scam, like LinkedIn job postings.
Delaney says, "I'm usually in favor of testing out various types of creative content across different objectives and audiences on multiple platforms, iterating on those results, and comparing over time." You may find that a platform you initially thought was best doesn't draw in the results you were hoping for.
If you analyze your campaign metrics and pay attention to the campaigns you run, you'll get the information you need to make educated decisions about your marketing efforts. You can determine which platform offers the best results for your business and use that to inform future media placements.