When a business offers services or products in multiple countries, its search visibility and rankings play an important role in its success. Over the years at Digitouch, my international SEO agency, we've realized that SEO strategies and services that work in one country aren't necessarily going to work in another. All strategies and services need to be done at scale, cost effectively, and with quality. Fiverr has helped us provide cost effective, scalable SEO solutions for our clients that rank them for competitive keywords globally. We started Digitotuch in Israel and have since developed a global client base over the years. Below, I'll detail how we've achieved success using Fiverr.
Our Business Secret & Why We Utilize SEO Services On Fiverr
As the head of the International SEO department and the founder of an online business brokerage company, I've come to realize that a high return on investment is the number one priority for every business. Digital marketing—especially international SEO—takes up a big chunk of that investment.
SEO is complex and expansive. To that end, I had to make a tough call when growing Digitouch. Through thorough research, I realized that outsourcing SEO, particularly from Fiverr, was the solution needed. Our International SEO agency has been using Fiverr for SEO for over a decade.
Top 4 Reasons We Use Fiverr for SEO
Here are a few of the benefits I've seen thus far.
1. Cost Effective
One of the most enticing aspects of outsourcing SEO is the cost efficiency. Fiverr's affordable SEO services have helped us increase rankings and organic traffic of our clients' businesses. Compared to the costs of maintaining an in-house SEO team, using Fiverr for SEO creates a better ROI.
2. Talented Service Providers
You can get almost any SEO service imaginable thanks to Fiverr's Sellers from all over the world. The platform has some truly talented professionals who are fluent in many different languages. When working with the right Seller, you can use their services to build strategic, robust SEO campaigns. Spotting those Sellers is easy thanks to the transparent pricing, reviews, and ratings.
3. Manageable, Large-Scale Projects
Large SEO projects can be expensive. Here at Digitouch, we manage international SEO campaigns from over 50 companies at any given period. Our secret is using Fiverr Sellers. They provide special skills on an as-needed basis, allowing our in-house team to manage our large-scale projects.
4. Quality Work Done Quickly
At Fiverr, we can easily find the right Seller to begin working on our project within minutes. There's also an around-the-clock support team available to help anytime.


How We Use Fiverr For Everyday SEO Tasks
As stated, setting and managing international strategy is an important element of our international SEO services. We work closely with business owners to understand their goals and create plans. We often use Fiverr Sellers for help with this.
Fiverr Local SEO Services
1. Local Citations
A local citation is any digital mention of a business' NAP (name, address, and phone number) in online business directories. According to a survey conducted by Moz, citations are the fifth most important ranking signal for local queries.

Local citations are useful for mainly two things:
Helping people discover businesses online
Confirming relevancy for local search queries
Every time we need to build citations for local businesses, we turn to Fiverr Sellers. There are several citations services on Fiverr that help us achieve our local SEO goals. Check them out below.
Most of these services come with:
100% manual work, NAP constant for ALL citations.
Niche-specific directory sites
All directory submission / citations from local IP address
Quick response, 24/7 lifetime support
Duplicate will check for every listing
100% customer satisfaction
Full report with login details
2. Local PR Campaigns
Good PR is an important part of any SEO strategy. It helps us get influential links, which support conversion and brand recognition. The Search Engine Journal has published a detailed article on why PR Is Crucial to SEO.
For several years now, we've been partnering with Fiverr Sellers to run PR campaigns for our clients. Those Sellers have helped us reach more people, spread news, raise awareness, or improve a brand's reputation. See below for some of the Sellers you can trust for your PR campaigns.

3. Local Keyword Research
When a business is ready to expand to new markets, it's important to start optimizing. The best way to start your expansion is through keyword research—finding terms that people use when looking for a product or service.
We hire Fiverr professionals to help us with SEO keyword research for local and international SEO. Many of these Sellers offer their services starting from as low as $5.
4. SEO Content Writing
It's no secret that content writing plays an important role in SEO. Content marketing and SEO go hand-in-hand. Whenever we have a content writing project we want done quickly and delivered remotely, we turn to Fiverr Sellers.

5. Voiceover SEO
In an era when customers use the internet to search for products and services, voiceover SEO has become an important tool for most businesses. It's the optimization of keywords, phrases, and terms for search engines using voice assistants.
Here at Digitouch, we regularly use Fiverr when outsourcing voiceover SEO services.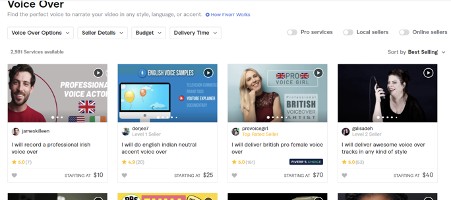 6. Technical SEO Audits
Another important aspect of an international SEO campaign is technical SEO. Technical SEO involves looking for potential issues like slow page loads, missing code, or broken links.
At Digitouch we usually hire Fiverr Sellers to conduct technical audit. Check out some of the best SEO audit Sellers below.
For Startups, SaaS Companies, & International Corporations
Besides using Fiverr for local SEO, we also use the platform to help startups and big companies achieve their business goals. Some of the ways we use Fiverr to help these businesses include:
1. Outreach for SEO
In international SEO campaigns , the primary goal of SEO outreach is to create reliable backlinks relevant to our clients' websites. These links improve organic rankings and expose our clients' businesses to new audiences, while helping raise their domain's authority.
We have an in-house team that partners with Fiverr Sellers to compile a list of smart backlink campaigns.
2. Backlinks For Global Sites & Other SEO Expertise
We have a team of link builders along with local, national, and international SEO experts based in different countries. Our link builders work to enhance search visibility while building quality backlinks specific to various markets. Example: when a client wants to increase his visibility in Germany, we contact our Fiverr SEO expert based in Germany.

Wrapping Up

We know that some SEO agencies are afraid to outsource, but Fiverr has been a lifesaving platform for us. Our advice for those who have not used the platform: search and find the best Sellers you can use longterm—especially Sellers with positive reviews and high ratings. Enjoy the extra time and SEO results!
References
https://moz.com/local-search-ranking-factors
https://www.searchenginejournal.com/pr-seo-ways-get-coverage/246037/#close
https://www.searchenginejournal.com/international-keyword-research-tools/314697/#close
https://www.socialmediatoday.com/news/the-importance-of-great-content-in-seo-infographic/544439/#:~:text=Quality%20Content%20Helps%20You%20Generate,backlinks%20from%20high%2Dauthority%20websites.&text=It%20also%20involves%20creating%20a,and%20writing%20good%20meta%20tags
The post Using Fiverr For Local and International SEO appeared first on .