Piggybacking off of news trends is a common practice called newsjacking. These are real time, quippy responses to events happening 'now,' like the famous brand campaigns created during the 2013 Super Bowl blackout, or Charmin's famous Oscar's tweet
While these instances of newsjacking were great branding plays, did they really positively affect the funnel?
There's a lot more to the news for marketers to consider than tentpole events and breaking news stories.
Long-term news trends are a reflection of our most pressing concerns and interests. Brands can and should take these into consideration when building their performance marketing strategies to ensure their marketing campaigns and content are timely, truly valuable for consumers, and impactful to their bottom line.
We've recently taken a look at insights from 1.4 billion readers across the globe and identified some of the top news topics in the past six month. We'll dive into how brands have shaped marketing campaigns in line with those trends to successfully drive leads.
Today's Top News Trends
Without question, the two news topics collecting the most eyeballs over the last six months are the US presidential election and the Coronavirus.
While these topics are important, they're not particularly surprising. We've filtered out pageviews related to those topics to uncover the specifics behind what's currently hitting close to home for consumers.
Three trends rose to the top:
Societal issues (25 billion pageviews)—specifically regarding racial justice, the Black Lives Matter movement, and when we're getting back to work. Our analysis shows 25 billion+ pageviews for these topics.
Food (16 billion pageviews)—consumers are very interested in cooking, restaurant re-openings and how COVID-19 might effect the food supply. Our analysis shows just under 16 billion pageviews for this topic.
Investing (7 billion pageviews)—the market is volatile, and consumers want to tag along for the ride. We saw just under 7 billion pageviews for investment news.
This graph shows how these trends have changed week by week.
Other top trends like government, football and crime did attract a lot of pageviews, but were short-lived. Events like the football draft, specific crime reports, and regulation changes due to COVID-19 attracted eyeballs upon announcement but didn't lead to long-term interest.
In order to create impactful marketing campaigns based on these trends you need to know why they're trending in the first place. What are the problems consumers are looking to solve, for which you could come to the rescue?
We'll break down our top three topics to provide:
The why behind these news trends—what problems are consumers looking to solve?
Examples of how brands have executed campaigns in line with news trends successfully
Data-driven insights into how you can build the most effective campaign creatives for each of these topics
Investing News Trends and Nerdwallet's Partnership with Fundrise
An analysis of finance news topics shows that when consumers are looking for advice on how to invest, they're particularly interested in which stocks to buy and which banks will give them the biggest bang for their buck.
This graph shows how particular news events like the US's re-entrance into a bull market in April and the first presidential debate in September caused a major spike in traffic. Regardless of these breaking news events, news topics in investment consistently drive between 25 and 50 million pageviews a week.
Nerdwallet pivote their traditional marketing campaigns in alignment with this trend.
Their services aren't directly related to investment. They compare credit card offers to assist consumers in making the best card choices for their wallet, and most of their performance marketing content and campaign creatives are related to credit card offers.
Their recent campaign focused on their partnership with Fundrise, a platform that allows consumers to make investments in real estate.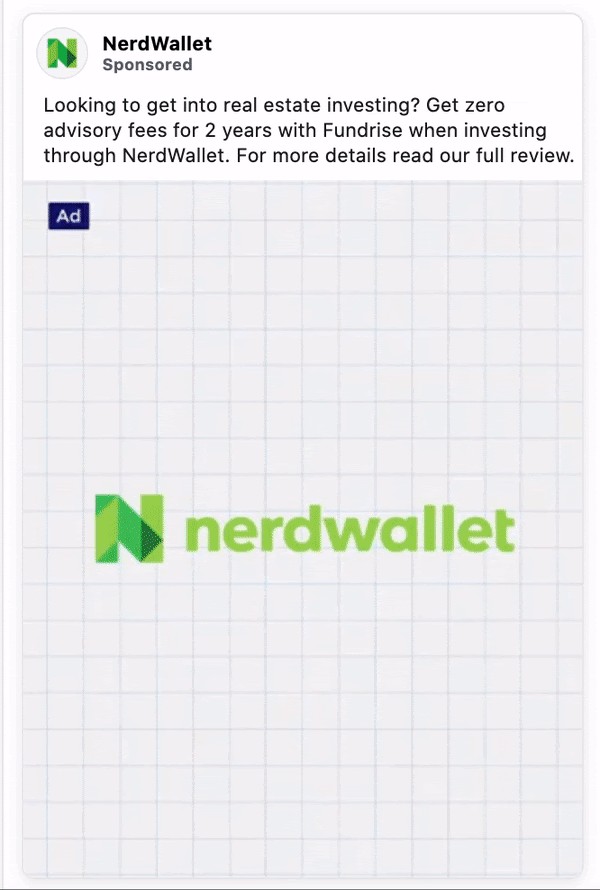 This example illustrates how a brand can take a trending news topic adjacent to their day-to-day and capitalize on consumer's current interests. They're consistently looking for advice on what investments to purchase—this is a great time to introduce a specific investment opportunity to their audience, like real estate.
If you're looking into adopting the investment news bubble as a part of your marketing strategy, there are a few creative trends to keep in mind, whether you build you content in-house or outsource it.
Finance Consumers Click on Colorful Ads with Text, and Without People
Creating a colorful ad should be your top priority when building your investment-related ad campaign.
We see colorful photos increase click-through-rates (CTRs) by 33%.
Also consider testing photos without people, or with text directly incorporated. Recent trends are showing CTRs increase by 8% and 22% respectively.


'Surprising' Trends are the Most Clickable.
The text in your campaign creatives is just as important as the image—we've found that specific keywords like 'surprising,' and 'market,' increase CTRs. These are the top keywords to think about:
Surprising (+76%)
Market (+74%)
Drivers (+66%)
Money (+26%)
Quarantine Baking and Restaurant Openings Capture Food Readership
There is a lot of interest in how to make desserts, bread, and surprisingly, chicken soup. Specific brands also saw big spikes in attention in news headlines—specifically McDonalds and Starbucks. This included McDonald's move to expand its dollar menu and how Starbucks adapted to a world with a new coffee routine.
Aside from these brand announcements, topics around desserts and baking consistently drove between 10 and 20 million pageviews a week.
Just Egg, a faux egg alternative product, saw an opportunity to make a splash in the market while we were all at home learning to bake and cook new recipes.
They announced new partnerships to increase their retail distribution by 40% in stores like Walmart, Albertsons, and Kroger; a partnership with Yelp to boost local diners; and a connected TV campaign linked with TikTok star Tabitha Brown and other influencers.
Their plan also includes digital advertising, which leaned into the baking trend by focusing on faux eggs 'hitting' recipes like quiche.
This example of a food brand leaning into a long-term news trend shows how you don't necessarily have to be in perfect alignment with a trend to be successful.
Desserts might have been the focus of the baking craze, but Just Egg found another angle that worked.
Food Readers Click on Ad Creatives that are Close-up and Indoors
When tackling the new home-cooking craze as a brand, keep in mind that people click more on close-ups of food, photographed indoors.
Photos taken close-up have the biggest CTR impact at 34%, whereas photos without people and those indoors follow behind at a 16% and 12% increase respectively.
Focus on Foods Made 'Restaurant' Style and 'Fast'
A keyword analysis of ad creatives in the food category shows that those with text including words like 'restaurant' and 'fast,' increase CTRs by up to 153%. Here are some of the top contenders.
Restaurant (+153%)
Fast (+45%)
Worst (+161%)
Store (+116%)
These keywords are also worth the mention—their impact on ad campaign CTRs is still small, but quickly rising—they're an opportunity not to miss.
Vanilla (+5% and rising)
Flavoring (+5%) and rising
When It Comes to Societal Issues, Readers Are Concerned About Racism and Getting Back to Work
George Floyd's death in late May sparked a waterfall of news coverage related to the protests that followed, and the Black Lives Matter movement as a whole. Coverage of the protests lasted through July, and in their wake, we've seen a steady 30 to 50 million pageviews a week related to the Black Lives Matter movement and topics about racism.
In terms of the volume of pageviews, the issue of when and how we'll all get back to work in the wake of the Coronavirus has also remained a steady topic on the minds of consumers, continuing to generate between 25 and 50 million pageviews a week.
Intuit's Mint.com is a free financial planning tool for consumers to track and monitor trends in their spending and expenses. In support of the Black Lives Matter movement, they started a campaign related to black businesses and finance.
This ad below specifically promoted a webinar that hosted a discussion on how to close the racial wage gap. You can watch the full video here.
This ad led to a landing page where consumers could register for the webinar, and where they were also directed to other pieces of content—blog articles and webinars—related to the campaign.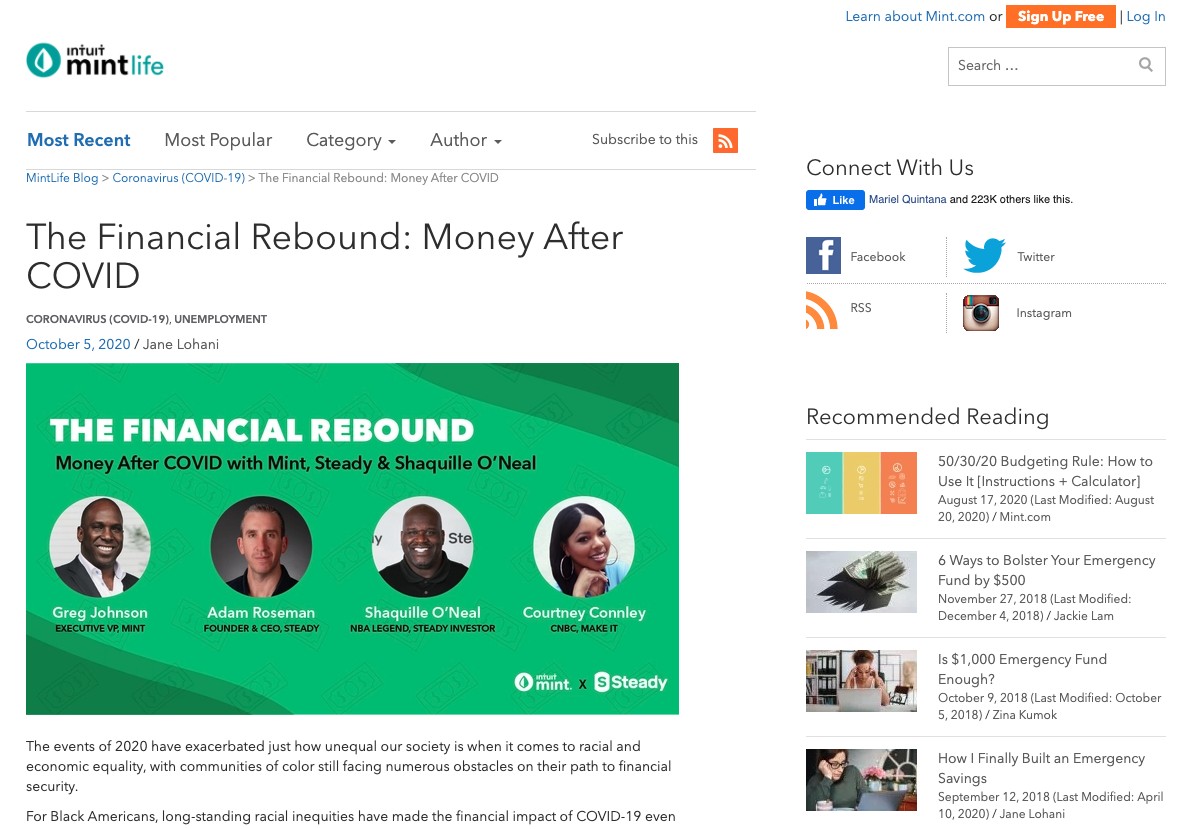 This campaign incorporated support of the Black Lives Matter movement with a topic close to Intuit's brand—closing the financial wage gap. Its success came from being structured in a way that helped to both drive leads and make an impact in an area they support.
When it comes to issues around work, Nestlé's recent campaign focused on how some of the globe, including Nestlé employees, have had to adjust to working from home. The example ad creative below specifically focused on some of the challenges parents face working from home while also caring for children.
This particular ad led to a landing page on Nestlé's Medium publication which hosted editorial content related to the topic at hand.
This campaign successfully allowed Nestlé to enter the conversation about work, while also directing people back to their brand-owned publication where they could learn more about their initiatives and products.
When Creating Campaigns in Support of General News Trends, Include Furry Friends and Test Illustrations
Marketing campaigns based on general news trends like issues of racism and work see a whopping 412% increase when they include animals.
Also consider photos in an indoor setting for a potential 189% increase in CTR, and testing illustrations for a potential 144% increase in CTR.



Words like 'Black' and 'Jobs' Are Also Increasing Campaign CTRs
Don't discount the power of direct keywords when creating campaigns that align with these news trends. Keywords like 'woman,' 'Black,' and 'salaries,' could be the key to your success. Here's their potential impact:​
Woman (+166%)
Black (+166%)
Salaries (+30%)
Pay (+18%)
Jobs (+23%)
Newsjacking can be great for a short burst of attention, but incorporating long-term news trends into your marketing strategy will bridge the gap between your brand messaging and what's ​really​ important to your audience in today's climate.
You can keep current on trends in news topics and creative insights on Taboola Trends.
The post How to Use News Trends to Positively Affect Your Funnel appeared first on .