A tv show is returning, and I am pumped. "The Umbrella Academy" is a sci-fi show based on the comic book of the same name, and it's nothing short of fantastic.
Superheroes, comedy, a talking animal, and saving the world from imploding — what more could you want?
When I first learned about the season, I was scrolling Twitter and came across the video announcement. I was stoked. A little later, I decided to check Facebook, and saw promo stills for the new season — only building my excitement.
A couple of weeks later, I saw the official trailer for the first time on Instagram, and again on YouTube. Up until that point, I'd come across promotional content from three different channels for the new season.
This rollout has become one of my favorite integrated marketing campaigns of 2020. The Netflix team is pulling out all the stops across multiple different fronts to keep users excited about the premiere.
It's working for me — I can hardly wait. And in this post, we're going to go over other integrated marketing examples that were extremely effective for them.
HubSpot's Favorite Integrated Marketing Campaigns
Integrated marketing is any marketing campaign that uses multiple channels in execution. For example, you might see a popular new donut flavor in a commercial, then drive past the donut shop to see posters of the donut. And if you flip through Instagram once you get to your destination, you might see a GIF on your feed, displaying the donut.
This style of marketing is great for boosting leads and brand awareness. Using multiple sources to deliver the same campaign diversifies the audience that interacts with its content. Let's look at some recent integrated marketing campaigns that delivered a great experience for customers and leads alike.
1. Hulu's HAHA Awards
Channels: Twitter, LinkedIn, YouTube, Website
One of my favorite integrated marketing campaigns to come along is the launch of Hulu's HAHA Awards. HAHA is a clever acronym, standing for "Hilarious Animated Hulu Awards," which I love.
Initially, I saw the commercial during a regular ad break while watching — of course — Hulu:
Because there's no awards show for animated content, the team at Hulu decided to change that — and get fans involved. Fans can vote for the awards on Twitter and Hulu's website.
I appreciate that anyone with a Twitter account can participate in voting, regardless of if they are Hulu customers. Some of the categories are popular tv shows, like Archer and Bob Burgers, so the masses can vote. Additionally, people without a Twitter or Hulu account can vote, just by visiting the website.
The tactic of using YouTube to introduce the campaign, as well as alternate methods of voting, make this campaign a chance for Hulu to delight customers and earn more quality leads from social media.
2. Victoria Monet's "Audience"
Channels: Instagram, Facebook, Billboards
For new single, "Experience," R&B singers Victoria Monet and Khalid collaborated with Spotify for a release campaign. The campaign included online and in-person marketing tactics, and is the favorite campaign of staff writer Jay Fuchs.
In Canada, there was a billboard put up in Toronto, promoting the song's Spotify release. In response, Monet posted a picture on Instagram to share with her fans and promote the single:
The use of online and in-person marketing methods makes this integrated campaign one that can be seen by eyes from anywhere. From the billboard in Canada, to international Facebook and Instagram fans, the release of "Experience" was anticipated globally. In fact, in one month, the single has become Monet's most popular song on the streaming service.
3. Gillette, "The Best Men Can Be"
Channels: Website, YouTube
"In 2019, Gillette launched their campaign, "The Best Men Can Be". The campaign included an inspiring video, a landing page that celebrates male advocates and leaders in the community, and a hashtag, #thebestmencanbe, to encourage user participation across social channels," says HubSpot's Marketing Blog Editor, Caroline Forsey.
"The campaign, created in response to the #metoo movement, urged men to hold themselves to a higher standard," says Forsey. In the corresponding ad for the movement, viewers are shown hypothetical real-life instances of men stepping in to be themselves, and making positive change in their community. To heighten awareness of the movement, the landing page highlights real accounts of men upholding the hashtag Gillette created.
"While the campaign received some backlash from both stakeholders and consumers, I think it was worth the price because it redefined the shaving brand as a relevant, values-oriented brand. For me personally, I shared the ad with all my male friends and family members, and it sparked a discussion — which, really, is what marketing is all about," Forsey commented.
Gillette's tactic of getting their customers involved proved to be successful in the moment and long-term. Discussions, like the one Forsey had with males in her life, were happening nationwide; In fact, my university class had one about the campaign. This integrated campaign, boosted by real accounts, was proven to be not only successful, but valuable.
4. REI, #RecreateResponsibly
Channels: Website, Instagram
Outdoor activity is at the core of REI's products. REI sells camping essentials, such as tents, clothes, and insulated containers. In 2020, REI partnered with several groups in Washington state that aim to preserve wildlife and nature, making it the favorite campaign of service blog manager, Clint Fontanella.
Outdoor Alliance, The Outdoor Industry Association, and national parks came together for the #RecreateResponsibly campaign. The point of which was to educate the public about how to stay safe when venturing outdoors, with the main content player being graphics similar to the one below: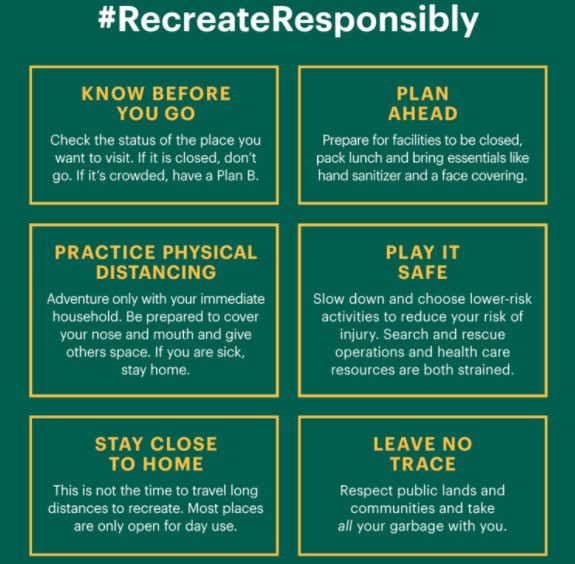 This graphic was shared on social media to spread awareness of tips to responsibly venture outdoors to avoid health concerns. #RecreateResponsibly's hashtag asks followers to share the tips in real life situations, shared by REI's Instagram.
With the hashtag and partnerships, the campaign is also boosted by related blog posts on REI's website. Posts like this one offer ways to stay safe while traveling.
The hashtag has been used by The National Park Service, Colorado Parks and Wildlife, and Los Angeles National Forest, and brings awareness to large audiences. The partnerships and REI's content share an educational message and an interactive component — making this campaign diverse and engaging.
5. Melt Cosmetics, "She's in Parties"
Channels: Website, Instagram, Facebook
"She's in Parties" is the name of an eyeshadow palette from Melt Cosmetics. Says staff writer Rebecca Riserbato, "The purple palette sparked a hashtag of the same name on Instagram. On the landing page for the collection, there's a section dedicated to Instagram posts with the hashtag."
The campaign inspired a purple theme, which took over the company's Facebook and Instagram accounts. Along with this social media content, influencers who were sent the palette began to upload their reviews on YouTube.
For this launch, a variety of social tactics were used. A matching social campaign, user-generated hashtag, YouTube recommendations, and a revolving landing page were all contributions to where the campaign was distributed. When you know where your audience spends their time, like the team at Melt, you can reach them with a diverse, omnichannel strategy.
6. Brew Dr. Kombucha, "Love Wins"
Channels: Website, Instagram
"In May 2020, Brew Dr. Kombucha released its signature kombucha with limited-edition colorful, rainbow-wrapping for Pride Month," Forsey recalls. "The wrapping has the lifeline number to The Trevor Project printed directly on it — the company partnered with The Trevor Project and supports the organization through proceeds of its limited-edition kombucha."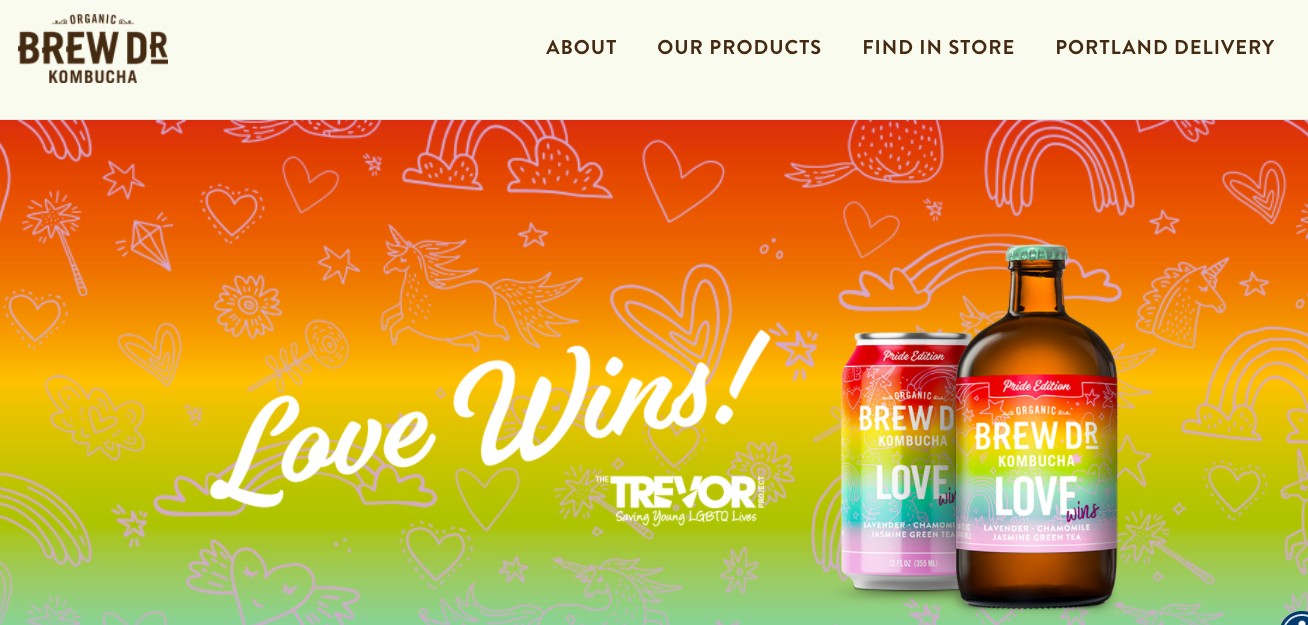 "Along with the limited-edition wrapping, the company created a dedicated landing page for #LoveWins, and supported Pride Month with the #LoveWins hashtag across its social channels."
Forsey continues, "Ultimately, I chose this campaign as one of my favorite integrated campaigns of 2020 because I was inspired to see this brand uplift and inspire communities while giving proceeds back to an incredibly worthy cause."
The brand chose a social movement that was important to them, Pride, and celebrated it with this integrated campaign. This tactic brings awareness to a social cause, a respected organization, and enhances a celebration.
7. The New York Times, "The Truth Is Hard"
Channels: Commercial, Facebook, Billboard
In early 2018, newspaper The New York Times was struggling. With dwindling subscriptions and dwindling trust in the news from the general public, the team behind the famous publication had to figure out how to build widespread trust.
That's where "The Truth Is Hard" came in — It was a campaign designed to offer transparency. "I think the best advertising not only gets you to pause and pay attention in the moment, but also encourages the viewer to take action and learn more after the fact," says Alicia Collins, senior brand manager.
"The New York Times' 'The Truth Is Hard' campaign does that. It tells a clear and impactful story, and demonstrates the value and importance of journalism right away."
Following a tribute to journalism at the 2018 Oscars, the campaign began. The Times aired a minimalist film to display the clarity of newsprint, and challenged viewers to think about what truth means to them.
Refugee crises, sickness, and wars — the second phase dove deep into conveying what journalists endure in order to deliver the most accurate coverage. And, with a paid media campaign on Facebook, Twitter, and Instagram, all of this content was broadcasted for the world to see.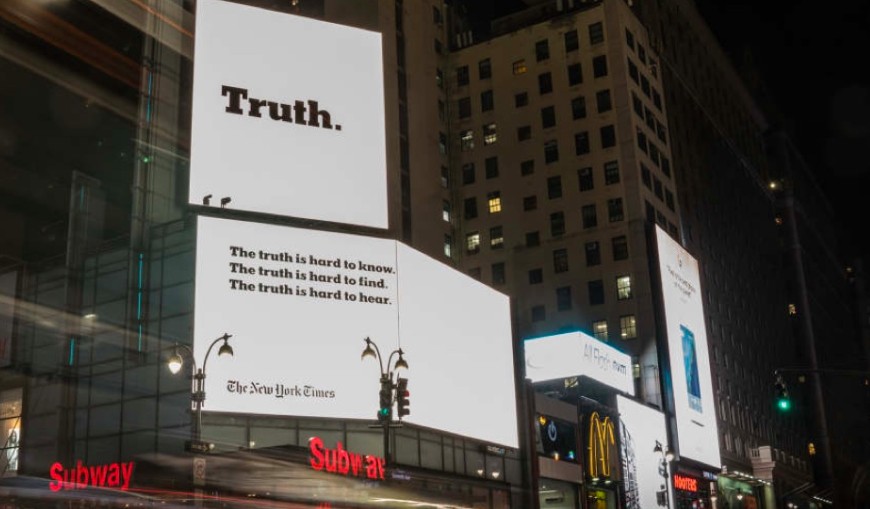 This campaign earned the Times their highest number of new subscriptions since the paywall started, increasing signups by 100%. The multiple channels used by the news source to restore their image to the public worked, and made this integrated campaign a win.
I'll have to wait a few more weeks to see the return of The Umbrella Academy. I'm sure until then, I'll see more diverse social media content. In the meantime, what are some of your favorite integrated marketing campaigns — did they make the list?