I don't know about you, but I miss taking classes. I miss taking notes, studying, and most of all, learning a ton of new skills.
That's not to say I don't learn a lot on the job here at HubSpot -- because I absolutely do. But sometimes, there's nothing quite like listening to a lecture, taking notes, and doing homework.
Given the frequency at which new technologies and software are developed, it can be overwhelming to try to keep up your knowledge by only reading blog posts and ebooks. That's where self-paced online learning comes in.
I've taken a few awesome courses and certifications through HubSpot Academy, including an inbound marketing certification and a content marketing certification. These classes helped me be better at my job, so I started making a list of other classes I could take to learn more skills. When I finished the list, I realized that you, dear readers, might have similar skill gaps, so I wanted to share it in a blog post.
Below is a long list of free online courses you can take to beef up your skill set. These offerings vary in time commitment, but many are self-paced so you can work on your own schedule. The topics these courses cover include:
Content Marketing
Social Media Marketing
SEO Marketing
Email Marketing
Other Digital Marketing Courses
Want to learn more about brands and organizations that offer the courses on the list below? Scroll to the end of this post, or click here, to jump to a section on where to find affordable online marketing courses.
Free Online Marketing Courses
Inbound Marketing Certification -- HubSpot Academy
Content Marketing Certification -- HubSpot Academy
Internet Marketing for Smart People -- Copyblogger
Viral Marketing and How to Craft Contagious Content -- Coursera
The Strategy of Content Marketing -- Coursera
Copywriting Blunders: Do You Make these 10 Common Mistakes? -- Udemy
Content Marketing for B2B Enterprises -- Udemy
Content Marketing -- QuickSprout
Social Media Certification -- HubSpot Academy
Developing an End-to-End Instagram Marketing Strategy For Your Business - HubSpot Academy
Social Media Marketing -- edX
Diploma in Social Media Marketing -- ALISON
Blueprint -- Facebook
Social Media Analytics -- quintly
Social Media Week of Webinars -- Buffer
Digital Marketing Course -- Google
SEO Training Course -- HubSpot Academy
SEO Training Course by Moz -- Udemy
Advanced SEO: Tactics and Strategy -- Udemy
SEO -- Quicksprout
Email Marketing Certification -- HubSpot Academy
Email Marketing -- QuickSprout
Make a Website -- Codeacademy
Learn Javascript -- Codeacademy
Learn Ruby -- Codeacademy
Learn Python -- Codeacademy
Learn HTML & CSS -- Codeacademy
Learn to Code Awesome Websites -- General Assembly
What Digital Advertising Is & How to Do It - HubSpot Academy
Paid Advertising - QuickSprout
Creativity - Canva
Wordstream PPC University
Photoshop 2020: One-on-One Fundamentals - LinkedIn Learning
InDesign 2020: Essential Training - LinkedIn Learning
Content Marketing Courses
Social Media Marketing Courses
HubSpot Academy's free online Social Media Certification offers eight lessons -- from developing a social media strategy, to social media listening and moderating, to content strategy, digital advertising, and crisis communications. You'll learn how to build an inbound social media strategy that delights your customers and grows your bottom line.
SEO Marketing Courses
Email Marketing
Web Development and Site Design
Other Digital Marketing Courses
Where to Find Free or Affordable Courses
HubSpot Academy
HubSpot Academy offers certification and training courses to teach people how inbound marketing and HubSpot software work. Classes are often taught by marketers at HubSpot and are made up of video lessons, quizzes, and tests. Most HubSpot Academy classes are available free of charge, and if you pass the certifications, such as the two below, you get a nifty certificate and badge to share on your social media profiles. Check out mine on LinkedIn:
Copyblogger
Copyblogger is a content marketing company that creates content about content (so meta). Its blog provides a ton of great resources about digital marketing, and this class, "Internet Marketing for Smart People," is made up of ebooks and emailed lessons and other course materials. Copyblogger espouses four pillars of content marketing success, which it delves into over the course of this class.
Coursera
Coursera offers MOOCs (massive online open courses) created and taught online by universities such as Northwestern University, the University of Pennsylvania, and the University of California system. These courses start at various times throughout the year, so browse the catalog to see when one lines up with your schedule. Below are a couple courses that are perfect for content marketers -- here's what a module for #4 looks like: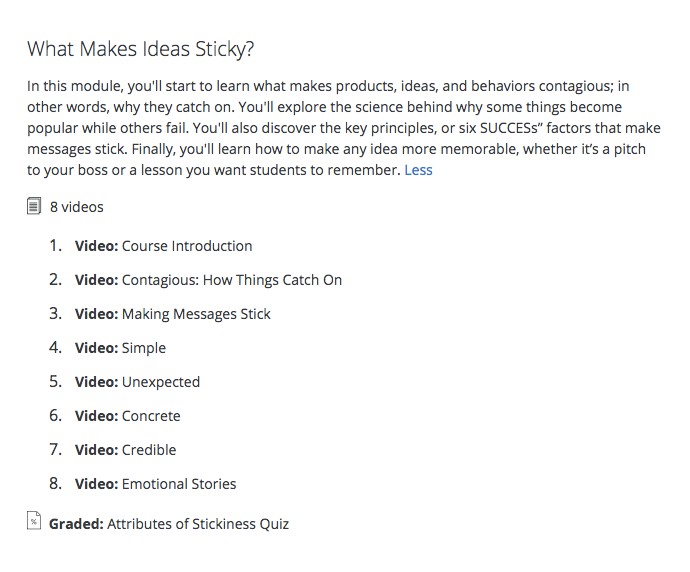 QuickSprout
QuickSprout is Neil Patel's content and business marketing blog, and QuickSprout University features a ton of helpful videos breaking down and explaining a myriad of concepts and best practices. Each video also includes a transcript in case reading is more your learning style than watching a video. Here's what one course video looks like:
Udemy
Udemy is another online learning platform that focuses specifically on courses related to skill building for working professionals. One thing to note about Udemy: The classes we've highlighted are free, but it offers a myriad of other paid options for as little as $10, in some cases. If you have a good experience with a free course, it could be worth a small investment to deepen your skills, too.
Wordstream
Wordstream is a search engine and social media marketing software company that helps marketers drive the greatest ROI from their paid search and social media campaigns. These free guides and ebooks distill learnings and best practices for users with varying levels of expertise running pay-per-click (PPC) campaigns. Here are some of its topics and offerings:
edX
edX is another MOOC provider that features courses offered by top-tier universities, including Harvard University, Massachusetts Institute of Technology, and Boston University. Like Coursera, classes are taught online and start at specific times throughout the year. Here's a class we think you'll find valuable:
ALISON
ALISON offers free online classes in various professional skills users can take at their own pace. In the Diploma in Social Media Marketing course below, students can get into the nitty-gritty and big picture views of different skills of different topics -- just check out one of the many modules:

Facebook
At this point, you probably already know what Facebook is and what it does. What you might not know? It has a training and certification program. Facebook Blueprint offers self-paced and live e-learning courses for marketers seeking to grow their organizations using Facebook. Blueprint offers classes in different languages on how to use Facebook and Instagram -- here's a peek at the course catalog.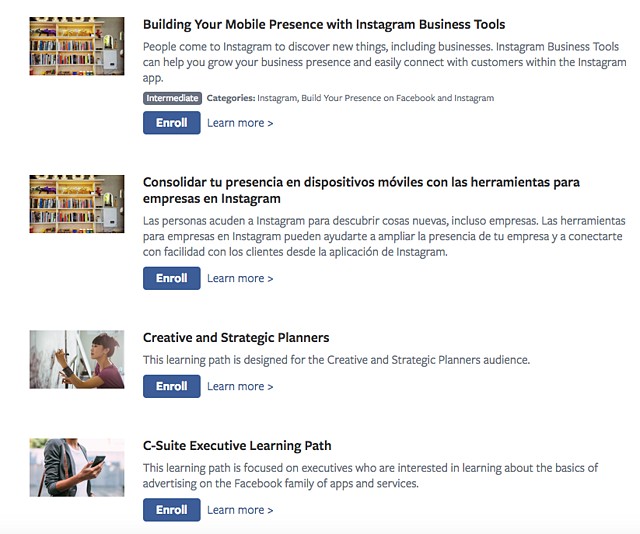 quintly
quintly is a social media analytics tool that offers courses through quintly Academy. The self-paced course provides an overview of social media analytics, benchmarking, and goaling using downloadable written materials and video lessons.
Buffer
Buffer's Social Media Week of Webinars isn't exactly a course -- it's a series of live webinar recordings on YouTube -- but the videos are chock-full of current and valuable information for social media marketers from the experts. Topics include Instagram and Facebook marketing and how to do public relations on social media.
Google
Google is another company you've probably heard of before, and its digital marketing course offers a ton of valuable information if you plan to advertise and rank on the search engine. You can even take a Google AdWords certification at the end of the process that helps you beef up your resume (and your Google+ profile).
CodeAcademy
CodeAcademy offers free, interactive coding classes that take you from lesson one to building a fully-functioning website. The courses we've highlighted below are just a few of the courses; CodeAcademy offers many more, depending on your organization's needs. CodeAcademy classes feature lectures and a workspace in the same browser window so you can see the effect of your work live, as it's created.
General Assembly
General Assembly offers live and online paid and free courses for a variety of technical skills and disciplines. General Assembly's Dash offers a free online coding class that teaches the fundamentals of HTML5, CSS3, and Javascript -- watch the course overview below:
Canva
Canva helps people easily make beautiful images for web design, and Canva Learn offers design courses that are valuable for any kind of storyteller. The Creativity course explores the challenges of constant creation and innovation and how to do it well -- with visuals, of course.
Editor's Note: This blog post was originally published in May 2018, but was updated in June 2020 for comprehensiveness and freshness.