Pre-pandemic, it was relatively easy to keep tight boundaries between our personal and professional lives.
But in a post-pandemic world, things have shifted. Now, people have their dogs or children in the background during Zoom calls. Others have yoga breaks and book clubs blocked into their work calendars.
Companies have also put a bigger focus on their employees' mental and physical health: For instance, HubSpot began offering its employees access to mental health tool Modern Health, as well as an employee discount for the Headspace app.
All of which is to say: The workplace has changed, and whether people work from home or return to the office, they're going to want — and expect — the freedom of bringing their full selves to work.
Here, I sat down with Krystal Lamoureux, VP of Customer Success at Credly, to learn her leadership tips for encouraging employees to bring their full selves to work. Let's dive in.
What It Means to Bring Your Whole Self to Work, and Why It Matters
For starters, I asked Lamoureux what it means to bring her 'full self' to work.
She told me, "I think the pandemic has helped me realize that being a professional does not mean I have to check my personal life at the door. It forced me to shrink everything about me to fit inside the four walls of my home. Suddenly work, school, and play were all occurring in the same place and at the same time. Pre-pandemic, my kids went to school and I commuted to the office. Somewhere in the car post-drop off, I switched from mom to professional."
Lamoureux adds, "When the pandemic hit, I no longer had the option to segment my day or attention the way I used to and, as a result, the way I work has changed (for the better). Not only has my wardrobe shifted to more casual options (leggings, yoga pants, and hoodies for the most part), but I've also adjusted when and how I work."
Research has shown tremendous benefits to authenticity in the workplace, both for individuals and for organizations at-large. For instance, Simmons University Institute for Inclusive Leadership's 2021 Leadership Development Survey found people who behaved authentically at work felt more confident, more deeply engaged, and happier.
Additionally, respondents said being authentic enabled them to build stronger coworker relationships, and roughly half even said authenticity made them "more able to do their best work" in the office.
Authenticity in the workplace can't happen without psychological safety, but it's a critical component for happy, healthy employees. Additionally, it's simply a good business practice to foster authenticity in the workplace, since people who feel they can bring their full selves to work ultimately connect more deeply and fully with their team — leading to lower turnover rates and higher engagement.
As Lamoureux puts it: Our personalities, experiences, likes and dislikes, and goals and aspirations all join together to form the person who shows up for work every day anyway.
"Bringing our whole selves to work creates a much richer, more authentic product for everyone involved. Allowing people to bring their whole selves to work creates a more authentic, happier work life."
So — what does authenticity look like in practice?
Lamoureux told me, "I don't have a dedicated office space in my home, but I usually set up shop at the dining room table where I have a tidy background for video calls. When I'm chatting with my team, I'll move to my couch to snuggle with my pup. Our CEO often encourages us to turn our cameras off and walk around during calls to avoid Zoom-fatigue. Knowing that I'm not always expected to be on-camera allows me flexibility to tend to laundry while I participate in a meeting."
Aspects of Lamoureux's life outside of work — her dining room, her puppy, and her laundry — will inevitably mingle with Lamoureux's work, and she's okay with that.
As she puts it, "Am I always at my desk? No. Am I still working and being productive? Yes. Do I have a better work-life balance? Absolutely."
In terms of leadership, there's a delicate balance between encouraging authenticity and expecting your employees to deliver results, but with empathy and trust, you can find a way to accomplish both.
Lamoureux told me, "I expect my team to be responsible, responsive, and complete what needs to be completed. I also expect them to take care of their family obligations and their health. We do a work-life blend at Credly — meaning there will be times we are online shopping for new shoes on Tuesday at 3 p.m. (and getting opinions from coworkers), and other times when we're answering emails at 9 p.m. on a Thursday. The bottom line is that I want them to set healthy boundaries because it's necessary for us all to do good work."
How can you encourage authenticity in the workplace?
Creating fun ways for employees to interact with one another that isn't work-related is an effective starting point for encouraging authenticity.
At Credly, Lamoureux's team has coffee breaks and book clubs to connect with one another and learn more about each other as full human beings.
Coffee Breaks: We have a weekly coffee break with only one rule: no work allowed. Sometimes, we incorporate a theme into our coffee breaks encouraging people to dress up or bring something to share. It allows us to show bits of ourselves in a fun way. We've learned so much about one another from these casual conversations.
Book Club: we generally read 2-3 books per year as a team. Sometimes, they are work-related, but sometimes they aren't. We've had such deep, rich discussions in those book club meetings!
Additionally, one of the most effective and simple ways to encourage authenticity is to lead by example. The more authentic you can be as a leader, the more you're giving employees permission to do the same.
How do businesses fail when it comes to creating an authentic culture?
Finally, I asked Lamoureux how she feels most businesses fail when it comes to authenticity.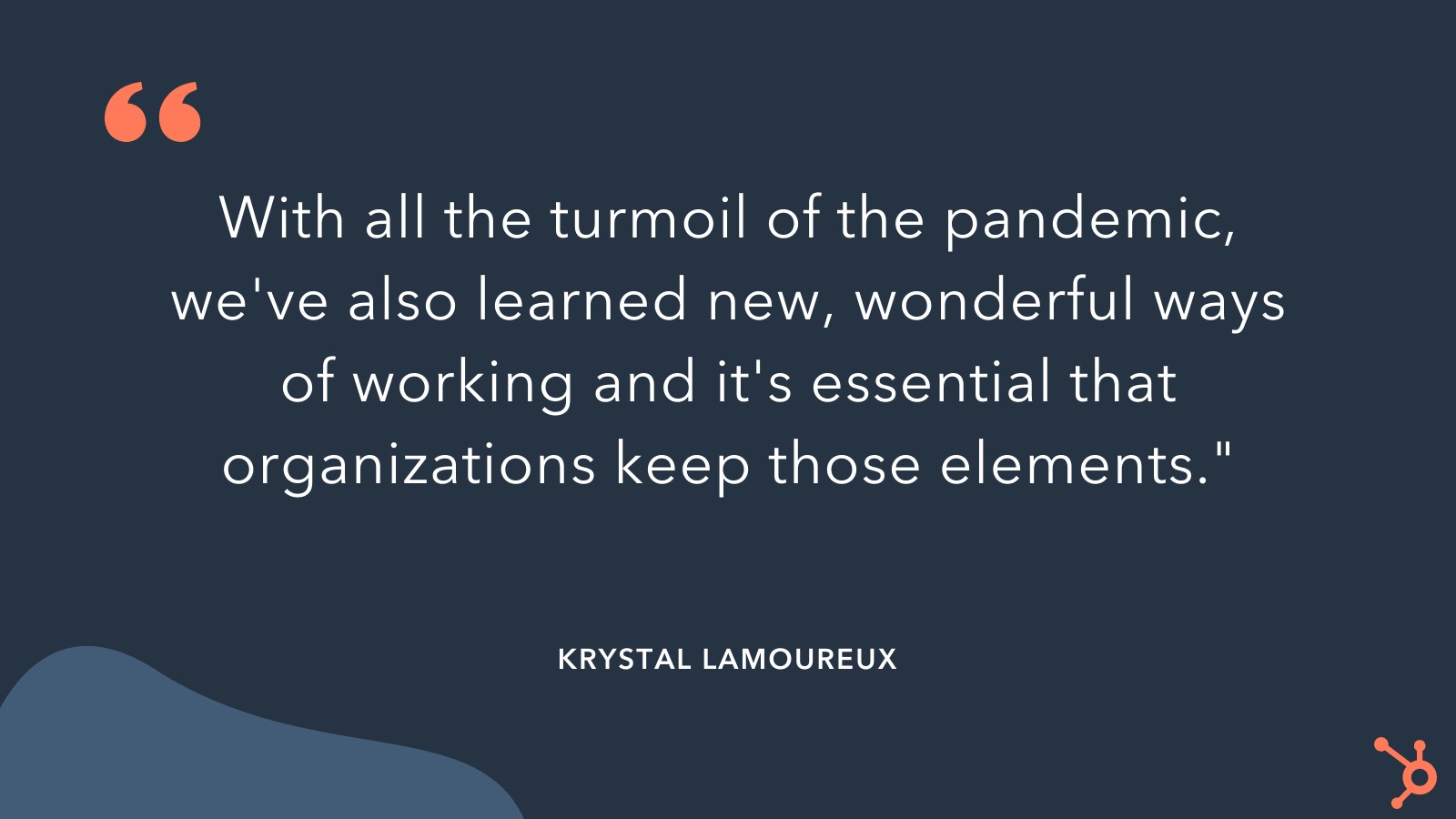 She told me, "I think most businesses want the best for their employees but are afraid to reset what a productive, professional environment looks like. Our world of work isn't what it was two years ago, and as the world opens up again and employees return to offices, I think it could be tempting for business leaders to try to function the same way they did pre-pandemic."
"It's the baseline for 'normal' — how things used to be. But with all the turmoil of the pandemic, we've also learned new, wonderful ways of working and it's essential that organizations keep those elements."
Ultimately, it's critical your team learns how to pivot and meet the needs of each employee today. Perhaps those needs have changed as a result of the pandemic; or, maybe the pandemic simply brought them to light. Either way, to increase the satisfaction, engagement, and happiness of your employees, it's vital you encourage and foster authenticity.