Online communities are internet groups where people with shared interests interact, have discussions, and form relationships.
According to HubSpot's State of Consumer Trends Report, 24% of social media users have actively participated in an online community in the last three months.
This post will delve into why consumers join online communities, the benefits they get from participating in them, and what this means for marketers.
Why Consumers Participate in Online Communities
The HubSpot Blog's Consumer Trends Report surveyed over 1000+ consumers and asked them why they join online communities. The top reasons were for fun, to share their same interests with others, and to stay connected with their communities.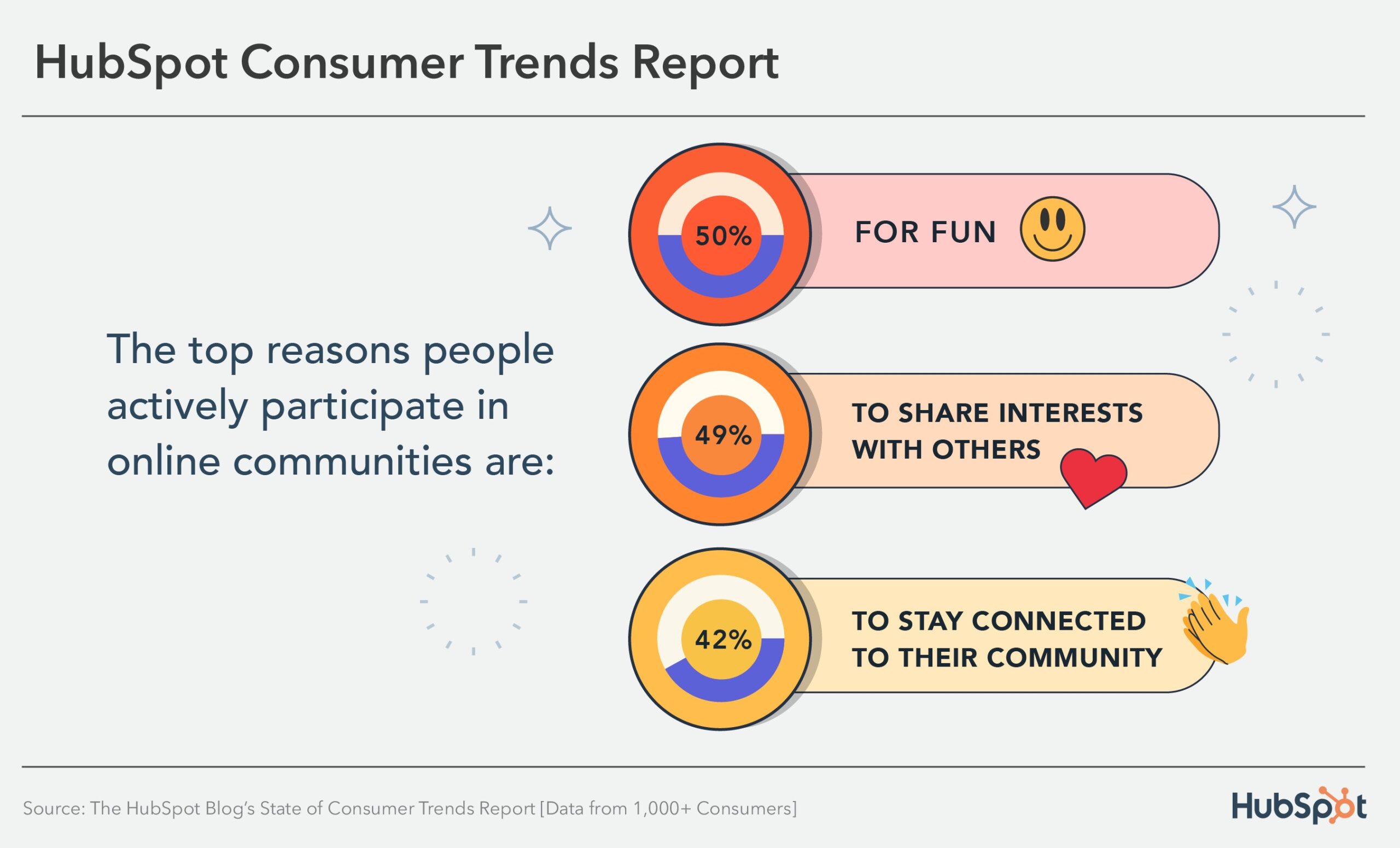 Online communities are especially impactful for Gen Z, who value in-the-moment connection. In the past three months, 22% of Gen Z have joined an online community, and 36% of Gen Z actively participated in an online community (higher than any other generation).
Christina Garnett, Senior Marketing Manager, Offline Community & Advocacy, says a draw to online communities is that they remove the friction that can come from in-person communities, as people around the world can connect with others without needing to travel to different locations.
She says that with the advent of smartphones, online communities become "'In your pocket' or 'turn on your laptop' communities where the only thing you need to feel connected to others is an internet connection." Access can be as simple as tapping an app on a phone or clicking on a bookmarked website instead of traveling elsewhere, so the appeal increases.
The HubSpot report also asked consumers the most significant benefits they get from participating in online communities, and they said learning new things, gaining new ideas and inspiration, and being able to meet and interact with others with similar interests.
Garnett adds, "The ability to connect without travel or without a sense of forced communication means that not only can people around the world connect with others, but that those who are more introverted are able to participate in the ways where they are most comfortable instead of feeling forced to go to events and have small talk in order to feel like a member."
Takeaways for Marketers
There are two types of communities consumers can join: user-built communities, where a consumer creates or joins a community around an interest, like a Reddit board or subreddit, or a community built by a brand or business, like a branded Discord server or Facebook Group.
Even though businesses can only own one type of community, you can leverage both to understand your audience's likes and dislikes, what they talk about, and even how they talk about your business.
For example, you can use social listening to see how consumers are talking about a new product you've launched, or you can ask consumers a question and create an interactive poll in your YouTube Community tab.
Regardless, online communities allow businesses to interact with customers, have conversations, and develop engaging relationships that build a connection — a critical pillar of customer loyalty.