These days, it feels like everyone is on social media. But make no mistake, not everyone is on every channel.
As marketers, it's important to know your audience's favorite social channels. For instance, if you're selling retirement homes, it's safe to forgo Snapchat, where only 3.7% of users are over 50.
HubSpot surveyed over 1,000 consumers across the U.S to find out which social media channels are gaining steam — and which are falling behind. Read on to discover which platforms are most popular with consumers in 2022.
Social Media Channels Gaining Steam in 2022
Facebook
Facebook currently attracts 2.89 billion monthly users, more than any other social platform. A high concentration of its audience belongs to Millennials, Gen X-ers, and Baby Boomers.
In the last three months, a whopping 91% of Baby Boomers, 88% of Millennials, and 83% of Gen X-ers have visited Facebook.
On top of that, Gen X and Baby Boomers rank Facebook as their favorite social media app and their most visited app. If you're looking to target older demographics with social media marketing, Facebook is your best bet.
That said, engagement drops significantly for Gen Z audiences. Just 12% of Gen Z-ers say they use Facebook more than any other platform, and only 55% have visited Facebook in the past three months.
TikTok
TikTok is known as the platform for Gen Z — and the data confirms it. In fact, over half of Gen Z consumers are on TikTok. Plus, Gen Z-ers say TikTok is the platform they use most, pulling ahead of Instagram, Snapchat, and YouTube.
It doesn't stop there: TikTok is also picking up steam with other demographics. 36% of TikTok users in 2021 were between 35 and 54 years old, a 10% increase from the year before. That said, usage amongst Baby Boomers is still low, with only 7% visiting the app in the last three months.
It's also worth mentioning that TikTok has the highest engagement rate out of any other social platform, averaging 10.85 minutes per session. In short, TikTok's snackable content is addictive for a variety of age groups.
YouTube
YouTube has a user base of 2 billion+ people and receives over 34 billion monthly visits, according to data we pulled from SimilarWeb.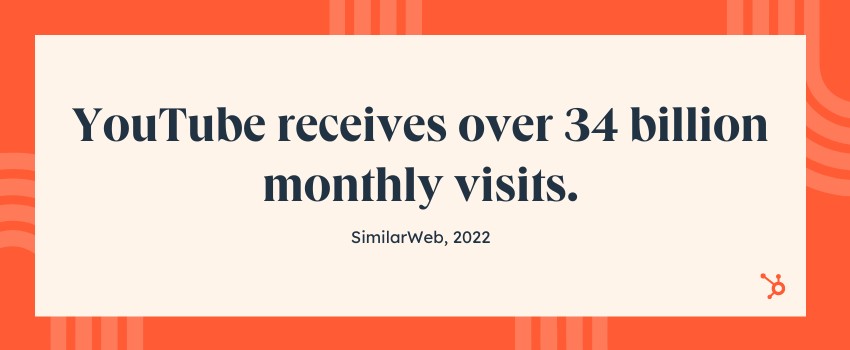 YouTube is popular with Gen Z, Millennial, and Gen X audiences, almost in equal measure. In the last three months, 83% of Millennials have visited YouTube, followed by 81% of Gen Z, and 79% of Gen X. For Baby Boomers, YouTube is their second favorite social media app, just behind Facebook.
YouTube is also a top favorite amongst video marketers. In fact, more than a quarter of video marketers plan to invest in YouTube than any other platform in 2022, according to HubSpot's Video Marketing Report. In addition, video marketers ranked YouTube as the second-best platform for ROI.
Instagram
According to SimilarWeb, the Instagram app has over 78 million monthly active users, making it one of the most popular apps today.
Although Gen Z visits TikTok the most, they rank Instagram as their favorite social media app — as do Millennials.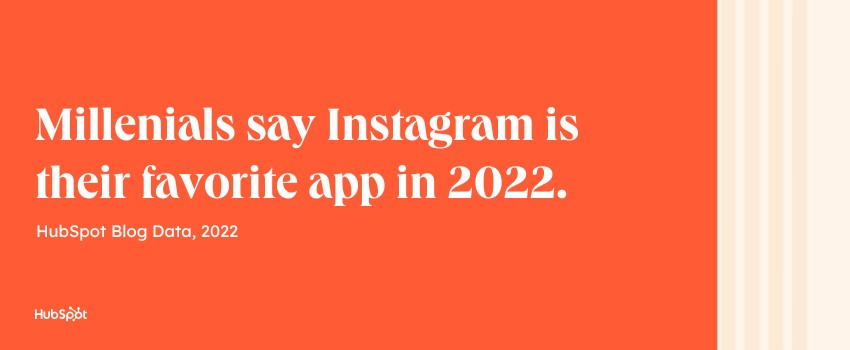 Instagram is also holding steady with older audiences. In the last three months, 55% of Gen X-ers have visited Instagram, followed by more than a quarter (27%) of Baby Boomers. However, if you're looking to target these audiences specifically, Facebook or YouTube could be a better option.
On the marketing side, more than half of video marketers rank Instagram as the best platform for ROI, engagement, and lead generation. If you're looking to dive more into video marketing, Instagram is an attractive option.
Social Media Channels Losing Steam in 2022
Tumblr
After numerous acquisitions and near-revivals, Tumblr has yet to recreate its early- to mid-2000s popularity.
According to our report, Tumblr is most popular with Millennials, but only 11% have visited the platform in the past three months.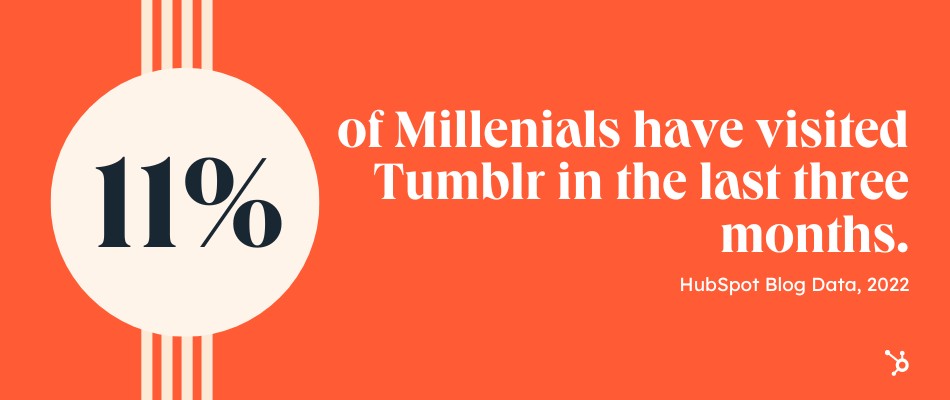 Surprisingly, Gen Z has visited Tumblr at nearly the same rate (10%). In fact, a report by Quartz found that 61% of new Tumblr users in 2022 were under the age of 24. This begs an important question: is another revival around the corner?
While it's still too early to call, we recommend focusing on platforms that pull stronger numbers for the audience you want to target.
Twitch
Although Twitch is top dog in the live-streaming space, all major streaming platforms — including Twitch, Facebook Gaming, and YouTube Live — are seeing a drop in total hours watched this year.
In the last three months, only 15% of Millennials have visited YouTube, followed by 13% of Gen Z, and 11% of Gen X.
Decreased viewership isn't the only concern for Twitch — people are also streaming less. Year-over-year, hours streamed on the platform declined 16% from 2021 to 2022.
According to HubSpot's Video Marketing Report, video marketers report low engagement and ROI on the platform, and only 10% of marketers plan to leverage Twitch for the first time in 2022.
Back to You
One question remains: what channels are best for your social media marketing? Should you stick to mature platforms, like Facebook and YouTube, or test the waters with new platforms, like TikTok?
Ultimately, your decision should hinge on one crucial factor: your target audience. Putting your audience at the center of your social media strategy means prioritizing the platforms that will reach them most effectively.
And remember, social media marketing is all about experimenting. There's no need to commit to one platform for the rest of time — in fact, it may be useful to run side experiments on different platforms to see what results you get.