Last week, I was searching Google for athletic wear because I was in the market for some new yoga pants.
As I was scrolling through the results, I saw Fabletics. After browsing its site, I ended up becoming a VIP member and purchased $50 worth of athletic clothing.
In the same vein, when I worked at a marketing agency last year, I was responsible for social media for our clients.
I was curious about how to best use Instagram in the education industry. So, I went to Google and searched for "how to run social media for schools."
I came across a blog on Sprout Social that was helpful when I created a strategy. When it came time to switch our social media automation tool, I even decided to go with Sprout Social.
In fact, 47% of consumers view 3-5 pieces of content before talking to a salesperson.
Plus, 51 percent of all website traffic comes from organic search and over 40 percent of revenue is captured by organic traffic.
That's why organic search is so important as a marketer. It helps build your brand, generate sales, and provide value to your audience.
Below, let's learn more about organic search and where to measure your results.
What is an organic search?
Organic search results are the unpaid results that appear on a search engine results page after a query. In the example below, when I typed "athletic wear" in Google, the unpaid results are all a part of that organic search.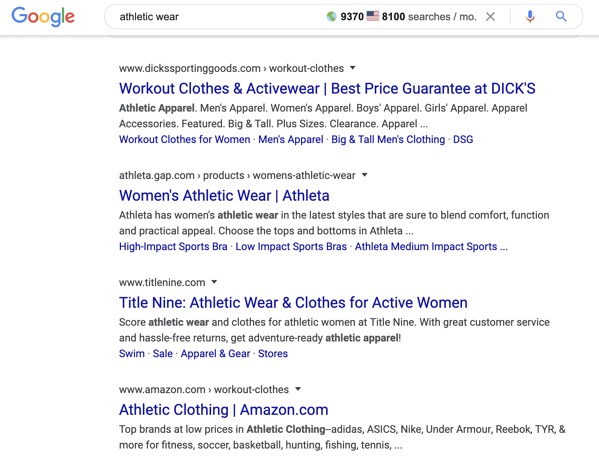 These results are typically generated based on search engine optimization (SEO) factors including backlinks, domain authority, and relevance.
On the other hand, search engines might also show paid search results, which are known as display ads or pay-per-click ads. These are denoted with the word "Ad" before the hyperlink, as shown in the example below.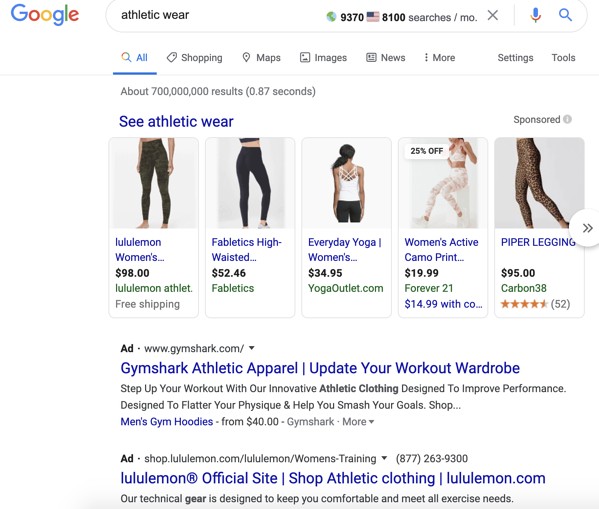 Organic traffic is one of the main traffic sources inbound marketers focus on because once you succeed, it's a long-term source of traffic.
While an organic search strategy can take time, it's more likely to generate leads and revenue because it's a non-disruptive form of delivering content. Also, organic searches produce relevant traffic because you're answering user's questions when they're asking them.
This helps people become aware of your brand who aren't already, like in my Sprout Social example above.
To rank highly on search engines, you have to pay attention to search intent when you target keywords, so users are more likely to click on your page.
You can also create a blog, be active on social media, and optimize your pages for SEO to improve your organic search rankings.
Usually, organic search is an important traffic source to consider because other traffic sources generally lead to one-page site visitors since they aren't trying to drive overall site traffic or customer loyalty.
Although we're focusing on organic traffic today, it's important to remember the other several traffic sources, including:
Direct: Traffic where the source is unknown.
Email: Traffic from email marketing.
Organic: Traffic from search engines that's unpaid.
Paid search: Traffic from search engines as a result of paid ads.
Social: Traffic from a social media network.
By navigating to this section, you'll find the different traffic sources, including organic traffic. It will show you the amount of sessions, plus the percentage of your traffic to each source.
If you're a HubSpot user, you can also find organic traffic numbers in the product as well.
Using the HubSpot Marketing Software, you'll go to the Reports → Analytics tool. Then, you'll click Traffic Analysis and you can see your traffic sources. This will show you the number of sessions in a given time period.
Ultimately, organic search is one of the best SEO strategies to increase long-term traffic to your site. While you work on SEO methods to improve your organic rankings, you can measure these results in software such as Google Analytics or HubSpot.