If you've read the news or surfed through social media recently, you've probably heard about the new social media audio app called Clubhouse.
In the last few months, Clubhouse, which allows users to drop in on audio calls as listeners or speakers, has received a $100 million valuation and grown to more than 10 million active users. Now, tech giants like Twitter, Instagram, Facebook, and LinkedIn are unsurprisingly building similar features to get in on the chat-streaming action.
If you're feeling deja vu following the competition around Snapchat Stories, and TikTok's musical overlay features, you're not alone.
When a new social media app goes viral, you can almost guarantee that at least one of the social tech giants will test a similar, competitive feature. And, each time this happens, marketers wonder, "Which of these social media channels should I use in my strategy? And, is this trend even worth investing in?"
The good news? Strong competition around a social media trend, like chat streaming, signals that it's not going away anytime soon and might be worth investing in. So, the only thing you'll need to figure out is where to experiment with the trend.
Below, I'll give you a breakdown of Clubhouse's four biggest potential competitors, as well as some marketing takeaways to help you determine which platform is right for your brand.
Need to brush up on your Clubhouse knowledge before diving in? Check out this post for a recap of what Clubhouse is and why competitors are trying to get in on the action.
What We Know About Twitter Spaces
Twitter Spaces was softly rolled out to a small group of beta testers in late December and fully launched in May of 2021. The feature, which closely resembles Clubhouse Rooms, allows users with over 600 followers to host a space -- or audio chatroom that anyone on Twitter or just a few pre-selected followers can be invited to.
The Spaces experiment was announced late last year following the success of audio apps like Clubhouse. At that time, Twitter Product Lead, Kayvon Beykpour told TechCrunch, "We think that audio is definitely having a resurgence right now across many digital spaces. … It'll be fascinating to see how other platforms explore the area as well, but we think it's a critical one for us, too."
How Twitter Spaces Works
Although Twitter Spaces is still evolving and will roll out more features in the coming months, those who have access to the full feature already can create a Space by holding the post button of their Twitter app and choosing the new Spaces icon, or by tapping their Fleets icon and choosing to create a Space instead of a Fleet.
At the moment, when a Space is launched, it's public and can be seen in your followers' Fleets bar, as shown below. In the near future, Twitter says it plans to enable scheduling and room ticket capabilities that allow people to preschedule chats or sell tickets to a private space.
At the moment, those who launch a Space can invite up to 10 hand-picked speakers. From there, they can adjust who speaks based on who raises their hand and which speakers need to leave early. At the moment, it does not seem like there's a cap on the number of people who can tune in and potentially request to speak. In the future, Twitter plans to expand the feature and allow co-hosting privileges which will allow two users to host and run a space.
When entering the Space, the UX is similar to Clubhouse in that you can see who's speaking and who created the Space before seeing a list of other listeners. You'll also see a down arrow at the top that allows you to minimize, but continue listening to the chat, as well as a "Leave," request to speak, share, and heart icon -- allowing you to signal that you enjoy the discussion.
Like Clubhouse, users will be muted as they enter the room and will need to get speaking privileges from the Space moderator if they'd like to say something.
Takeaways for Marketers
Spaces is still evolving with new users gaining access each day. However, this feature could be a good fit for brands that are looking for a broad audience and completely public platform.
While Twitter's audience exceeds 330 million monthly active users, its app is also available to all smartphone users. Meanwhile, Clubhouse is still invite-only and can't be accessed by Android users despite its fast growth.
For Twitter and brands aiming to build a community of followers on the platform, Spaces could also be a natural transition. At this point, people are already using Twitter to respond to text-based threads and tweets related to their interests, industry, beliefs, and passions. Now, they can vocally share their thoughts in Spaces without worrying about character limits. This could further engage Twitter's community-centered audience while also helping brands take community marketing to the next level.
What we Know About Instagram Live Rooms
Shortly after Facebook's CEO and Co-Founder Mark Zuckerberg spoke in a Clubhouse room, the social media company was reportedly experimenting with a similar audio feature. While we're still not certain if and when Facebook will launch a competing feature yet, its company, Instagram, is expanding its Live feature to add chat rooms.
What makes Instagram Live Rooms significantly different from Clubhouse or Spaces is that it streams full video chats rather than audio discussions.
Before March, Instagram Live allowed two Instagram users (one broadcaster and one guest) to stream their video call for public audiences or followers. For viewers, this experience was like watching two people video call without being able to participate. Now, Instagram has upped the guest capacity of these rooms from one to three. Here's what the format looks like today: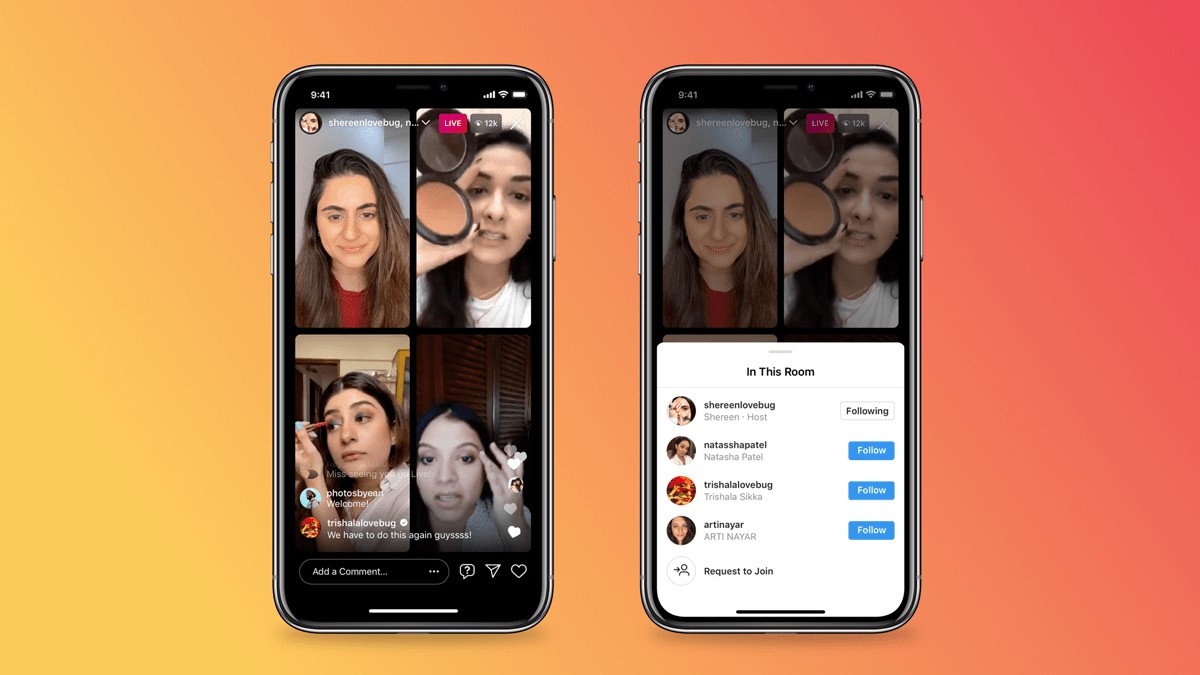 A March 1 announcement from Instagram explained, "In the past year, special moments have happened on Live, including informational talks about science and COVID-19 guidelines, interviews with celebrities and record-breaking rap battles. Creators of all kinds — from fitness instructors to musicians, beauty bloggers, chefs and activists, all relied on Live to create moments and bring people together to reach their communities in creative ways. We can't wait to see what more creativity comes from this highly-requested update."
"We hope that doubling up on Live will open up more creative opportunities — start a talk show, host a jam session or co-create with other artists, host more engaging Q&As or tutorials with your following, or just hang out with more of your friends," the Instagram statement added.
How to Instagram Live Rooms Will Work
At the moment, the Live Rooms feature is still rolling out, but it will soon be available to global Instagram users.
When Live Rooms is fully implemented, any user can tap their Stories icon, swipe left to the Live setting, choose a title or foundation to promote in their stream. Then, they can tap the "Rooms" icon and pick guests to be in their broadcast. Viewers will also be able to request to join rooms that are already in progress, as shown below: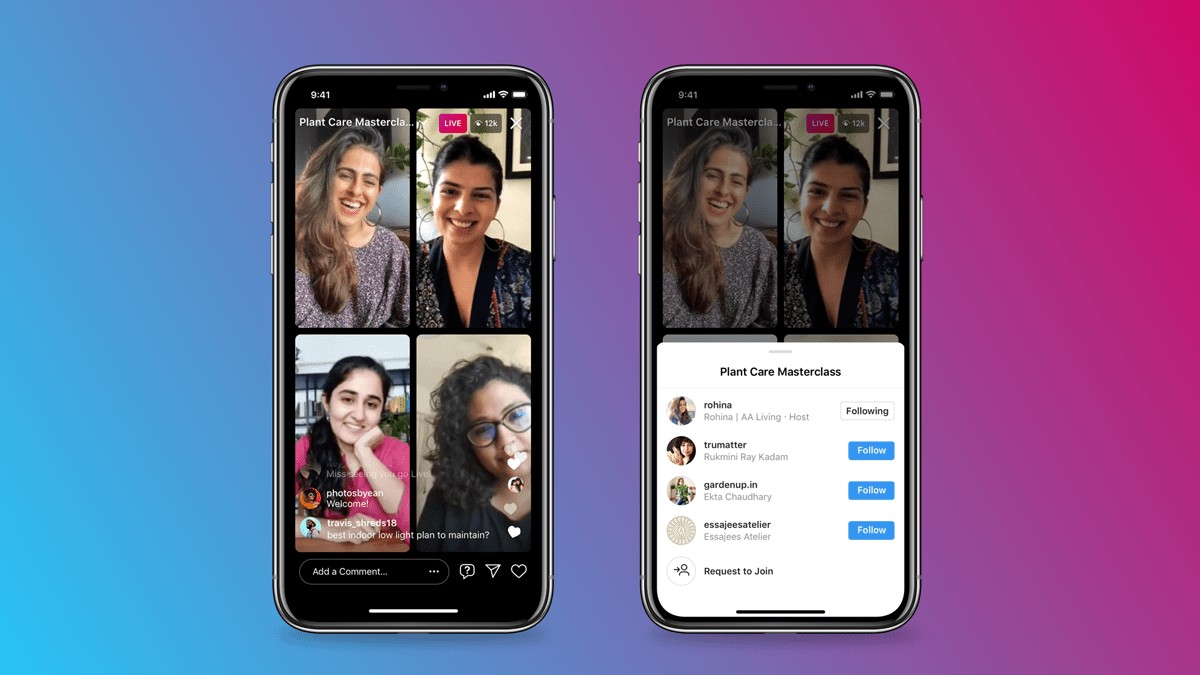 Takeaways for Marketers
While Live Rooms could be an interesting prospect for brands that already have a following there, they do seem to have some limitations. For example, while Twitter Spaces and Clubhouse allow more than five guests -- aside from the moderator, Live Rooms only allows three additional guests. This might make it harder to take questions or comments from audience members who'd like to add to the conversation.
Another factor that could be a pro or con depending on the brand considering it is the visual nature of Live Rooms. Because speakers must appear on camera, some brands will have more opportunities to show products or visuals. Meanwhile, other brands looking for a more open dialogue will need to find only speakers comfortable with appearing on video.
One solid feature that could make Instagram Live Rooms more competitive for brands is Instagram Shopping. In 2020, Instagram added new shopping features that allow brands to share links to products in live streams that can be purchased directly on Instagram. According to Instagram's announcement, these features will be available in Live Rooms so brands could begin to monetize their live chats.
Facebook and LinkedIn's Clubhouse Rivals
At this point, Facebook's Clubhouse alternative is still in the very early stages of development while LinkedIn's was confirmed in late March. At this point, there aren't many details on what LinkedIn or Facebook's final audio platforms could look like when they launch. However, reports hint that they'll both have a very similar audio-only user experience to Clubhouse.
For example, here's a look at the audio chat UX LinkedIn is testing, as reported by TechCrunch:
Suzi Owens, a LinkedIn spokesperson, confirmed that LinkedIn is testing a new audio feature with the UX shown above.
"We're doing some early tests to create a unique audio experience connected to your professional identity," Owens said. "And, we're looking at how we can bring audio to other parts of LinkedIn such as events and groups, to give our members even more ways to connect to their community."
When it comes to Facebook, not much has been publicly announced about its feature. However, TechCrunch reports that the feature could be part of the Facebook Messenger app. Here's a very early mockup of the feature, which was recently leaked on Twitter: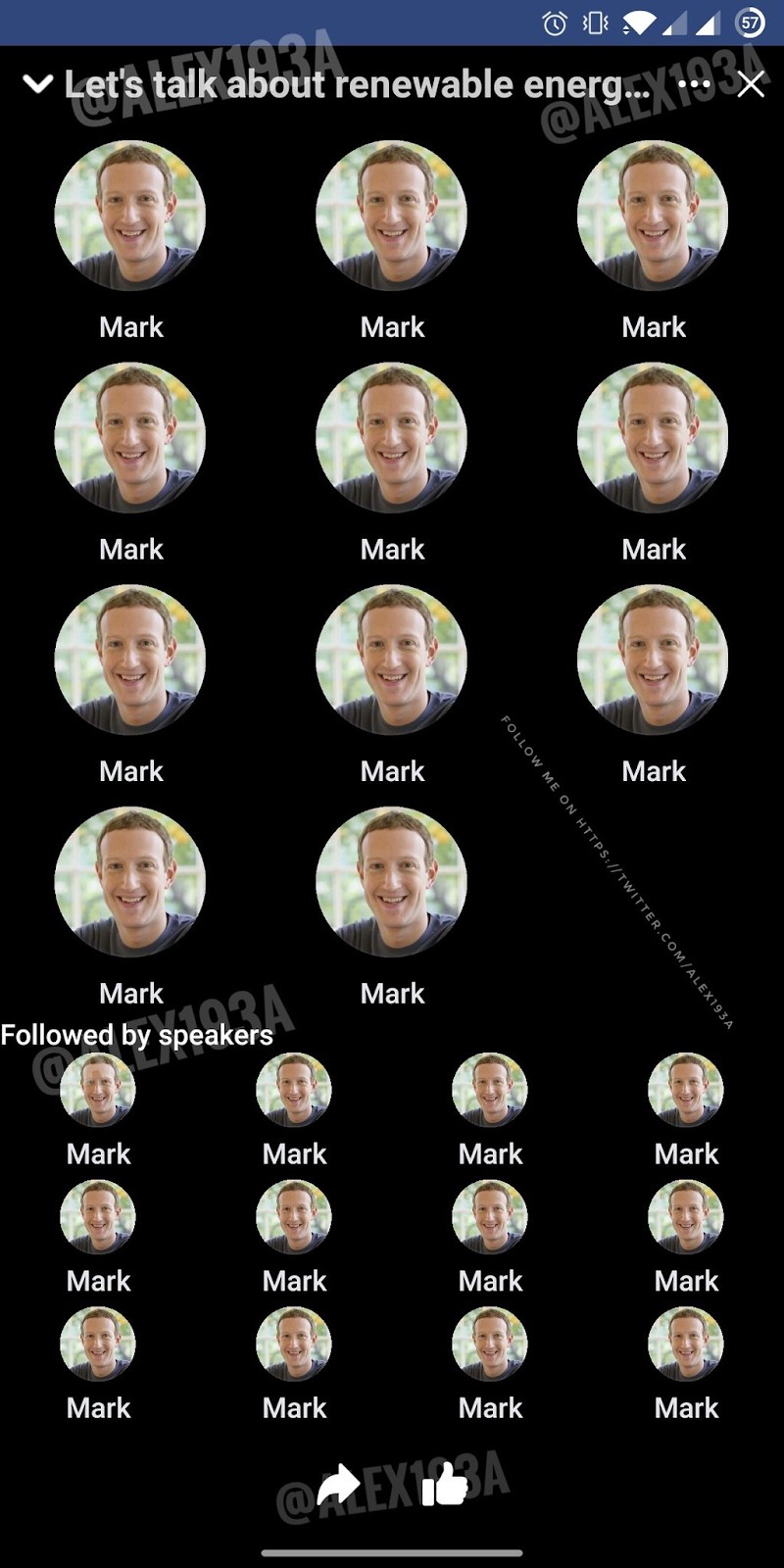 While Facebook confirms that the mockup above was part of its "exploratory" process, the tech company told TechCrunch that the image doesn't accurately depict the finalized version of the feature.
Takeaways for Marketers
At this point, marketers should keep these options on their radar and be ready to consider these alternatives if they do launch. While Clubhouse users that love to network and discuss their industry might transition well to LinkedIn's version, Facebook's pure size could mean that their in-app audio chat experiences could get more listeners than you'd find on Clubhouse.
Which Audio Social Media Platform Should Marketers Use
Like we saw with Stories and short-form music video features, every social media platform wants to take advantage of audio social media trends. Because each version is pretty similar to all the others, you might be wondering which channel you should invest in.
At the moment, the jury is still out on which platform will be the most successful for the longest, especially since Twitter and Instagram's features aren't fully launched yet. However, when all the social media competitors implement their new features, you'll want to consider a few factors to determine which is right for you, such as:
Potential reach: While Twitter and Instagram have the biggest audiences by far, Clubhouse is quickly growing. If this app were to launch an Android version soon, it could potentially burst in growth due to its current buzz and popularity.
Your following: Do you already have a large following on one platform that has a chat streaming feature? If so, you might want to start there before investing time into another app where you have no audience.
Media formats: Clubhouse and Twitter's chat streams are designed to be audio-only, while Instagram Live Rooms will show video. If you prefer staying off-camera, you might want to avoid one of the apps that requires your camera.
Miscellaneous features: While Clubhouse enables users to make clubs -- or groups of users with similar interests, Instagram enables brands to place Instagram Shopping CTAs in their Live streams. While you're exploring each platform, take note of the smaller features that differentiate them in case one of these tools could help your brand.
Want to learn more about the latest social media trends and expert insights? Download HubSpot's 2021 Social Media Trends Report for free below.