Adobe Illustrator is a popular tool for designing vector graphics, logos, icons, and more.
But when you're a web or graphic designer with a small budget, you probably can't afford Adobe Illustrator's steep $239.88/yr pricing.
Luckily, there are plenty of top-notch free alternatives on the market, some of which offer features unparalleled by Illustrator. In this post, we're sharing the top seven free alternatives to Adobe Illustrator so you can produce beautiful designs on a budget.
If you're shopping for a program that offers features comparable in quality to Adobe's product, check out our list of the top free alternatives to Illustrator.
One of the most comparable substitutes to Adobe Illustrator, Inkscape has plenty of similar sketching, illustrating, and editing tools, including keys to move and rotate by screen pixels, bitmap tracing, color painting over objects, and edit gradients with handles.
You can create complex textures and gradients in Inkscape, too. Unlike some free tools, this tool allows layering, grouping, and locking objects so you can completely customize the look and feel of a project while maintaining a streamlined workflow.
Inkscape is a quality product for pro- or semi-pro web designers working within SVG file format. It also offers an open source vector graphics package, so if you have the technical skills, you can incorporate Inkscape into your other software programs.
Best for:
Pro and semi-pro illustrators and web designers
Platform:
Mac, Windows, Linux
GIMP, which stands for GNU Image Manipulation Program, has limited vector functions but has similar tools to Photoshop, making it an impressive image editor with powerful image manipulation options. Better still, GIMP provides options for customization and third party plug-ins, so if your image editing needs are somewhat unique, you might want to check this tool out.
GIMP is free and open source, so there is a market of third party plugins to enhance your productivity and design capabilities. If this sounds technically advanced, GIMP offers tutorials for newcomers to the tool so you get the most out of it.
Best for:
Advanced designers who need a custom tool to create illustrations and graphics
Platform:
Mac, Windows, Linux
BoxySVG runs as an extension in Google Chrome, so it's easy to store vector graphics including icons, charts, and illustrations on the web. It provides options for Google Fonts integration and has an Open Clip Art Library, as well as illustrator tools including pens, bezier curves, groups, shapes, text, and more.
Ultimately, BoxySVG is simpler than Illustrator, and while this means less advanced tools, it also means a quicker and easier process for creating vector graphic files.
The intuitive user interface gives you a clean workspace so you can complete your workflow without clutter or overlapping toolboxes. Keyboard shortcuts keep tools accessible without switching between tabs or searching through several icons.
The 15-day free trial includes these features. After that, you'll have the option to purchase either the premium or standard plan.
Best used for:
Designers who produce a low volume of designs, but still need a quality tool
Platform:
Mac app, Windows app, Chrome app, Web app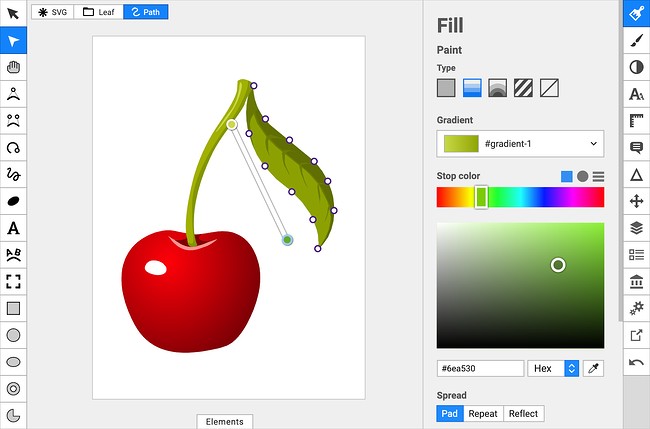 Pixlr offers plenty of features for editing, creating, and sharing creative images. While it's less advanced in function than Illustrator, it's cloud-based and supported on mobile, desktop, or the web.
Pixlr has two options: Pixlr E for photo editing and Pixlr X for graphic design. Pixlr X includes regularly updated templates for social media, presentations, resumes, business cards, newsletters, and event invitations. Pixlr E includes a photo collage maker that combines your favorite photos into a clean, cohesive design.
Best used for:
Individuals whose position requires them to work from different devices to create images
Platform:
Windows, Mac, Web, Mobile

You'll find plenty of your basic vector-editing tools in Gravit, including pen, line, knife, slice, bezigon, gradient editor. It also has more advanced features, such as boolean operations, symbols, international text support, and more.
Plus, it's designed in a user-friendly interface and offers video tutorials. Gravit works from right within any browser, which means you can edit and export your files anywhere with wifi. It also supports cmyk rendering, so you can print quality images without downloading anything.
You can also import and export files in a variety of formats including pdf, png, jpg, svg, and sketch — which makes this option more flexible than Illustrator.
Best used for:
Freelance illustrators and designers who need a robust design tool
Platform:
Mac, Linux, Windows, Chrome, Any Browser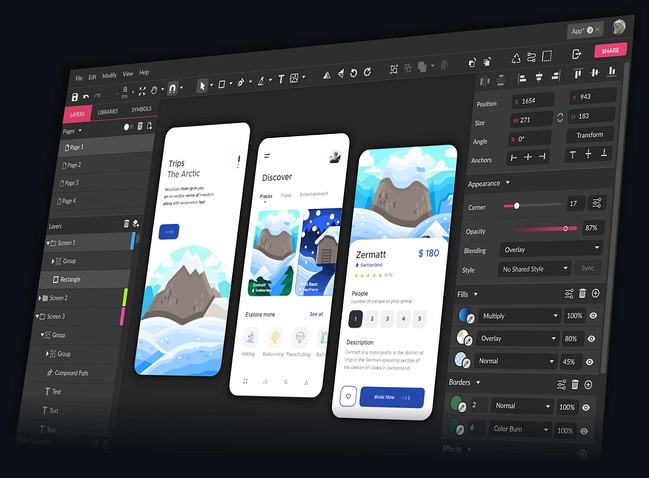 With rasterizing controls, infinite zooming, a precision-engineered pen tool, automatic snapping points, colors that pop, and an extensive array of vector editing tools, this system truly compares in design and function to Adobe Illustrator. The full version is $49.99, but the 90-day trial version is free and offers plenty of the full version tools.
What's unique about this tool is that it supports vector and raster workspaces — with the click of a button you can switch between the two for a versatile design experience.
Your workflow is the foundation of a great design, so Affinity Designer gives you unlimited artboards, detailed version history, customizable keyboard shortcuts, and the ability to save your file in the most popular vector and raster formats.
Best used for:
Experienced designers with a need for advanced vector and raster tools
Platform:
Mac, Windows, iPad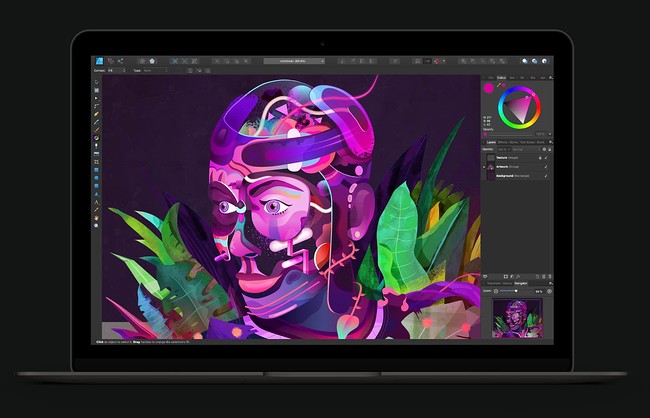 Although this design tool is free, it brings a lot of value. With over 10,000 design templates to get you started, this app is ideal for the designer who's just starting out. DesignEvo helps you perfect your style, develop your workflow, and build your portfolio — all without spending a penny on expensive software.
You'll have access to royalty-free fonts, color schemes, and an easy-to-use logo editor (plus dozens of logo categories). When you've designed the perfect vector, logo, or icon, export it from DesignEvo and into your preferred storage cloud in the most popular high-resolution formats.
Best used for:
Individuals starting a business who need a logo and other assets
Platform:
Mac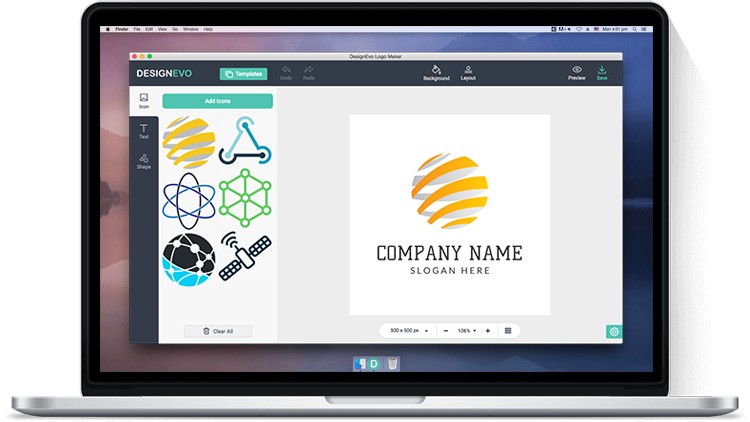 Adobe Alternatives for Any Budget
Creating professional vector graphics doesn't have to be an expensive line item in your budget. If you're just starting out in the graphic design field or if you're an experienced designer looking for budget-friendly tools, one of these free alternatives is sure to work well for you.
Editor's note: This post was originally published in June 2018 and has been updated for comprehensiveness.