Are people still using Facebook? Is BeReal the next big thing? And is TikTok still just for Gen Z?
If you're looking for answers to those questions, we've got 'em.
We asked 600+ U.S. adults about the social media platforms they use in May 2022 and again in January 2023 to find out which apps are growing and which are slowing down. Here's what we found out:
Social Media Usage in 2022 vs. 2023
While 84% of US adults unsurprisingly use social media, where are they going when they use it?
Here are a few fast facts about the top platforms US consumers use in 2023, keeping in mind that this list might be different in other countries.
Facebook (69%), YouTube (57%), Instagram (45%), TikTok (33%), and Twitter (30%) are the most popular social media apps.
BeReal (313%), Twitch (29%), LinkedIn (20%), and TikTok (16%) saw the most growth since last May.
Reddit (-11%), Pinterest (-9%), and YouTube (-4%) are the only platforms that saw a decline in usage.
While Facebook is the most popular social media platform for people over the age of 25, Instagram, TikTok, and YouTube are the most popular among ages 18-24.
With that, let's take a deeper dive into the fastest-growing platforms.
The Fastest Growing Social Media Platforms
1. BeReal
BeReal has seen 313% growth in usage from consumers we polled, which was likely fueled by hype. But -- as we wonder with all emerging social media platforms -- will it last?
The young platform, which gives users one opportunity to post a picture of themselves wherever they are with no filter during a few timeslots -- designated by the app each day, went from being used by roughly 0.7% of the population to 2.8%, growing the most of the social platforms we analyzed. But, the real story is how it's taken off with Gen Z. Usage from just this age group jumped from 1% to 13% (a whopping 1,200% increase).
BeReal does benefit from being the newest social platform we asked about in these surveys, so it had the most room to grow. On the other hand, with other competitors trying to copy its platform, it risks being another trendy social media platform that gets forgotten or lost in the shuffle.
Due to BeReal's format, it also might not be the most welcoming channel or community for brands, as people join to see the "real" versions of their friends and aim to use the platform to amplify authenticity and human connection.
2. Twitch
Whether you're watching Keke Palmer start a family with The Sims, or enthralled by someone's live coverage of a cool event, it's clear that streamed content is here to stay. And while social platforms like Facebook, Instagram, and TikTok have enabled and tested live features, Twitch still reigns supreme as the place to go for long-form live video.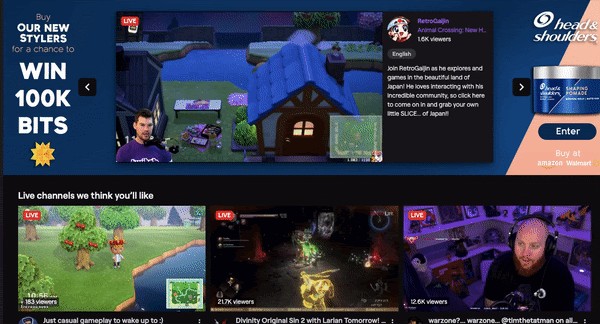 While it might not seem like an obvious social platform as many people go there to view videos rather than record or interact in them, it's still continuing to compete with other social channels that have launched their own live-video copycats.
Since our first survey, Twitch usage grew by 29%, thanks to Gen Z and Boomers with the percentage of total consumers using it growing from roughly 7% to 9%.
Gen Z drove this increase, with their Twitch usage jumping from 13% to 17%.
Boomers are also getting in on the action. In May 2022 just 0.3% used the platform while closer to 3% use it today. While this seems like a small percentage, it still could equate to thousands of additional users.
3. LinkedIn
Between May and January LinkedIn grew 20% amongst consumers we surveyed, boosted by Boomers. However, the platform is starting to see declines with other age groups.
While LinkedIn usage declined mildly for every other generation, LinkedIn usage among Boomers grew from 11% to 20%, an 85% increase.
All-in-all, we're not too worried about the slight declines as LinkedIn continues to be a mix of social media and utility that job hunters and recruiters will need, and use to buffer their portfolios, for years to come.
So, if you're a marketer who leverages the platform, while it's important to keep demographic shifts in mind -- you likely don't need to pivot your strategy there just yet.
Check out the video below for some tips on how to get started or improve on your current LinkedIn strategy:
4. TikTok
Despite TikTok's ongoing regulatory concerns, people who loved the platform back in May seem to be sticking around, while others are beginning to experience the channel for the very first time.
Between May and January, TikTok usage among our surveyed consumers grew by 16%. Usage also grew across all generations -- especially with Boomers.
When looking at the generational increase, the number of Boomers who'd used TikTok grew by 164%, showing again that they're catching on to many viral Gen Z trends and apps.
From our research, we estimate that one in three American adults now use TikTok.
If you aren't on TikTok yet, you should keep it on your radar and take some time to consider if the app makes sense for your brand. Just keep in mind that it will require some video-related time and resources, as well as user-research into all the trends going on there, to build a successful strategy. You can learn more about TikTok marketing here.
5. Twitter
Despite fluctuations in leadership, Elon Musk's controversial takeover, and office-wide changes at the company, Twitter's social media platform is still holding a strong user base and grew 7% among our consumer audience.
While our sample shows that Twitter pulled in roughly 12% more Gen X users and 27% more boomers, this should be taken with a grain of salt as 9% fewer members of Gen Z survey-takers said they use Twitter in January compared to May.
While it's still hard to predict how Twitter will continue to grow and perform, especially for marketers, in the future -- here's a helpful guide on how to build and retain audiences and followers that could drive ROI for your brand.
6. Instagram
It's no shocker that Instagram is one of the favorites among multiple generations. Between May and January, usage by consumers we surveyed grew 6%. While the channel continues to win over Gen Z and gain attention from Boomers, it might be losing some of its Millennial audience. Below are just a few fast facts.
Around 45% of U.S. adults use Instagram, up 6% from last May.
Instagram grew 11% with Gen Z and 53% among Boomers (from 18% to 27%).
Millennial usage of Instagram went from 65% to 54%, a 17% drop.
Now that we've covered some of the fastest-growing social media platforms, here are the ones slowing down in 2023.
Which Platforms are Losing Steam?
While many of the large platforms that saw slowed growth from our consumer pool aren't going anywhere, the data hints to some consumer shits marketers might want to know about or keep on their radar.
Click here to learn why Reddit, Pinterest, and YouTube might be losing steam compared to their competition.
More Social Media Insights
Want more social media insights? Check out these helpful resources:
Prefer to download a report with everything you need to know? Check out our Social Media Trends Report for free below.