If you produce video content or sell video footage, the right WordPress video theme will allow your content to shine. You'll also create a compelling experience for your visitors the moment they enter your site.
Are you looking for a WordPress video theme to put your video content on full display? There are a lot of WordPress Video themes out there to choose from. But not to worry, we did the legwork for you. Explore this list of 16 WordPress video themes (in no specific order) to help you choose the best theme for your site.
We'll break down our list by the following categories:
Before you continue, you can also watch this useful video on WordPress video themes from
themesCode:
Multi-Purpose Video Themes
These WordPress themes aren't wholly video-focused. However, they have solid and unique video-related features. These themes are ideal for anyone who doesn't need their website to revolve around their videos and would benefit from a wide range of additional features.
Revolution Pro is a responsive, minimalist theme that focuses on your content. It's built on the Genesis Framework, known for its speed and ease of configuration. It's compatible with the Gutenberg editor, so you can easily embed videos using the Video block.
Revolution Pro also comes fully configured with HubSpot upon installation, so you'll be set up with HubSpot's marketing and CRM tools from the start. If you're already a WP Engine hosting plan user, you get free access to all other StudioPress themes.
Core Features
Section video backgrounds
Video transitions included
Slider feature

Bridge is a multipurpose, creative theme for sharing videos with your customers. Bridge comes fully featured with multiple options for integrating your video content via sliders, overlays, and more. For example, you can use section video backgrounds to make your video take up the entire screen width for an immersive experience.
You can also add different transitions, like fades, animations, and more to the beginning or end of your videos. The video slider feature lets you place multiple video clips in one section so visitors can slide right and left through all of your clips.
Core Features
Gutenberg compatible
Fully configured with HubSpot's free suite of marketing and CRM tools
Minimalist design to highlight your videos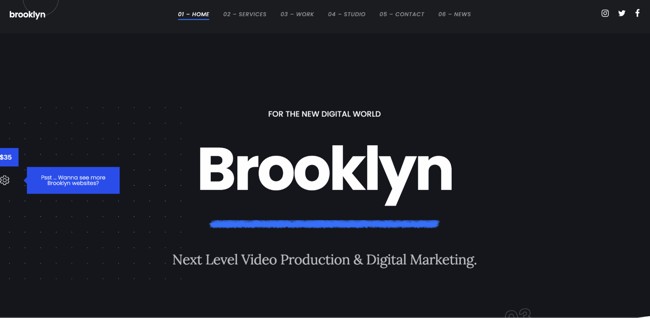 Brooklyn is a multi-purpose WordPress video theme that can make a beautiful site for any type of business. Brooklyn is renowned for its drag-and-drop editor, which makes adding video content to your site a breeze.
In addition, there are options to feature photo and video galleries on different website pages and create fullscreen video backgrounds. There is also a video widget to make adding, editing, and formatting your website's videos quick and straightforward.
Core Features
Drag-and-drop page builder
Video galleries
Fullscreen video backgrounds
Blogging Video Themes
If you're a video blogger, these themes are for you. They're built for people who want to include written blog content alongside videos on their website.
Videoblog is a blog and magazine video theme that allows you to list your latest or featured posts on your homepage. Videoblog is a traditional style theme that focuses on readability and content. The design is intuitive, and customers will appreciate the familiarity of the two-column layout format.
Core Features
Ideal for blogs and magazines
Latest and featured posts listed on your homepage
Two-column layout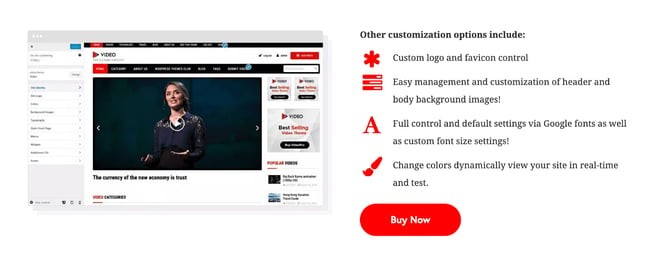 Video by Templatic is a mobile responsive WordPress video theme that is an excellent choice for creating blogs with video content as the primary focus. This theme makes it simple to add video and other content types. You can also manage your posts with categories and sub-categories.
With Video by Templatic, you'll have deep customization abilities, automatic thumbnail generation, and the option to let users submit and upload video content from the front end.
Core Features
Automatic thumbnail generation
WooCommerce compatibility
Real-time customizer feature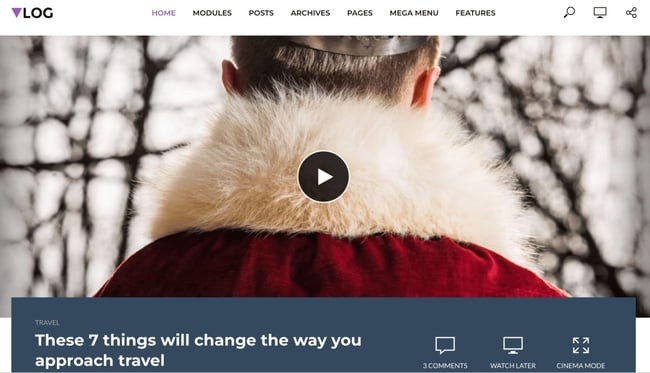 Vlog is a WordPress video theme optimized for blog and magazine content, with a focus on videos. The theme is compatible with YouTube, Vimeo, and Dailymotion to simplify sharing your video content.
You can group your videos into playlists to keep related content together, so it's easy to find for your visitors. You can also quickly set your video's thumbnail as your featured image with a click.
Core Features
Created for blogs and digital magazines
Compatible with YouTube, Vimeo, and Dailymotion
Can group videos into playlists
Portfolio and Photography Video Themes
If you want to share your portfolio, feature your videos and photos in a gallery, and possibly sell your work straight from your website, these themes may suit your needs.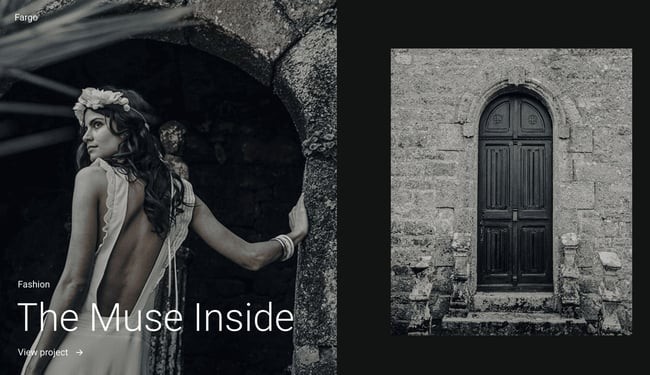 Fargo is a WordPress theme marketed toward wedding photographers. It is an elegant theme that certainly lends itself well to that. However, the theme's photo sharing and portfolio features would benefit any type of photographer looking to show off their work.
Fargo's Smart Galleries allow you to move from written content to photo content to video content seamlessly. In addition, Fargo's flexible navigation includes customizable transitions that create an interactive, 3D experience for your visitors while they browse your different site pages.
Core Features
Created for sharing photography and video content
Smart Galleries
Flexible navigation with customizable transitions
Inspiro PRO is a professional portfolio theme based on the Elementor page builder, a drag-and-drop website builder plugin. If you already use the Elementor page builder, Inspiro PRO could be a great option.
This theme provides excellent features for photo and video professionals to show off their work in style. It's user-friendly and features many custom modules, dynamic elements, and video features. That includes video backgrounds and play-on-hover videos. It is also fully compatible with the WordPress Gutenberg editor.
Core Features
Built for professional photo and video creatives
Custom, fullscreen slideshows, and videos
Based on the Elementor page builder plugin
Pronto by Flothemes is an elegant WordPress theme for displaying your photography online. Pronto is fully integrated with the Gutenberg editor and comes stocked with a complete library of Flex blocks, or content blocks from Flothemes' proprietary drag-and-drop editor plugin.
Unlike other themes on this list, Pronto is offered on a subscription basis, making it a little more expensive. However, the extra cost is worth it for the access to premium support and full integration of Flothemes' features and designs.
Core Features
Elegant and minimalist design
Premium support with a subscription
Access to Flothemes templates and starter sites
Filmmaking Video Themes
Videographers, directors, and producers may benefit from these WordPress themes. They have layouts and customizable options for sharing and displaying videos of many lengths, topics, and genres.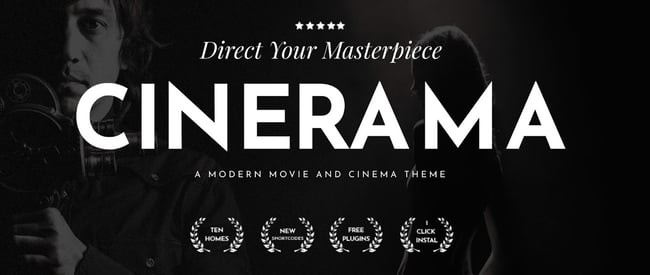 Cinerama is a premium WordPress video theme by the makers at Edge Themes. Cinerama is focused on videographers and filmmakers, allowing them to create beautifully designed portfolio sites. The theme features a variety of custom shortcodes, an easy-to-use admin interface, and video carousel functionality. Cinerama makes it simple to present your video content in an attractive and eye-catching manner.
Core Features
Ideal for videographers and filmmakers
Extensive collection of custom shortcodes
Retina-ready

Pelicula is another premium WordPress offering from Edge Themes. This modern portfolio design is great for the film industry and video production pros. The theme comes fully stocked with 13 pre-designed, attractive homepages so you can get your site up and running quickly.
In addition, it is fully compatible with the Elementor Page Builder plugin so that you can create new site pages rapidly with a drag-and-drop interface.
Core Features
Ideal for film industry professionals and videographers
Compatible with Elementor Page Builder plugin
Parallax effects and infinite scroll functionality
Superflick is another video-oriented WordPress theme for movie studios and video professionals. Despite this, Superflick is robust enough to meet the needs of all types of creatives, vloggers, agencies, or anyone looking to display their video work in an elegant portfolio format.
Superflick is responsive, retina ready, and comes ready to go out of the box. The theme also offers advanced customization options so users can build bespoke websites for themselves or their clients.
Core Features
Created for showcasing video work
Over 100 pre-made site page templates
Highly rated customer support
If you are a filmmaker or production company, Silverscreen can help you showcase your movie projects and video work. Silverscreen comes stock with stunning parallax scrolling effects, a variety of distinct homepages, and practical inner website pages for displaying awards and portfolios. If you are serious about cinema, Silverscreen might be your theme!
Core Features
Ideal for movie and video producers
Fullscreen video backgrounds
Smooth parallax effects
Leitmotif is a modern WordPress theme for film and cinema. If you are an independent filmmaker or simply enjoy the indie aesthetic, Leitmotif might be for you. The theme is simple to use and easy to set up. Plus, it features all the bells and whistles you can expect from similar themes above.
Leitmotif is also a good option for music festivals, portfolios, or any creative project you want to showcase. There are many film-centric WordPress video themes on this list, but we think Leitmotif's edgy and cool design aesthetic sets it apart from the rest.
Core Features
Modern design aestetic
WooCommerce Integration
Smooth parallax effects
Creative Video Themes
Creative video themes are versatile and flexible enough for various industries. However, they're still all explicitly created for video-based websites.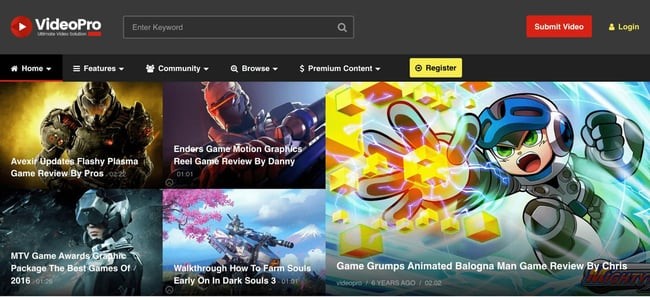 VideoPro is a creative video theme with a responsive design and layout options ideal for various video types. This theme can showcase movies, games, news, entertainment, education, and more.
In addition, VideoPro integrates with sites like YouTube and social media platforms such as Facebook. Here, you can easily embed, import, and share your content. VideoPro also has a feature that allows you to create a multi-episode video series on your website — displaying related videos below whatever is being watched by a visitor at any given moment.
Core Features
Responsive design
Video and social media integrations included
Multi-episode video series feature
VideoBox is an excellent solution for anyone looking to show off their video or audio content. The theme features an attractive video slider as the homepage's main attraction to capture site visitors' attention.
VideoBox is a straightforward and easy-to-use WordPress video theme option that is intuitive enough to suit a variety of business needs. Plus, it's compatible with WooCommerce and is fully responsive.
Core Features
WooCommerce integration
Homepage slider
Minimalist design with a dark color scheme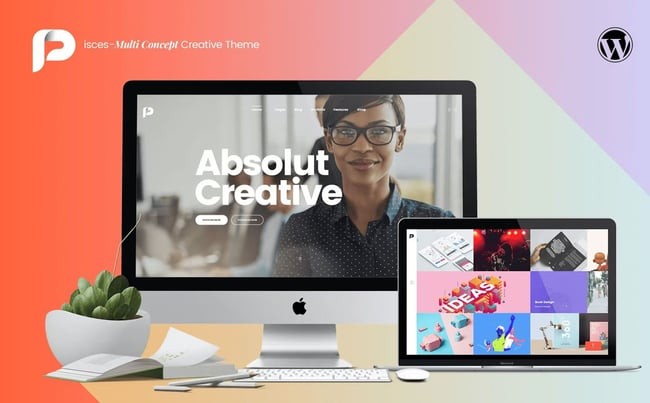 Pisces is a multi-concept creative theme flexible enough to suit almost all website-related needs. You can create portfolio pages, business sites, share video content, or sell products with their WooCommerce integration. Pisces features an intuitive drag-and-drop website builder, making it an easy-to-use WordPress theme solution.
Core Features
Responsive design
Video and social media integrations included
WooCommerce integration
Oshine is a creative, multi-purpose WordPress video theme that can do it all. It is a trendy theme with over 30,000 customers, for a good reason. This solid theme handles video content beautifully and can help you create almost any type of website with style. It's super customizable, WooCommerce ready, and comes stock with smooth AJAX animated transitions available.
With 100s of pre-built sample pages, 52 demo sites, and an entirely visual page builder, your options are limitless with Oshine.
Core Features
Highly versatile
Top-rated and frequently updated theme
WooCommerce integration
Astra is an extremely popular WordPress theme that you can use to create virtually any type of website. Astra is renowned for being fast and lightweight, with a 100% speed score on Pingdom and a 91% speed grade from Yslow. When using Astra, you never have to worry about your site's load time being an issue. Astra's drag-and-drop page builder makes customization a breeze, but if you want to take a more straightforward approach, you can drop in any of their 230+ pre-built websites to get started.
Core Features
Highly versatile
Best-in-class speed and load times
WooCommerce integration
Streaming and Membership Themes
Streaming and membership themes allow you to create websites with subscription tiers to host your premium content. Check out four options to get you started.
Vayvo by Progression Studios is a media streaming and membership theme that you can use to create a video or audio streaming website akin to Netflix or HBO Go. Using Vayvo, you can create subscription tiers for members to access your premium content.
In addition, you can make free trials and restrict access to certain content based on membership tier. For a fully featured and powerful theme, Vayvo is simple to use and easy to set up. So, if you are a content creator or podcaster looking to create a gated membership community for streaming your premium content, look no further than Vayvo.
Core Features
Media streaming and membership theme
Subscription tiers and free trials
Tablet and mobile friendly
Streamit is a WordPress streaming and membership theme similar to Vayvo. It offers the ability to create a premium streaming environment for your content, be it movies, shows, web series, or podcasts.
Streamit is integrated with WooCommerce, so you can create an online store. Here, fans of your content can buy branded merchandise. We like the dark and impactful design of Streamit and the easy-to-use drag-and-drop page builder courtesy of Elementor.
Core Features
Media streaming and membership theme
WooCommerce integration
Elementor page builder
Aztec is another WordPress streaming and membership theme that can help you monetize your videos via a subscription model. Like the above themes in the same category, Aztec is eCommerce integrated, features a drag-and-drop page builder, and supports third-party video and audio players.
One nice feature is the Pay-Per-Post option, which lets users purchase single content pieces at a time if they prefer not to sign up for a subscription.
Core Features
Media streaming and membership theme
Par-Per-Post ability
Advanced search functionality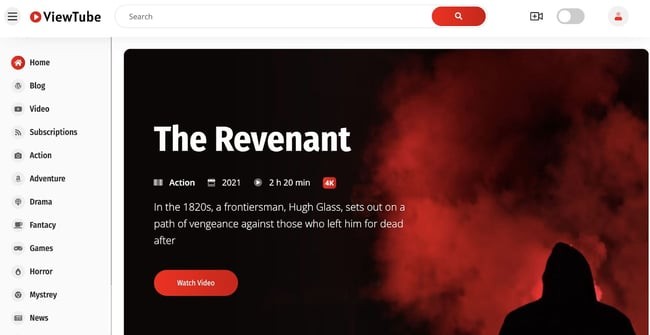 ViewTube is a WordPress video streaming theme that takes some not-so-subtle design inspiration from YouTube. If you want to create a YouTube-inspired streaming website, then ViewTube is the answer.
This theme is designed to host a large amount of user-uploaded content. For example, it can help create a company-wide knowledge base or a custom submission site for video auditions. ViewTube is highly customizable, so you aren't stuck with the red-and-white YouTube vibe if you want to change things up.
Core Features
YouTube-inspired streaming theme
Can handle large libraries of video content
Elementor page builder
Choose the right video theme for WordPress.
WordPress video themes allow you to display your content, mix and match your videos with photos and written content, sell your content, and more. Whatever your needs, there is a video theme that will work for your WordPress website.
Try installing one of the themes above, or check out the number of other video themes in the WordPress theme library. By applying your unique content, you can create a website that works for your business needs.
Editor's note: This post was originally published in December 2018 and has been updated for comprehensiveness.