Two years ago, I started a small graphic design business in Venezuela. I had been selling football jerseys prior to that and I saw the potential in e-commerce. But my new graphic design business was small and I was having a hard time finding new customers. My country was (and still is) suffering from a difficult economic situation, which made it harder to find clients who were willing and able to pay for my services.
One day I was doing some research online and a particular book caught my attention: it was about making money on a site called Fiverr. I Googled the word "Fiverr" and it was a life changing moment for me. Immediately, millions of opportunities flashed before my eyes. That night, I couldn't fall asleep because I was so excited to start building my business with Fiverr.
After brainstorming for a couple of days, I came up with 10 different Gigs that were priced low but were profitable for my business. I didn't have any sales the first few days. But on the sixth day, I woke up to 13 orders from a customer in Thailand. I thought it was a mistake! I can still remember the adrenaline of that moment – I was so happy.
After that sale, I continued to offer many kinds of small Gigs for about $5, but balancing different orders and clients became challenging, and I ended up delivering projects late. Some customers cancelled their orders and I lost out on hundreds of dollars. I knew I had to change my strategy – so here's what I did:
How I Turned My Graphic Design Skill Into an Online Sales Machine
In order to manage my time better, I realized that I needed to work with fewer clients on higher-paying projects. My most popular Gig was an animation Gig. What if I offered a custom animation service that was more expensive than $5?
A couple days later, I received my first offer for a custom video to explain how Bitcoin works. With that sale, I earned the equivalent of multiple $5 Gigs but I only had to talk with one customer. It was great!
How I Increased the Average Amount per Order and Reduced Cancellation Rate to 0%
From then on, I put more effort into selling my higher-paying Gig. In the beginning, I had much fewer customers – less than half as many as I used to – but I also had a much higher average amount per order. It doubled the first month, then almost doubled again by month two.
In January 2016, my average amount per order was $31. One year later, it was $374.
Because I had fewer customers, I was able to manage my time better. Within six months, my cancellation rate had dropped to 0%. I realized that offering one popular Gig was all I needed to be successful.
How I Improved Sales Efficiency (and Increased My Monthly Income by 700% in One Year)
Specialization became my most important strategy. When you focus on one Gig, your skills will improve with time. And when you offer only one service – but you do an amazing job –you'll be considered a specialist. People will turn to you, the expert, when they are in need of that service. I became known as the animation specialist, and the orders started flowing in.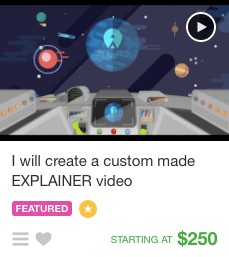 At first, I still had fewer customers than when I first began, but thanks to the higher average amount per order, my monthly income had almost tripled within four months. Four months later, it had almost tripled again. By this time, I had a team of 15 designers working full-time at our office to help increase my income even more. When it was all said and done, I was able to increase my monthly income by 700% from January 2016 to January 2017. Now my company is one of the best animation teams on Fiverr.
In February 2017 alone, we did $10,985 in business with no late deliveries or cancellations.
The End Result
Fiverr literally changed my life. It helped me find customers from the other side of the world without spending one single dollar on marketing. How is that even possible? Fiverr helped me build my business and achieve the growth that I have today. It's hard to imagine that two years ago I was struggling just to get local customers in Venezuela. The number-one piece of advice I have for new Fiverr users is to never give up. It might take weeks until you sell your first Gig on the marketplace, but eventually you will succeed. Always try to find new ways to improve your Gig and you'll succeed little by little each day.
Has Fiverr changed your life? Share your success story with us in the comments below!
The post Successful Fiverr Seller Case Study: How a Brand-New Business Increased Monthly Revenues by 700% in One Year appeared first on .