Did you know TikTok is the most engaging social media app with an average user session of almost 11 minutes? Now add to the mix a staggering 1.2 billion monthly users.
To state the obvious, TikTok is dominating the social media landscape, becoming a gold mine of short, snackable content. While that sounds exciting – how can you get started?
Here's a a handful of steps — with photos — to walk you through setting up your profile, filming your first video, adding special effects, and using challenges or duets to engage with other users.
Setting Up Your Account
1. Download the app and sign up.
Go to the App Store or Google Play and download TikTok. When you open it, TikTok makes it pretty easy to sign up. You can do an instant sign up with Facebook, Gmail, or Twitter, or add a standard username and password if you don't want any of those accounts connected.
2. Set up your profile.
Once you're logged in, you'll instantly be brought to the feed of videos. I'll show you how it works in step three. But first, tap the icon in the lower right that looks like a person's outline to see and edit your profile.
Once you enter your profile, tap the Edit Profile button, then select a profile photo or video. You should also add your username and bio information. If you want to show off your other social media profiles, you can link up your Youtube and Instagram pages. If you're a business, this could be a helpful way to advertise your other visual platforms.
Finding Videos and Engaging with Users
3. View your video feed.
Now that you've set up your profile, tap back to the Home tab to see your video feed.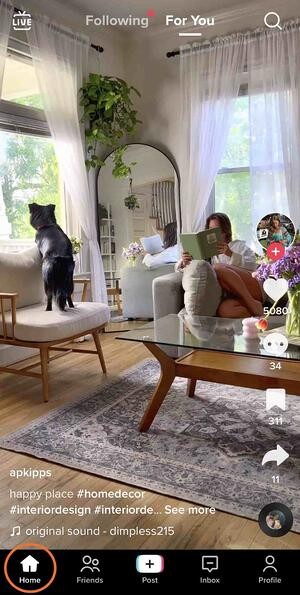 Think of this feed like Twitter's, but where video is the primary content. If you don't have any followers yet, the app will send you random trending videos. As you begin following and interacting with more people, your feed will become more personalized to your interests.
4. Like, comment, or share videos you enjoy.
When you find a video you like, you can tap the heart to like it or the speech bubble to comment on it. To share the video, press the forward sign underneath the comment symbol to see your sharing options. These symbols are all located on the right side of the video.
If you really like a video and want to see if the user has more posts you'll enjoy, swipe left to toggle to their profile.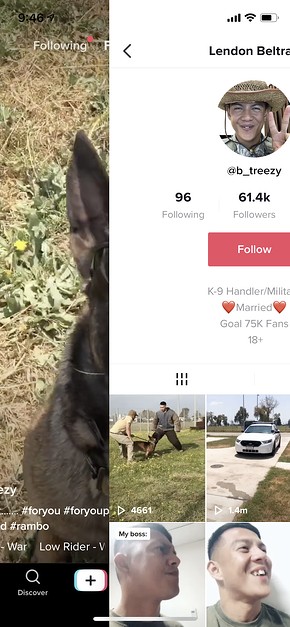 5. Search for videos.
Tap on the second tab, or magnifying glass, to enter the app's search area. On this tab, you can either search out accounts or videos, or you can look below the search bar to see videos by trending topic.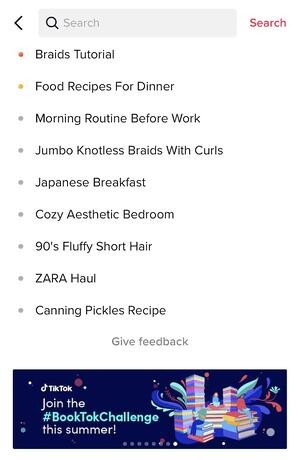 6. Organize your saved videos with Collections
Once you start "liking" videos, you can rewatch them under your Saved tab. But be warned: the Saved tab can get messy, quickly. Luckily you can organize your favorite videos under categories — or as they're referred to on TikTok, Collections.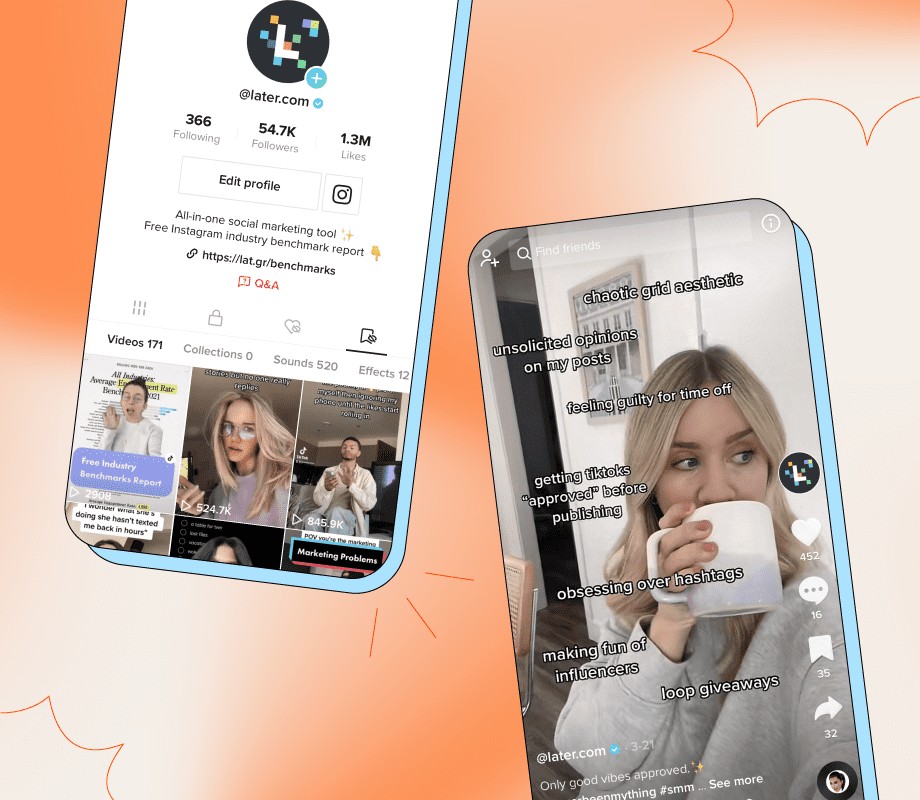 Image Source
To access Collections, click on the bookmark icon below the comment icon. Then, press "+ Create new collection" to add a collection. Categorize your saved posts by topic (i.e., fitness, recipes, dog videos), aesthetic, or any other classification you want. Additionally, you can create a collection of your favorite sounds, effects, and hashtags.
7. Follow users.
If you want to keep up with a great video creator, you can follow them by pressing the icon that includes their profile picture and a plus sign.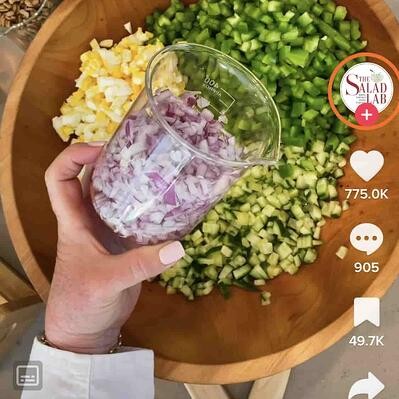 If you already know of a TikTok account or person that you want to follow, you can search for them in the search bar and then press the "Users" filter.
8. Share your TikTok using TikCode.
Now that you have a TikTok, it's time to share it far and wide. One of the easiest ways to do so is with a TikCode. A TikCode is a QR code unique to your profile that others can scan to quickly access your profile. It's an ideal option if you run into a friend in-person who wants to add you.
To find your own TikCode, go to your profile and access your settings options. Then, click QR code. This will open your unique code.
How to Post on TikTok
9. Set up your shot and pick out special effects.
Tap the center tab to enter camera mode. To face the camera in the right direction, tap the Flip icon in the top right. On the right side of the screen, you'll also see icons for the following:
Speed: Allows you to record your video in slow motion or sped up.
Beauty: A filter that can hide blemishes and smooth out your skin.
Filters: Lets you change the color filter of the camera.
Timer: Allows you to set an auto-record countdown if you want to film hands-free.
Flash
Sounds and Effects
On the top center of the camera screen, you'll also see music notes with "Add a Sound" next to them. Tap this to choose the musical overlay or sound effect that you want to work with.
On the bottom of the camera, you'll also see an Effects icon to the right and an upload button to the left — in case you want to record your videos outside of the app.
When you tap the Effects button, you'll see a giant lineup of AR filters and other special effects that can augment your face or your surroundings. You can also pick out a video overlay-styled filter here.
In the black bar under the camera, you can set the time limit for your video or tap Photo Template to create a photo slideshow instead of a video.
10. Record the video.
Once you're ready, press and hold the red record button. You can either record your video all at once or in pieces.
If you want to fit different shots in each video or record it in pieces, simply hold the record button for each segment, then let go, then press and hold it again when you're ready for your next shot.
Don't want to hold your record button the whole time? Before you enter record mode, you can also use the timer to give yourself enough time to prop up your phone and pose in front of it before it starts automatically recording.
11. Make final edits and add a caption to the video.
When you're done recording the video, you'll still be able to add a musical overlay, filters, and other basic special effects. You can also add stickers and text overlays on top of the video.
When you're done, press Next. You'll be directed to a page similar to Instagram's post page where you can add a caption, relevant hashtags, and account handles of others. You can also set the privacy of the video, turn comments on or off, and allow duets or reactions.
If you aren't ready to post yet, just press the Drafts button at the bottom left to save it for later.
12. Duet with other users.
See a musical post that you love? Want to join in with the person who made it? TikTok allows you to reply with a Duet video. To use this former Musical.ly feature, find a video you want to duet with, press the Share button to see sharing options, then press the "Duet" option on the bottom row in the center.
Your camera screen will appear next to the video. From there, you can press record and sing along, dance, or do whatever you want to the music.
To show you what a finished product looks like, here's one great example:
If you make a post and don't want anyone to duet with you, you can tap the "Duet/React Off" button on your Post page before publishing.
13. Participate in a challenge.
Like other social media platforms, you'll occasionally see videos with hashtags for "challenges." A challenge is when a video post, company, or person encourages users to film themselves doing something oddly specific — like flipping the lid of a Chipotle to-go bowl with no hands. Participants then film themselves doing the action and hashtag the challenge name in their post captions.
There usually aren't any winners in a TikTok challenge, but hashtagging it might help you get more followers or views as people find you when searching the hashtag.
To give you a quick idea of what participating in challenge entails, here's a video of someone doing the above-mentioned #ChipotleLidFlip challenge:
A Few TikTok Takeaways
As you're brainstorming or filming your first videos, here are a few tips to help you create unique and engaging posts:
Have fun with the special effects. There are a ton of ways to zest up your video, and audiences on TikTok expect it. So play around and experiment with them.
Embrace the music. Most videos on the platform have some type of song or sound effect in the background.
Film a few videos with multiple shots. This will make it feel more interesting and active.
Don't be afraid to show a lighter side or a sense of humor. People come to this platform to be entertained.
Use trendy hashtags and try out a challenge video. Then, include relevant hashtags in your post caption so your video shows up when people search it.
Look at what other brands are doing. While your company might not need to jump on TikTok just yet, videos posted by other brands could inspire some ideas for your own strategy.
Yes, TikTok may seem like a new, experimental platform right now, but it might be a great tool for engaging and spreading awareness to your younger audiences
later.