Your business is getting by just fine – but still, the questions remain: Could you be selling more? Is there an opportunity to increase market penetration? Is there any way you could engage in further product diversification?
Companies hoping to increase revenue can do so in a variety of ways — such as an increase in advertising budget, expanding their sales team, and investing heavily in product development.
However, one of the often overlooked ways to strengthen your gross sales is a purposeful, well-researched, and expertly executed market development strategy.
In this article, we'll explain what market development is and how you can employ it to increase sales and grow your business.
What is market development?
Market development is the expansion of your total addressable market (TAM) and how much market share you can expect to claim.
A market development strategy can focus on how a business might grow revenue by embracing one or both of the following initiatives:
Developing a new product line to increase revenue by selling to new customers, or up-selling to existing ones.
Creating a plan to sell existing products/services to new demographics, through such initiatives as adding locations or expanding delivery radius.
In the first scenario, TAM increases because by offering a new product or service, you're effectively increasing the maximum amount of revenue you can attain from your existing customer base.
Think of a jeans company that starts to design shirts and jackets – this company might have tapped out their market's interest in jeans, but those same customers might be willing to also buy clothing other than jeans from this company.
In the second example, TAM increases because you're simply adding more people to your target market, and are able to service new customers without investing in a new product line. Think of corporate expansion by way of hiring salespeople to service a new region, or a restaurant opening up a second location on the other side of town.
How to Create a Market Development Strategy
The decision of when and how to develop your existing market should be a methodical process.
Just because your business has struck lightning once does not mean your new expansion plan is a guaranteed success.
Because of that reality, follow these steps and use these resources to determine if you should develop your market, how it should be developed, and whether or not the initiative is successful.
Step 1: Research Your Development Opportunities
It's always tempting to go after the next big thing – whether it's adding more areas of focus to your consulting business or adding more items to your restaurant menu.
However, before you spend time, money, or resources on developing your market, take these steps to determine if the expansion is worthwhile.
Review Your Buyer Personas
Featured Tool: HubSpot Buyer Persona Templates
When expanding your market, you face the potential need for net new or revised buyer personas, which are semi-fictional representations of your ideal customer based on market research and real data about your existing customers.
Consider the motivations, demographics, and backgrounds of your new target market to help you decide whether or not the development initiative makes sense.
Research Your Market
Featured Tool: HubSpot Market Research Kit
Understanding your hypothetical positioning in a market is key before attempting to enter it. To that end, conduct market research exercises like a Porter's Five Forces Analysis or a SWOT Analysis to determine your strengths, weaknesses, buyer power, threat of substitutes, or other attributes compared to competitors in this new market.
Additionally, you'll want to calculate market penetration before moving forward with any plans to expand.
Survey Your Customers
Featured Tool: Customer Satisfaction Survey Templates
If you're hoping to expand your current product line to generate more revenue from existing customers, make sure your intended expansion will be warmly received. Asking yourself why this development makes sense coming from your organization is a good first step.
However, talking to and surveying your customers to see if your proposed expansion is beneficial to their lives (and, more importantly, whether or not they would purchase it from you) is a necessary proof point before expanding your offerings as a business.
Step 2: Set Your Growth Goals
A successful market development will come with added sales, profit, employees, customers, products, users, locations, or some combination of these criteria.
Because there's so much on the line, develop goals for which facets of your business you intend to grow, in addition to what your growth goal for each criteria is.
For example, by adding one more location, you may set the following growth goals:
Increase customers by 90%.
Increase revenue by 100%
Double annual profits after recouping the initial investment.
Increase employee headcount by 20 people.
During this stage, you should also consider the requirements needed to help you hit your growth goals, such as initial funding, tools, and software to help you get the initiative successfully up and running.
Lastly, the most important metric to measure before attempting to expand or develop your market is ROI. In this step of the process, compare the upfront costs of developing your market as intended with the projected revenue numbers of a successful expansion.
If the ROI is not encouraging enough to move forward with, you may need to go back to the drawing board and determine a new growth strategy and set of goals.
Featured Tool: Growth Strategy and Planning Template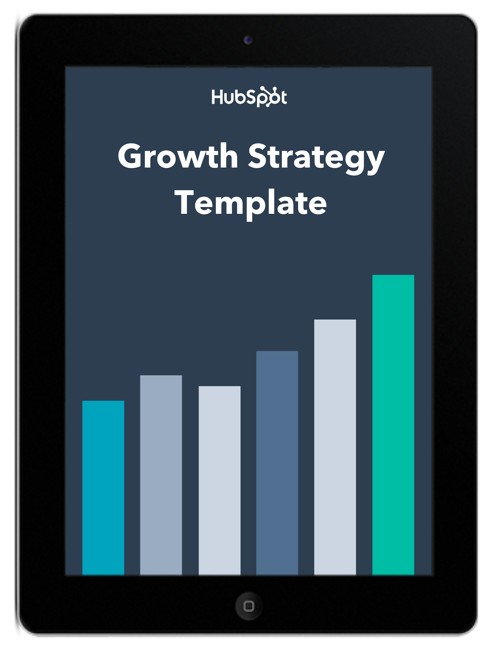 Using the template above, outline your growth goals and strategy to lay the foundation for your market development initiative. This template will help you plan out the steps necessary to achieve your goals and help you determine whether or not they are realistic for this project.
Step 3: Create Your Marketing Plan
An increased market means an increased need for effective marketing.
To generate demand – or to capture existing demand in your market – make sure your marketing plan is up-to-date and reflective of the initiatives it will take to grow your market share to its desired level.
Consider all of the following initiatives and how they'll play a role in generating more revenue in your newly developed market:
Email Marketing: Will you communicate with existing prospects via email to alert them of your initiative? Do you have a list of saved contacts who expressed interest in what you sell, were unable to make the purchase, and might now be able to purchase from you?
Social Media: Do you have organic and paid initiatives to generate buzz and spread the word to grow awareness on social media?
Content & SEO: Do you have website and blog content planned to capture the interest of website visitors hoping to learn more about what you're selling?
Local Marketing: If you're developing your market on a regional level, are you working with local publications, PR agencies, or advertising platforms to appeal to nearby potential customers?
Featured Tool: HubSpot's Marketing Plan Template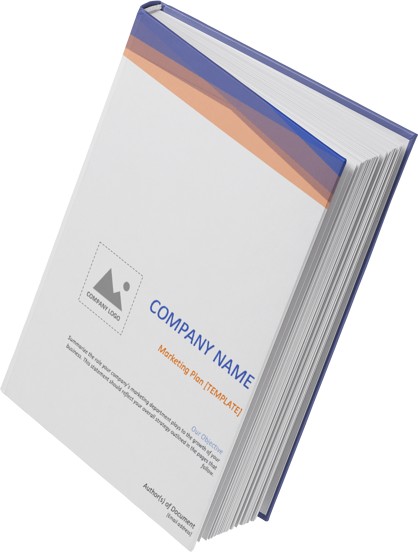 Document your marketing plan supporting your market development with the template above, and make adjustments to it as needed to ensure you're reaching your market in an accurate, appealing, and consistent fashion.
Step 4: Go-To Market
The time has come – your research and planning are complete, and you're ready to formally enact your development strategy, whether it's opening the doors of your new location or making your new product available for purchase on your website.
But before you start collecting revenue, there are a few final steps to take – specifically, aligning your team on the best way to conduct this go-to-market launch.
Going to market is successfully completed by managing three imperative internal tasks – all of which can be done with this Product Go-to-Market Kit:
Campaign Planning
The campaign plan should be the one-stop shop for anyone who has a stake in the success of this project. It should provide a general purpose for the market development project, in addition to the tactical and strategic elements team members need to adhere to in order to see the project go off without a hitch.
Sales Planning
The sales plan should provide more specific insights for the sales team – especially regarding overall projections, team or individual goals, and strategies for how the organization intends to meet these goals
Team Email Updates
For the company at large – particularly for individuals who need to be informed but may not have set tasks to complete – team email updates are a staple of communication during market development. This messaging should contain a status check for the launch timeline, and outstanding tasks, and any notifications the company should be aware of during their day-to-day work.
Featured Tool: HubSpot Go-to-Market Kit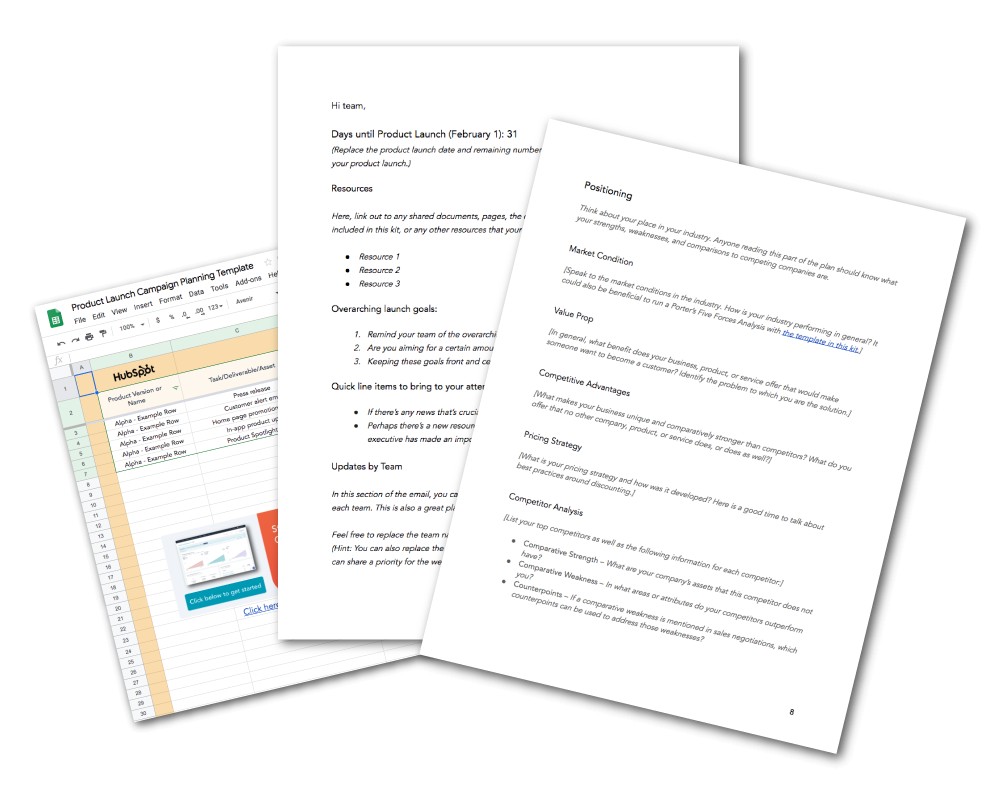 To centralize your internal planning and communication efforts during your market development process, use the HubSpot Go-to-Market Planning Kit.
Step 5: Analyze Your Results
Once you've taken the necessary actions to develop your market, the work has only begun. After launch day, you'll need to be sure customers are satisfied, products and services are high-quality, employees are retained, and – most importantly – goals are met.
Start collecting sales data as soon as possible so that you can begin analyzing whether or not you'll meet your projections. If not, you may have to determine a plan to either adjust your goals to become more realistic, and/or adjust your strategy to ensure your goals are met.
Once data are available, make sure you're presenting your findings accurately and clearly so that stakeholders can fully understand what the results are, how you achieved them, and what the next steps of your market development strategy are.
Featured Tool: Marketing Reporting Templates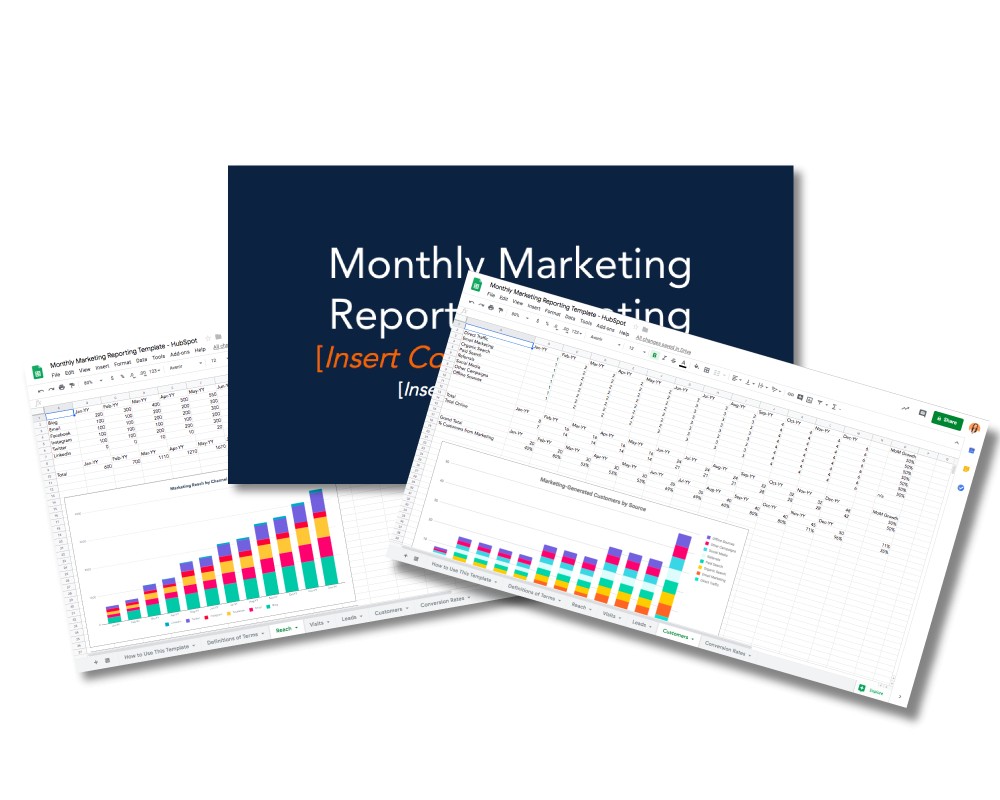 Available in PowerPoint, Excel, and Google Drive, these templates will help the project driver communicate the results of your market development strategy to your team.
Developing Your Market
Get ready to grow your business – by following these outlined steps and using these free planning resources, you'll be prepared to turn your market development idea into a reality. As a next step, learn by example and read up on how five prominent companies developed and acted on their growth strategies.