In today's digitally connected world, social media platforms are constantly evolving. Among the frontrunners is Threads, Instagram's newly-developed social media hub. Post-launch, Threads quickly gained traction as one of the fastest-growing social platforms for 2023.
While the initial buzz may have faded, Threads still remains an untapped goldmine for marketers looking to elevate their social media strategy.
But what does it actually do and, most importantly, why is it still a powerful tool in your marketing arsenal? Well, kick back, read on, and allow us to explain.
Table of Contents:
Overview of Instagram Threads
Threads allows users to truly connect, curate, and quickly share with everyone, from all followers to sacred inner circles.
The app offers a range of features designed to facilitate more intimate and personalized communication, such as close friends lists, status updates, and autostatus.
Moreover, Threads has rapidly gained popularity due to its focus on providing a simplistic, casual approach to social media.
With its intuitive user interface and seamless integration with Instagram, Threads has become an instant go-to platform for those seeking to enhance their social networking experience.
How to Set Up a Threads Account
Setting up a Threads account is a pretty straightforward process. But in case you need a walkthrough, here's our guide on how to get started.
1. Download and install the app.
Start by downloading the Threads app from the App Store (for iOS) or Google Play Store (for Android). Once downloaded, install the app on your mobile device.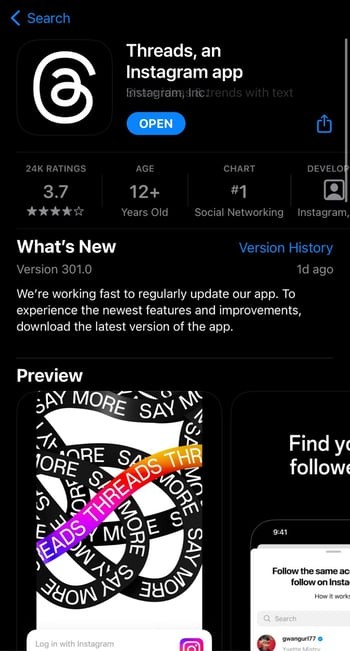 2. Connect your Instagram account.
Launch the Threads app and sign in using your existing Instagram account credentials. Threads seamlessly integrates with Instagram, allowing you to access your Instagram profile and its existing followers.
3. Customize your account.
Once you're signed in, take a moment to personalize your Threads account.
Add a profile picture, update your bio, and select a username that aligns with your brand or personal identity. You can also choose to link other social media accounts to enhance cross-platform engagement.
4. Begin sharing and engaging.
With your Threads account set up, start sharing compelling content and engaging with your followers.
Create content that resonates with your audience, utilize the app's features such as status updates and direct messaging, and actively participate in conversations to foster stronger connections and drive meaningful engagement.
How to Use Threads
Marketers are always on the lookout for new tools and platforms to maximize their social strategies, and Threads, Instagram's latest sister app, may be the perfect opportunity to test out the waters.
It offers an array of features that can be harnessed to drive better results, including:
The Close Friends List Feature

The Status Updates Feature

The Instagram Stories Integration Feature
By curating a list of their most loyal and engaged customers, marketers can create a space for exclusive content and personalized messaging.
This allows for targeted promotions, special offers, and tailored communicationthat can strengthen the relationship between the brand and its most valued customers.
Pro tip: Marketers can also use the close friends list to encourage feedback, conduct polls, or gather insights, helping them fine-tune their marketing strategies.
The status updates feature in Threads provides marketers with the chance to observe and understand the real-time preferences and activities of their target audience.
By monitoring the status updates of their customers, marketers can gain an unparalleled understanding of a few things, such as:
How their customers are feeling

When to implement marketing efforts accordingly (Zero Moment of Truth)

What trends customers are following closely
Pro tip: By aligning their marketing efforts with the current interests and lifestyles of their audience, marketers can ensure their messages resonate more effectively and garner higher engagement and conversions.
Integration with Instagram Stories and user timelines is another powerful feature marketers can explore in Threads.
Marketers can create captivating content exclusively for Threads users, making their close friends/fans feel special. They can then repost this content on Instagram Stories, amplifying its impact and reaching a broader audience.
This cross-platform strategy ensures that marketers make the most of both the intimate environment of Threads and the wider visibility of the Instagram platform to drive brand awareness and 1:1 engagement.
What to Post on Threads
When it comes to posting on Instagram's Threads, marketers truly have full liberty in defining what engaging and compelling content — that resonates with their audience — looks and sounds like.
Check out a few ideas on what marketers can post on Threads to maximize their social media marketing strategies.
Pro tip: Got content that you can't quite put on the Instagram or Facebook feeds? It may be time to consider Threads as your new (unfiltered) best friend. Threads has proven itself to be a platform that is 100% safe for marketers to leverage casual content and tone as a marketing touchpoint strategy.
Whether it's sharing a brand-related meme, referencing a trending pop culture moment, or showing love for an upcoming brand partnership, casual content, tone, and presentation of brand identity allows marketers to build authenticity and foster a sense of transparency with their audience.
Like this example from beauty brand, Glossier.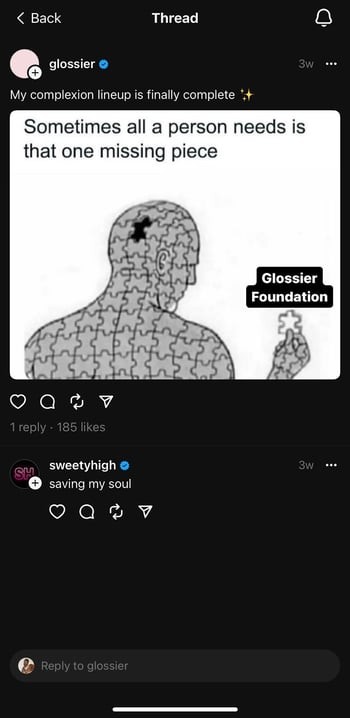 Threads can help promote newly-launched products, product lines, or services like never before. By sharing exciting new products or product updates with their Threads followers, marketers can:
Create a sense of anticipation
Immediately assess customer interest in products
Interact with customers and obtain feedback in seconds
Just like Target did in the example below.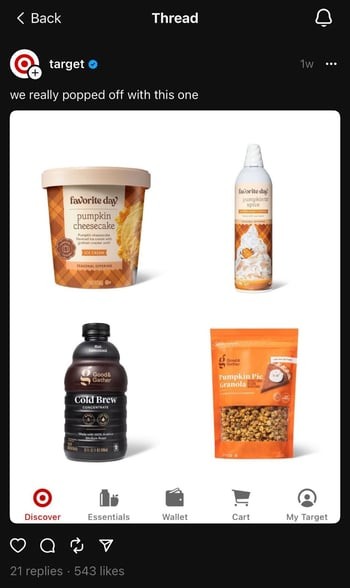 Marketers can initiate Q&A sessions, solicit feedback, or simply start meaningful discussions to create a sense of community and encourage audience participation.
This not only helps in building personal connections but also provides valuable insights that can guide future marketing strategies.
Here's an example from Starbucks.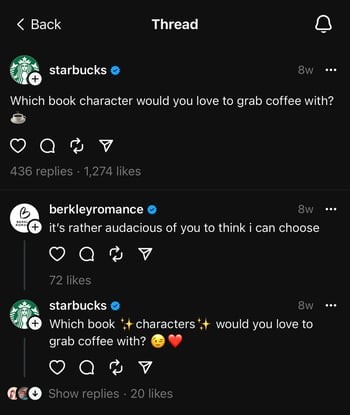 Brands to Follow on Threads
If you're looking for inspiration and insights into how brands and marketers are leveraging Threads, here's a list of the top five brands you can follow on the platform.
Plus, check out a few ways you can take inspiration from what they do best and apply it to your social media marketing strategy:
1. Poppi (@drinkpoppi)
By leveraging Threads, Poppi makes deliciously tasty flavors that you know of (or maybe don't) and turning them into beverage classics.
What do they do best on Threads? Poppi knows how to win the hearts of their mutuals. Whether they're quoting a tweet or tagging other prominent Threads accounts, Poppi keeps their Threads community alive through consistent engagement.
2. Spotify (@spotify)
Through Threads, Spotify treats followers like family, and makes announcements about new releases from your favorite artists and exclusive glimpses into music you love, feel specially delivered.
What do they do best on Threads? Follower fanfare. Spotify wants to know what's on the minds of their followers, and they won't hesitate to ask. The combination of Spotify's inquisitive requests and their followers' eagerness to answer creates a new kind of recipe for true social media success.
3. Target (@target)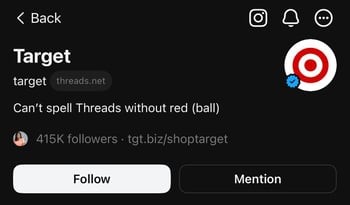 On Threads, Target puts a new spin on what it means to share promotional content for their products.
What do they do best on Threads? Interactive, trendy content. Target can guess what's on your shopping list without even asking, simply because they keep their eyes on well-performing products.
Target uses Threads as way to gauge interest on popular items in-store and online, then creates activity-based around the enthusiasm for those items.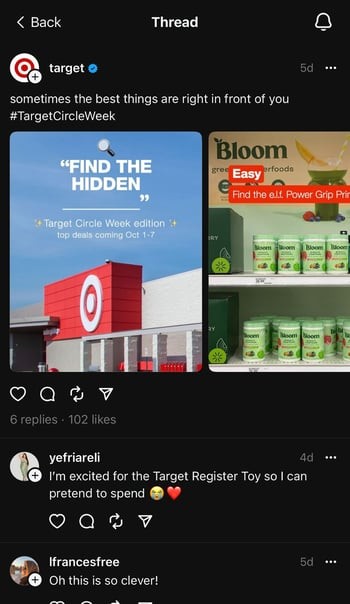 4. HubSpot (@hubspot)
Of course, you can't miss following HubSpot.
What do we do best on Threads? Using Threads, we "talk business" like never before by molding humor into valuable insights, tips, and strategies related to everything (yes, everything) related to marketing.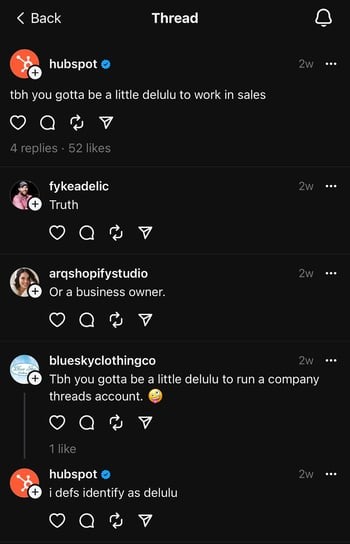 Threads for the Win?
Clearly, Instagram Threads offers a range of features that marketers can leverage to drive better results and establish stronger connections with their audience.
By mastering Threads, marketers can create a sense of exclusivity, intimacy, and authenticity in their interactions, cultivating genuine relationships with their audience.
So, even if the app has lost momentum, don't miss out on the opportunity to leverage Threads and elevate your Instagram presence, it holds great potential in the world of social media marketing.