When I only worked from home occasionally, I would spend all day shifting around in my uncomfortable dining chair. Once work from home (WFH) became an everyday thing, I knew my current setup wouldn't cut it, so I bought a great office chair.
I didn't pay the extra money for assembly – a decision I'm convinced furniture companies want you to regret – and three installation attempts later, I have my chair.
Yeah, the backrest is a tiny bit crooked, but it still works as intended, giving me the extra support and comfort I need to do my job. That's what I imagine corporate sponsorships feel like, minus the crooked part.
When your business needs additional support and resources for events and projects, corporate sponsors can make a huge difference. But it's not as easy as just reaching out to companies you want to collaborate with.
Find out how a corporate sponsorship works, how to secure one for your next event, and how to write a sponsorship proposal.
While financial support is usually synonymous with sponsorship, that's not the only way a company can contribute to your event. Here are three main types of sponsors:
A media sponsor will help your event or project gain the publicity needed to attract attendees. The sponsor may invest in ads in the local newspaper, TV commercials, or other marketing efforts to help you gain exposure.
An in-kind sponsor will offer things other than money. Looking for a venue? They may provide that. Need food vendors or prizes? That's another way they can contribute. They could even help you secure a keynote speaker. This type of sponsor provides the resources you need to accomplish your event goals.
A digital sponsor will assist in the execution of tech-related activities for your event. This can be providing the hosting platform or an app.
So, what's in it for the sponsors? For one, associating with a company that has a positive brand image can be an effective way for a brand to improve its market perception. It's also an opportunity to gain more exposure and reach audiences they may not yet have access to.
On the sponsored side, attaching your company to an established brand can also boost your credibility and help you reach more consumers in your market.
Examples of Corporate Sponsorships
In June 2020, Essence held a virtual summit designed to celebrate the Black community and Black men in particular. The "Dear Black Men" event was sponsored by Bevel, a consumer goods brand whose target audience reflects the event attendees.
The second sponsor was Advancing Black Pathways, JP Morgan Chase & Co.'s fellowship program that centers its work around empowering members of the black community.
Given the topic and the target audience, these sponsors were a great match for this event.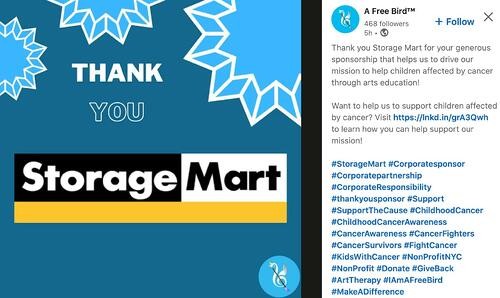 Storage Mart is a nationwide storage company that's core values include supporting philanthropic initiatives. A Free Bird is a nonprofit organization helping children battling cancer find joy in the arts.
One thing to note is that A Free Bird has a webpage dedicated to sponsors. In addition to reaching out to sponsors, your company can also proactively set up a page to attract and direct companies interested in supporting you.
Both companies have more in common than just the name "Victoria," and that's locality.
The Victoria Film Commission is a nonprofit with a mission to promote Southern Vancouver Island as a film destination.
In a statement, Chateau Victoria Hotel & Suites revealed that supporting local businesses is a part of their mission, given that it is owned and operated by a local.
How To Get Corporate Sponsorship for an Event
1. Plan internally.
Before you reach out to sponsors, there's a lot of prep work to complete. Start by gathering all the information you'll need to attract sponsors.
The first is the vision for the event or project: What is the purpose, and what do you want audiences to gain from it?
Say you're the newest affordable office supply company in the market. You may want to host an event to solidify your brand as a go-to store for office items.
Next, what are the goals of your event? How will you measure success? This is an important factor to consider, as it will inform which sponsor you choose. You'll want to work with a sponsor with event goals in sync with your own.
What comes after is figuring out your attendees. How many attendees do you expect, and who are they? This is arguably the most important factor for your sponsors, because they'll want to know if your audience aligns with the persona(s) they're targeting.
As a furniture company, you may expect professionals between 20 to 30 years of age who have recently entered the workforce and are looking for affordable supplies to stock in their office. A brand that also targets young professionals would be a great sponsor.
If you're a nonprofit fighting world hunger, for instance, you'll want to find a company with a mission that includes philanthropic efforts like these.
Another big selling point are your event assets. How are you attracting consumers to your event or project? This could be a well-known speaker, interactive activities, or innovative presentations.
And lastly, based on these factors, what resources are you missing? This will help you determine the type of sponsorship your brand needs so you can draft your proposal using the right language.
2. Build a nurturing workflow.
Getting a sponsor can be a long process that requires a lot of relationship management.
You can't just send an email to your sponsor and consider it done. It may take a few (or more) conversations to secure an agreement. While that may seem tedious, both parties need to ensure it's the right fit.
Before you even reach out to your sponsors, build a workflow to streamline the communication process. Here's an example of the automation you could set up in your CRM:
Reach out to X sponsor and include a link to schedule a call with Y team member. If scheduled, the team member will receive an email with the details of the sponsor and preliminary screening questions.
Send follow-up email in three days if contact has not responded to initial reach out.
After the initial call, send event details over to the sponsor.
Follow-up with X sponsor to ask thoughts on event details if no response after three days.
These are processes you can automate in your CRM platform to facilitate communication between you and potential sponsors.
3. Decide what brands to reach out to.
Now that you're ready for outreach, decide who is the best fit for your brand.
Don't know where to start? Look at brands that have already sponsored other businesses in your industry. This creates an easier point of entry. You can also look at your competitors. What type of brands are they collaborating with?
Once you have an idea of who to contact, do some research. Look at the company's mission and values to see if they align with your own. What about its audience? Is there an intersection between your target audience and theirs? That's a selling point you'd want to highlight in your sponsorship proposal.
Track the company's current brand perception – you can leverage this information to convince them why partnering with you would be positive for their image.
You'll also need to evaluate their local presence. If your sponsor has no presence in your region, they may not be the best fit, as you'll want your sponsor to bring more exposure to your event.
In addition, be sure to check that the companies you're considering have sponsorship guidelines. Some brands have strict eligibility rules, and you wouldn't want to waste your time reaching out if you don't meet their requirements.
4. Find out what your sponsors are looking for.
Learn everything you can about the company to see if it will be a good fit for your event. This means reaching out to the company and asking questions like:
Who is your target audience?
What are your marketing goals?
What do you look for in a company you sponsor?
How do you measure the success of a relationship with your sponsor?
These questions will help you get to the heart of what your potential sponsors are looking for and write a proposal that speaks directly to that.
5. Prepare your sponsorship proposal.
Your sponsorship proposal can make or break your chance of getting a sponsor. So, you want to take your time tailoring it to each sponsor you're reaching out to. Every proposal should have:
An overview of your brand
Event details
A breakdown of what you need from the sponsor
Incentives
A personal touch
Let's dive into each of these points here.
6. Start your sponsor search.
It's time to reach out – where do you go?
The easiest place to start is online. Websites like SponsorMyEvent are designed specifically to bring brands and sponsors together. You can start there during your initial search to narrow down potential companies.
If you're going the traditional offline path, use LinkedIn to identify the right employee to call or email. You don't want to waste any time reaching out to employees who aren't in a position to discuss the sponsorship.
Corporate Sponsorship Proposal
By including the following elements in your proposal, you will make sure your proposal stands out and get one step closer to securing your sponsors.
1. Brand Overview
When reviewing your proposal, the first thing your sponsor will likely ask is, "Who's this brand?" This is your opportunity to make a great first impression and WOW your sponsor.
Tell a story about your brand, your mission, your values. You can dive into how your company got started or focus on your company's recent path. Either way, you want to aim for emotional appeal.
You can get into the nitty-gritty later. This is where you capture their attention and make them want to sponsor you.
2. Event Details
This section is where the meat of your proposal starts.
Describe your event or project. What is the goal, and what does success look like?
Then, cover your attendees. Who is the target audience for this event? Your sponsor will want to know if your event will allow them to reach their key demographic. If not, focus on how your event will help them accomplish the marketing goals they outlined during your initial conversation.
3. Required Resources
When it comes to asking for what you need, don't beat around the bush.
Describe exactly what resources your team will need from the sponsor and how they will be used.
Let's say your team has determined that you need a $10,000 contribution for your upcoming event. You'd include that along with a breakdown of the cost allocation, as follows:
Location rental: $2,000
Keynote speakers fees: $5,000
Decor: $1,000
Food vendors: $2,000
If your team needs a non-financial investment, outline what you'll need and why it's important for the execution of the event.
4. Incentives
One question potential sponsors may have when reviewing your proposal is, "What's in it for us?" This is your turn to highlight how they can benefit from working with you.
During your initial research and preliminary contact with the company, you should have learned what the company is looking for. This could be a better brand image or exposure to a target segment. Use your proposal to highlight how this event will help them accomplish their goals.
Many brands can also be incentivized by being included in the event in the follow ways:
Adding their logo to all event marketing collateral
Giving them a designated booth at the event
Offering a presentation slot
5. A Personal Touch
Finally, your proposal won't be complete without adding a personal element to your presentation that ties right back to the sponsor.
There's nothing worse than a generic pitch. Make sure to include elements in your proposal that connect you to the sponsor. Whether that's their market entry story, their values, or their latest initiatives. Include anything that can help close the gap and convince your sponsor you're meant to work together.
Securing a corporate sponsor requires a lot of planning and strategy. But if done right, not only will you gain a partner for your next event, but you'll foster a relationship with a brand that can continue to support you in the future.