You have big goals for your business this year. Maybe you're dreaming of breaking a sales record or launching a new product. Now is the time to create a game plan. What you accomplish in the first months of the year can determine your overall success in 2020.
When you start the year with a strong action plan, you can hold yourself and your team accountable, and you can monitor your progress. A great plan can also help you increase revenue and grow your business.
However, starting the year strong is easier said than done. If you're not sure where to begin, we've got your back. We've pulled together a four-step plan to take your business to the next level:
Step 1: Build A Strong Brand
Step 2: Reach More Customers
Step 3: Leverage Videos
Step 4: Join The E-Commerce Madness
By using this plan, you can make 2020 your best year yet.
BUILD A STRONG BRAND
Brand consistency is critical for every business, regardless of size, customer, or location. The power and professionalism of your social media presence, website, and design elements are essential in building a loyal customer base.
Proper branding can impress potential customers and have a huge impact on your goals:
45% of customers expect great design across marketing and sales materials.
Presenting your brand consistently across all platforms can increase revenue by up to 23%.
Color, one of the most important branding elements, can increase customer recognition of your brand by 80%.
Consistency communicates to your customers that your brand is dependable. The more recognizable your brand is, the more trustworthy it is. Every time you utilize the same branding elements, you're delivering on your brand promise.
However, having a strong brand isn't just about protecting your bottom line. Regardless of your branding strategy, every blog post, every tweet, and every interaction serves as a form of publicity for your business. In short, branding is marketing.
With consistent and catchy brand colors, fonts, and messaging, your customer will get to know you better both online and off and you'll kick off 2020 with a bang. Start with a brand style guide, and then use it throughout your brand presence.
Brand Style Guides
A brand style guide is your key to consistency. It has all of the elements that give your company a distinct look, feel, and personality. These elements include your logo, fonts, colors, tone, and design guidelines.
Your brand style guide also establishes standards and rules for your marketing efforts. It makes your content more recognizable, it increases your brand value, and it makes it easier to communicate your values to external partners.
Once you define your brand style guide, apply it to your logo, social media accounts, website and mobile designs.
Fiverr's branding experts can help you create a custom brand style guide that sets you apart from the competition in 2020:
Logo Design
Your target customer probably sees hundreds of logos every day. You need a logo that cuts through the noise, grabs their attention, and steers them to your business. It should also include the colors, fonts, and personality that you've defined in your brand style guide. A great logo achieves all of this with a simple, memorable, and timeless design. To get inspired, take a look at some of the logos created by Fiverr sellers, and feel free to contact them directly.
Social Media Design
Don't settle for just a few likes on social media – create a profile that demands attention. On most social media platforms, you can customize your profile to reflect who you are and, most importantly, ensure it's consistent with the rest of your branding assets. Not sure what assets you need? Look to Fiverr's Social Media Design specialists for some creative ways to build consistency across your accounts.
Web & Mobile Design
Your website is your display window. It's ground zero for purchases, and it's the place your customers will visit to learn more about what you do or sell. Make it appealing, beautiful, and, of course, consistent with your brand's style and character. Fiverr's Web & Mobile designers can help you effortlessly integrate your new designs:
Once you've finalized your design, find a professional web developer to help you bring it to life.
2020 BRAND DESIGN TRENDS
As you start the process of building a strong brand, make sure you give your freelancers guidelines that incorporate this year's hottest trends:
Vivid Colors & Gradients
Gradients combine bright and strong colors to create dreamy tones. This design style is popular in the logos of iconic brands like Instagram and Tinder, and it can give your brand the extra edge it needs to stand out.
3D
3D renderings provide more realistic images. These rich, textured designs use state-of-the-art technology to communicate powerful messages. 3D technology can take your illustrations, animations, and fonts to a whole new level.
Motion Design/Animation
Animation has always been exciting and dynamic when it comes to brand design. But as written content loses its appeal, motion design and animation are surefire ways to reach audiences faster. In 2020, expect them to pop up everywhere from small interactions and logos to UI.
Ultra-Thin Geometry
Ultra-thin geometric lines are being twisted into impossible shapes. They give brands a look that's equally metallic and ethereal. As logos become more modern and futuristic, expect to see ultra-thin geometry everywhere.
To build a strong brand this year, make sure you check all those points:
Create a brand style guide
Design a logo
Design your social media profiles
Design your app & website
For more design inspiration (and to spark ideas about other areas of your business), check out Fiverr Discover, our curated selection of beautiful works that were #MadeOnFiverr.
REACH MORE CUSTOMERS
To expand your reach and continue growing your business, it's important that customers can find your business online. There are several ways to advertise, but the following three are the most effective at pumping up your online presence: social media marketing; search engine marketing (SEM); and search engine optimization (SEO). But before you tackle these, start with a smart marketing strategy.M
MARKETING STRATEGY
Every good move starts with a plan. With a professional marketing strategy, you can increase traffic to your website and boost your sales.
Marketers who plan their projects and campaigns are 356% more likely to succeed.
What does that success look like? With advertising services like Google Ads, businesses typically earn $2 for every $1 spent.
Yet still, nearly half of businesses operate without a digital marketing strategy.
Aside from bringing in more revenue, a strong marketing strategy helps you define your target demographic. It helps you invest your time and money in places where you'll see the best ROI (Return On Investment). A marketing strategy also ensures every step you make is timely, and it gives you a chance to shape your brand voice and image.
To get started on your plan, hire one of Fiverr's Marketing Strategy professionals to help you understand the best channels to market your business and the most impactful ways to use them.
SOCIAL MEDIA MARKETING
Social media marketing is no longer an option for small businesses – it's a must. The number of users on each platform, and the amount of time they spend there, offers unprecedented access to your customer base.
Through this method, you can accurately target your audience. Platforms like Facebook employ state-of-the-art analytical tools to help you see who's visiting your site and who's interacting with your posts. You can use this data to refine your audience and ensure your ads end up in the right feeds.
Additionally, you can build trust by solving customer service issues directly and in a personalized manner. And, you can engage with your audience consistently, keeping your brand top of mind and ensuring your company stays relevant.
Executing great social media marketing requires a few things.
Create a content calendar and cover all your bases
Plan your posts ahead of time to ensure you never scramble for content. Additionally, find the right platform for your business. While Facebook, Instagram and YouTube are still the most used social networks, it really depends on the audience you're trying to reach. Other platforms, like LinkedIn, Snapchat, Pinterest and TikTok could be beneficial to your strategy depending on your audience.
Fiverr's social media marketing gurus can help you get ahead and optimize your campaigns:
Use professional influencers
When it comes to influencing, businesses tend to focus on celebrities or influencers with large reaches. However, your objective is not to reach as many people as possible but to build trust within your specific niche. This means finding professional micro or nano-influencers who exist within your niche and leveraging their power to engage with others in a specific community. Fiverr's influencer marketing freelancers can help you build a new fanbase:
SEM (Search Engine Marketing)
SEM involves buying ads on search engines & websites to increase your company's visibility for specific keywords and phrases. With SEM, you pay only for the most effective traffic. You decide the price, location and time that will yield the highest amount of traffic with intent to purchase. In turn, this will boost your company's revenue.
If you include it in your business' marketing plan, SEM can generate significant exposure for your products or services:
There are 3.5 billion Google searches per day, which amounts to 1.2 trillion searches per year.
Click-through rates on search ads rose 75% over the previous year.

SEM helps you work smarter, not harder. Instead of chasing after customers, you're gaining access to what they're looking for, and ensuring you're in the right place. You can target a wide audience, tailor your ads to specific search terms and keywords (instead of vague demographic criteria), and you can even make your ads appear in searches for your competitors.
Creating a great SEM strategy requires you to be strategic.
a) Choose the right keywords
These keywords should be relevant to your business, localized when possible, and in line with popular searches. Also be sure to use words that drive high commercial intent (i.e. buy, discount, deal, etc.).
b) Track your results
Measure your click-through rates and your ad spend and tweak your strategy. You never want to bid high only to receive weak traffic.
Fiverr's SEM experts can help you get it right the first time:
SEO (Search Engine Optimization)
Search Engine Optimization is just as important as SEM, however there's a big difference between the two. With SEO, you use a series of strategies and best practices to increase your website's organic visibility in search engines, instead of buying ads. This is important because:
93% of all online experiences begin with a search engine.
The #1 result in Google's organic search results has an average CTR of 31.7%.
And most importantly, clicks from organic results are free! Crafting and executing an SEO plan requires some budget, but once your site is ranked high – you don't pay for the traffic.
Relevant results, which are the outcome of a good SEO strategy, will be shown at the top of the SERP (Search Engine Results Page). Paid results (ads which are purchased as part of a business' SEM strategy) will show at the top of the page as well (above the organic results), but will be displayed as paid advertising. Thus, SEO provides two major benefits:
Your content will rank high in search results without paying for traffic.
Some users consider SEO content more trustworthy because it's pure content and not advertising.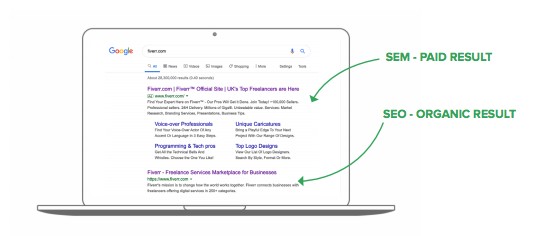 One of the most important aspects of SEO is creating highly relevant content for your current and potential customers. If Google's algorithm recognises your content as relevant for users, it will rank it higher for the relevant keywords, and will drive traffic to your website.
For best results:
Make sure your content is unique and relevant.
Focus on technical SEO. Make sure that your site is loading fast, accessible for search engine crawlers, easy to navigate and in general – giving your visitors a good experience. You can't get ranked high if you don't give a great experience.
Make sure you have brand visibility on other websites: whether it's guest blogging, news coverage, or collaborations, it's important for other relevant, well-established sites to mention your brand and link to your site. This improves your brand's trustworthiness, both in the eyes of visitors, and of the ranking algorithms.
Prioritize your mobile site's page loading speed and experience: Google uses mobile-first indexing, which means your mobile performance matters just as much as your desktop performance. It's important to create an effective, fast experience on mobile that keeps users engaged. A delay of just a few seconds can lead to a poor user experience, and it can hurt your search rankings. 
Work with professionals – these SEO strategies must be employed correctly. If you overuse any part of your plan (i.e. repeating a keyword too many times), it can adversely affect your Google ranking. This is something Fiverr's SEO experts can help you with.
2020 Social Media Marketing, SEM, and SEO Trends
As you start building out your digital marketing strategy, be mindful of these trends that will pick up steam in 2020:
Voice Search – More than 50% of searches in 2020 will take place through a voice assistant like Apple's Siri or Google Assistant. Companies will optimize their content for voice search, focusing on SEO keywords that align with popular voice searches. Fiverr Voice Search professional can help with that.
Less Email – Email lists aren't converting customers like they once did. Instead, companies are finding ways to use AI in their marketing efforts for faster and more effective communication.  2020 will see more and more companies turning to chatbots and messaging apps instead of emails. Want to apply these for your business? Contact an AI chatbot expert on Fiverr.

Shoppable Social Media Posts – 72% of Instagram users have purchased products directly through the app, and 70% of Pinterest users log on to find new products. Shoppable posts shorten the sales funnel and make it easier for customers to shop.
STEP 3: LEVERAGE VIDEOS
Video is king across all online platforms. Globally, research shows that customers' attention spans are shrinking, and video offers a dynamic way to keep their attention and stay relevant. It's a more exciting alternative to blog posts and traditional ads, and it has many benefits for both brands and consumers.

By 2022, online videos will make up more than 82% of all consumer internet traffic.
45% of people watch an hour of Facebook or YouTube videos every week.
50% of Internet users search for product videos first before making a purchase
Video marketing works because today's social media networks are primarily video-focused. Users are naturally drawn to movement, and video capitalizes on this. It's important to ensure your videos are professional and consistent with your brand's style and voice.

Here's a step-by-step guide to creating the perfect video.
1. Find References & Inspiration
Before you start the technical aspects of producing your video, pick the type of video you'd like to make:
A whiteboard video or animated explainer is perfect for complex products. Like cartoons do for kids, animated explainer videos bring complicated concepts down to earth with easy-to-understand visuals and narration.
Live action explainer videos work well when you can demonstrate how your product works, when your product is tangible, or when it's best to explain your product by action rather than by illustration.
Short video ads are a great addition to your online marketing campaigns. Video marketing is proving to be a powerful and effective part of any marketing strategy — now more than ever.
Need to get inspired? Head to Fiverr Discover to find references for the look and feel you have in mind for your video.
2. Write a Script
Your video needs a script, just like a movie or a TV show. A great script demonstrates your brand's personality and gives your customer the most important information about your product or service. Hire a Fiverr scriptwriter to tell a story that your customers can't ignore.
3. Create a Storyboard
The storyboard is a visual representation of how you want to tell your story. It helps you organize and streamline your narrative. Work with a Fiverr illustrator to sketch out every action, camera movement, and scene transition.
4. Record a Voiceover
A voiceover is the off-screen narration that tells the story in your script. It's not necessary for every video, but it is highly relevant for certain types of videos, like a whiteboard or an animated explainer. Fiverr's professional voiceover artists have the expertise and the emotional power to grab your audience's attention.
5. Produce
Connect all of your components in a professional video. Hire one of Fiverr's video experts to bring your animated explainer, short video ad, or live action explainer to life.
Prefer to get it all done at once? Use a Fiverr Studio to assemble a team of specialists to manage your project from start to finish.
2020 Video Trends
As you plan your video content for 2020, make sure you take advantage of the year's biggest trends:
Interactive videos – 2020 is all about making the viewer feel that they're a part of the video. Interactive videos are about more than delivering a message – they take your customers on a journey. Imagine an interior design pro showing off the work in their showroom or a real estate agent showcasing the unique aspects of a property. This is next-level video.
Instagram Stories – 77% of marketers have posted a video on IGTV. 41% of marketers say Instagram Stories have become more important to their businesses in the last year. Features like Stories offer a more authentic way to preview new products, offer discounts, and share behind-the-scenes footage. Also, the success of Stories doesn't depend on public metrics such as likes, which may soon disappear from the platform.
Live video – Live videos give you a direct line to your customers. You can answer questions and engage with your community in real time. This helps you form relationships with your audience, which leads to brand loyalty.
STEP 4: JOIN THE E-COMMERCE MADNESS
We're deep into the digital era. Customers prefer to buy anything they can online, and they have a very high standard of service. Every part of their experience is important, from how long it takes a page to load to how quickly their items can be shipped.
The beginning of the year is a great time to optimize your online shopping experience or launch a digital storefront. Not sure why you need to be there? Take a look at these figures:

25% of the world's population shops online – that's almost 2 billion people.
E-Commerce sales will account for 15.5% of all retail sales in 2020.
62% of online buyers shop online at least monthly.
In addition to meeting customer expectations, there are plenty of benefits for you, too. A well-designed online store can boost your sales and turn one-time customers into repeat shoppers. A strong presence in the most popular marketplaces can expose your brand to millions of potential new customers.

To get started, you have two options to consider for selling your products and services online – you can sell on your own website (and there are several platforms to help you) or you can sell on the major marketplaces. Choose your favorite option or enjoy the best of both worlds.

Once you've made your decision, there are a few necessary steps to ensure you're getting the most out of your e-commerce strategy in 2020.

E-Commerce Development
If you decide to sell your products on your own website, you need to choose the e-commerce platform that works best for your business. There are several options available, but three stand out from the pack:
Shopify: A Shopify storefront is easy to set up, and there are several visually appealing templates. Shopify integrates with other applications, like Facebook Shop, Google Shopping, and Instagram. Also, based on your plan, Shopify storefronts come stacked with SEO features and marketing tools.
WooCommerce: WooCommerce is an open-source e-commerce plugin for WordPress.  It's popular because it's easy to install and many of the themes are free. There are several customizations to create a professional store that's consistent with your brand style guide.
Magento: Magento is also an open-source e-commerce platform. It's mobile and SEO-friendly, has fast load times, and includes lots of customization options. Magento also provides currency and language support.
Fiverr's e-commerce developers can help you pick the right platform and get your online store up and running.
Marketplace Listing
Selling your products on the world's biggest marketplaces can make it easier for customers to find you. Like the e-commerce platforms, there are a lot of online marketplaces, but there are three heavyweights that top the list:
Amazon: Selling on Amazon exposes your brand to hundreds of millions of potential customers. There are low start-up costs to list your products there, and the site is one of the most trustworthy marketplaces on the web. 89% of buyers are more likely to buy from Amazon than other sites.   
Etsy is geared toward handcrafted goods. It's ideal for businesses who want an individualized storefront but without the hard work of building it themselves. Etsy storefronts can be easily customized and they have full e-commerce capabilities.
eBay is a veteran marketplace that actually has a lot of benefits beyond the site itself.  It can help you build your brand by driving traffic to your website, and it helps build customer trust.  eBay is also great for mobile shopping, which is more important than ever.
Fiverr's e-commerce marketplace experts can make sure your products are listed on the platform that's right for your business goals.

Product Descriptions and Product Photography
Whether you are launching an e-commerce store or listing on a marketplace, you need exceptional, eye-catching photos of your products, and you need enticing descriptions that communicate your products' value.  Fiverr's product description writers and photographers can help you capture the essence of every item.
2020 E-Commerce Trends
As you start building your digital storefront, be sure to keep these 2020 trends in mind:
Visual commerce – As 5G networks become more common, faster speeds will enable more complex visuals. That means 3D renderings, augmented reality (AR), and virtual reality (VR) will be more accessible. Higher quality visuals will give brands the ability to convey larger amounts of data and visual information.
Mobile payments – As more and more customers conduct business on mobile devices, the ease of mobile payments will be critical to your success. Digital storefronts should integrate easily with e-wallets and other banking services. Checking out should be seamless, regardless of how a customer wants to pay.
Faster delivery – 2-day shipping is no longer enough. Customers want faster delivery times, and they want the flexibility to customize their delivery options to their needs. E-Commerce isn't just about what happens online – it's also about exceeding customer expectations offline.
RECAP
To have a successful 2020, your business needs to focus on four key areas:

Ensure your brand's logo and other design elements are used consistently across your social media channels, your website and mobile app.
Social media, SEM, and SEO are the best ways to stand out in the digital age
Professionally made videos can help you grab customers' attention on any platform.
A well-designed digital storefront and listings on the most popular marketplaces can boost your revenue.

Take the start of the year to master these elements, and with the help of Fiverr's expert freelancers, 2020 will be your year.

The post Grow your Business in 2020 (Free Ebook) appeared first on .