When a job seeker begins their search, their queries might look like this: "Top companies to work for in 2019" or, alternatively, "Top companies in X industry."
It makes sense — nowadays, a company's reputation matters more than ever. In fact, 86% of workers would not apply for, or continue to work for, a company that has a bad reputation with former employees or the general public.
Ultimately, you spend plenty of time creating a compelling, incentivizing brand story surrounding your products or services. But how long do you spend cultivating a powerful employer brand to ensure you attract and retain top talent?
Here, we're going to explore what employer branding means, examples of good employer branding, and how you can implement your own employer branding strategy, today.
What Is Employer Branding?
At its most basic, an employer brand is your reputation among the workforce as well as your employees' perception of you as an employer.
In other words, employer branding is how you market your company to job seekers and internal employees. The better you are at employer branding, the more likely you are to attract top talent. Additionally, a positive employer brand can also help you retain top talent.
Let's say you've done a phenomenal job building up a strong brand in relation to your products or services. Unfortunately, that alone won't convince someone to work at, or stay at, your company. You need to implement the same branding strategy when it comes to communicating your company's leadership, values, and culture.
If a job seeker asks an employee at your company, "What's it like to work there?" the employee isn't going to say, "We've built some awesome merchandise." Instead, he's going to lay into the day-to-day of people management, company values, and workplace culture. To ensure a good employer brand, you need to tell a compelling story.
However, it goes deeper than storytelling — you also need to walk the walk. Telling your employees, and the general public, that your company is a great place to work because you have ping-pong tables isn't going to cut it.
Why Is Employer Branding Important?
At this point, you might be wondering, Does this really matter to me and my company?
Actually, employer branding is critical to your bottom-line. A good employer brand can reduce turnover rates by 28%, and cut your costs-per-hire by half. Additionally, 75% of active job seekers are likely to apply to a job if the employer actively manages its employer brand.
You have an employer brand whether you've put effort behind it or not — so why not put effort in to ensure it's a brand you can be proud of?
Next, let's explore how you can implement an employer brand strategy today.
Employer Branding Strategy
An employer branding strategy allows you to control and positively change the dialogue surrounding your company to ensure higher talent acquisition and retention. At its most basic, employer branding is how you market your company to job seekers and what employees say about your company as a workplace.
A good employer branding strategy can help you attract better talent, cut down on hiring costs, and reduce employee turnover.
1. Know your company's unique value proposition.
To create a powerful employer brand, it's critical you start by focusing on your company's mission statement, values, vision, and culture. It could be helpful to identify what your business needs are and then work backwards to understand what type of talent you need to acquire to fulfill those objectives.
For instance, consider Teach for America's mission statement — "One day, all children in this nation will have the opportunity to attain an excellent education."
Using this statement as a guideline, Teach for America is then able to tell a compelling brand employer story on their Values page. Among other things, they promise employees the chance for continuous learning, stating, "We operate with curiosity and embrace new ideas to innovate and constantly improve. We take informed risks and learn from successes, setbacks, and each other."
In this way, they've aligned their values, and their employer brand, with their business goal.
2. Conduct an employer brand audit.
You might not be fully aware of the reputation your company has among job seekers or even your own employees. Send out internal surveys, conduct social media searches, check out sites like Glassdoor to read reviews, or hire a firm that administers reputation monitoring.
Ultimately, your research should uncover your employees' favorite aspects of your company culture that you can focus on highlighting as well as any areas for improvement to ensure a strong employer brand.
3. Write an employer value proposition.
Once you've done your research and cultivated a list of values and benefits your company offers, you'll want to create an employer value proposition. An employer value proposition is a marketing message and a promise, so you shouldn't say anything that isn't true or that your employees wouldn't agree with. You might use your employer value proposition on your website, recruitment materials, or LinkedIn company page.
Additionally, your employer value proposition is something your recruiters and HR team can discuss with potential candidates.
Your employer value proposition should have nothing to do with compensation. Instead, you want to evoke passion in potential candidates by expressing your company's positive impact on the world or its deeper purpose. People want to feel their work is meaningful, often even at the expense of a bigger paycheck.
For instance, Accenture, a global management consulting and professional services firm, created this employer value proposition, which they've displayed prominently on their Careers page: "Help build the future. Be yourself, make a difference. Work where you're inspired to explore your passions, where your talents are nurtured and cultivated. Innovate with leading-edge technologies on some of the coolest projects you can imagine. And get the tools you need to keep learning and growing so you stay continually ahead of the game while making a difference in the world."
4. Leverage current employees.
When job seekers want to learn more about your employer brand, they're going to want to hear from and see real employees at your company. Leverage your employees by conducting employee interviews or testimonials to share on your website.
You also might leverage employees by asking them to post on their social media accounts when your company does a fun giveaway or company outing. For instance, perhaps you create a Women in Tech event and hold a panel discussion. Afterwards, you might simply ask your employees to post a picture on Instagram or Facebook with a hashtag you've created. This is a fun yet powerful way for your own employees to share your company's culture with their own networks.
5. Cultivate a strong onboarding process.
Onboarding is the first experience a new hire goes through, and a negative impression can have big consequences. In fact, people who have a negative onboarding experience are twice as likely to seek a different opportunity.
Ultimately, instilling a positive company brand image starts with a good onboarding process. It's critical you get employees engaged and excited about their roles, and their teams, from the start. By arming your new employees with the instructions and tools necessary to excel in their roles, you're ensuring a smooth transition, lower turnover rates, and more productive teams.
6. Offer learning and development opportunities.
In 2018, the number one reason people left their jobs was because they were bored, and needed a new challenge. Ultimately, this should be a relatively easy fix.
If you allow employees to pursue learning opportunities and become proficient in new skills, you're demonstrating your company's emphasis on continuous learning and improvement. And by challenging your employees, you're ensuring they won't get bored in their roles — which could lead to higher retention rates.
Plus, as they develop new skills, they become more valuable employees for your company. A win, win.
7. Use video, blog posts, photos, and slideshows to tell your company story.
When you're implementing a strategy to improve the market's perception of your product or service, you don't just communicate your message through one channel. Instead, you provide videos, photos, slideshows, blogs, and other forms of messaging to ensure you're reaching the largest audience on whichever platform they want to be found.
Similarly, it's critical you use high-quality videos, photos, and text to tell your company story. You might consider putting employee interviews on your job page, or a slideshare created by your CEO on your About Us page.
8. Create a strong diversity and inclusion initiative.
If you want to create a strong employer brand, it's critical you show your commitment to building diverse teams. There are plenty of company benefits to investing in D&I initiatives, including more innovative ideas, a stronger workplace culture, and better customer service. However, it's also necessary for cultivating a positive employer brand by ensuring you're extending your brand's reach to new groups of people.
Employer branding examples
Starbucks
HubSpot
Wistia
SoulCycle
Canva
Eventbrite
Jet
Shopify
Starbucks does a good job ensuring they cultivate a strong community among their employees. For instance, they refer to current employees as partners, instilling a sense of pride in each employee. Additionally, Starbucks created Instagram and Twitter accounts specifically for @StarbucksJobs, which they use to promote their employer brand and interact with job seekers.
By creating social media accounts with the sole purpose of demonstrating appreciation for current employees and evoking passion in potential candidates, Starbucks shows its commitment to being more than just a product.
Rather than posting about their drinks, Starbucks uses its social media accounts to share their company mission, congratulate employees on college graduation, and share personal employee stories. The company also uses the platforms to demonstrate its commitment to diversity and inclusion.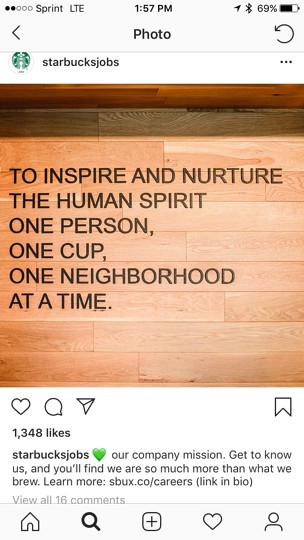 HubSpot's Culture Page begins with a document called the Culture Code, which publically pronounces every vision and value HubSpot hopes to promote and instill in its employees, candidates, and customers.
Moving further down the page, you'll find sections discussing opportunities for learning and development, HubSpot's commitment to diversity and inclusion, and interviews with real HubSpot employees. The language also consistently focuses on the job seeker: "Here's how we can help you grow."
The page ends with a "day in the life" video made by HubSpot employee Matthew Watkins, demonstrating HubSpot's relentless commitment to communicating its culture via its employees. Ultimately, the page is a powerful example for how you might use interactive media to promote your employer brand.
For consumers, Wistia brands itself as a video marketing software that helps grow your audience and build brands. It only makes sense that they would be brand-conscious and use their own software to underscore the ideas that they want to convey to job seekers as well.
Rather than brag about how great a workplace they are, the first message on the Careers page is one of encouragement for job candidates: "Join a team that celebrates each other." They continue to underscore that idea with multiple Wista-created videos about the people that make up their company, the culture that they instill, and the things that make up that culture.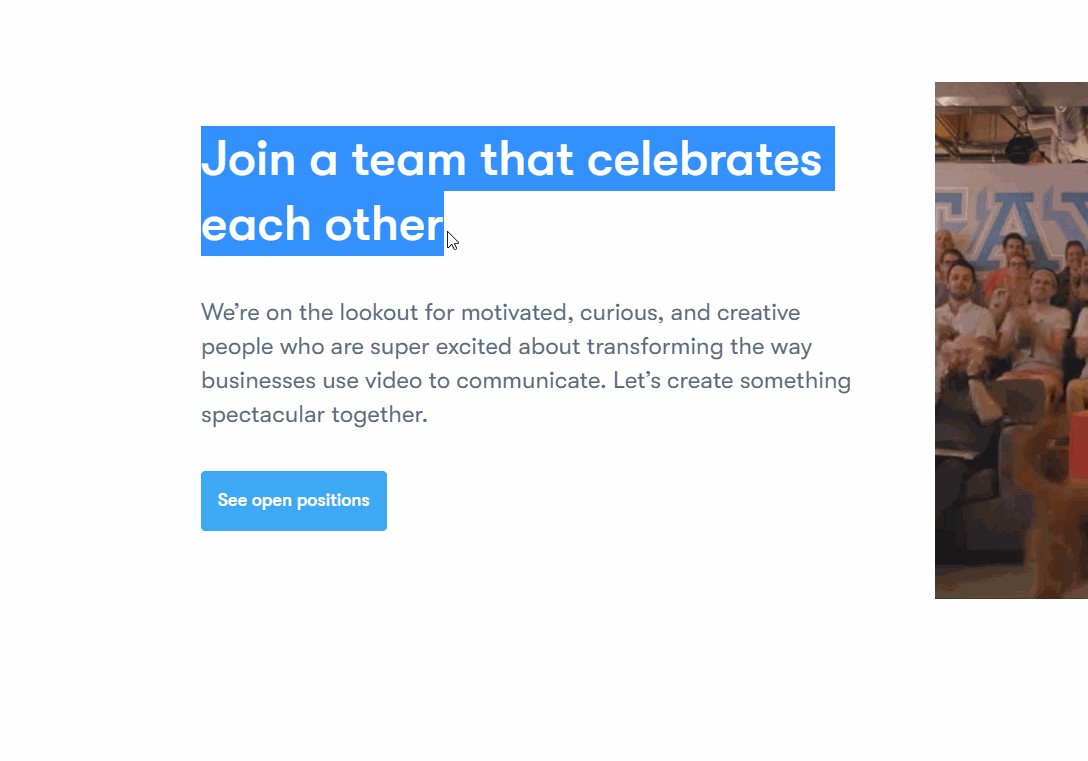 SoulCycle isn't just transforming the boutique fitness space. It's also aiming to transform the traditional corporate culture by offering benefits it feels will evoke a sense of purpose and belonging in each of its employees..
For instance, Soul gives its employees two paid business days off per year to volunteer at a charity of their choice with the hope that the charity days will help employees feel happy and more fulfilled.
Additionally, Soul offers free classes (about a $30-per-class value) to employees whenever it suits their schedule. This displays Soul's deeper commitment to making fitness fun and using exercise as an outlet to de-stress and connect with the community.
With high ratings in each category on Indeed, including four stars on work-life balance and four stars on management, SoulCycle has undoubtedly cultivated a strong employer brand.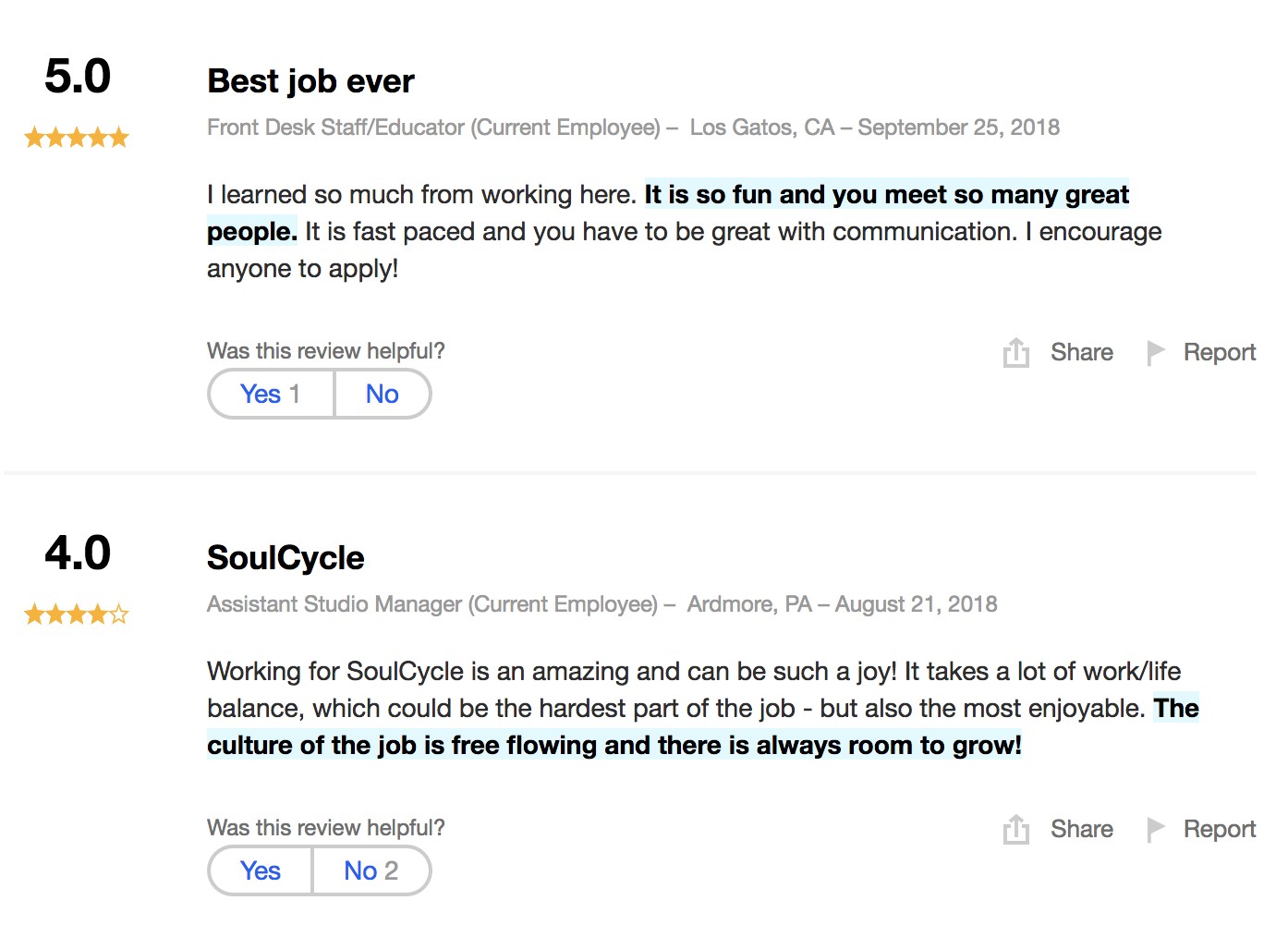 According to LinkedIn's Global Talent Trends report, 23% of Millennials and Gen-X and 32% of Baby Boomers consider company mission as a top factor when considering a new job. That means that across the workforce, more and more job candidates want to be inspired and have purpose in their jobs.
This is what make's Canva's employer brand so great. On their Careers page, they highlight their values for job seekers and pair each value with a visual design, underscoring the idea that design can be a force for good.
Canva also doubles down on this idea on their social media channels, which are full of inspirational content and ideas furthered by design.
To demonstrate its commitment to recruiting high-quality talent, Eventbrite created a web page to introduce job seekers to its recruitment team. The bios are funny and relatable with fun facts about each recruiter.
Additionally, the Eventbrite recruitment team page states, "Interviewing shouldn't be nerve-wracking —-- it should be exciting. It should spark great conversation. We believe in respect, transparency, and timely responses (we don't leave anyone in the dreaded recruiting black hole)."
Their language reflects their values, likely inspiring job seekers to apply.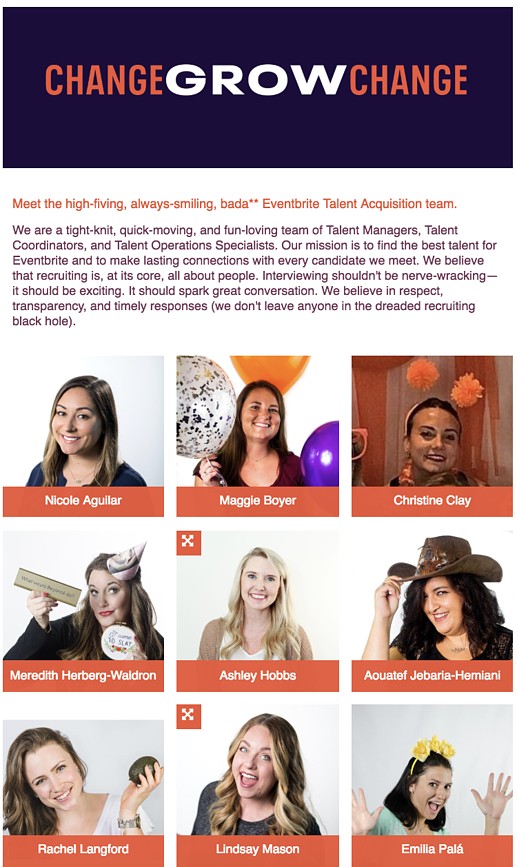 The ecommerce site Jet created this inspirational, employee-focused video to spread awareness for its fun, engaging, motivational workplace. The video is especially powerful because it uses real employee interviews, giving the job seeker a sense for Jet's work culture and values.
Additionally, the video is likely empowering and pride-evoking for current employees, who can see their company's clear commitment to carrying out its mission statement through videos of its workers.
If there's one thing that's clear in tech recruiting, it's that there's a gap between tech jobs and qualified applicants, and it's taking longer and longer to fill positions. For many companies, their leverage is having an incredible employer brand and great perks to attract top talent. Many tech companies can take a cue from Shopify, where they recognize this and tell the job seeker that it's their turn to "apply to you."
This acknowledgement is one step toward earning rapport with a potential candidate, and they continue to empathize with the reader by stating, "Finding the right job is hard work." The rest of their Careers page is dedicated to providing the information that someone would need to take a chance and apply to Shopify.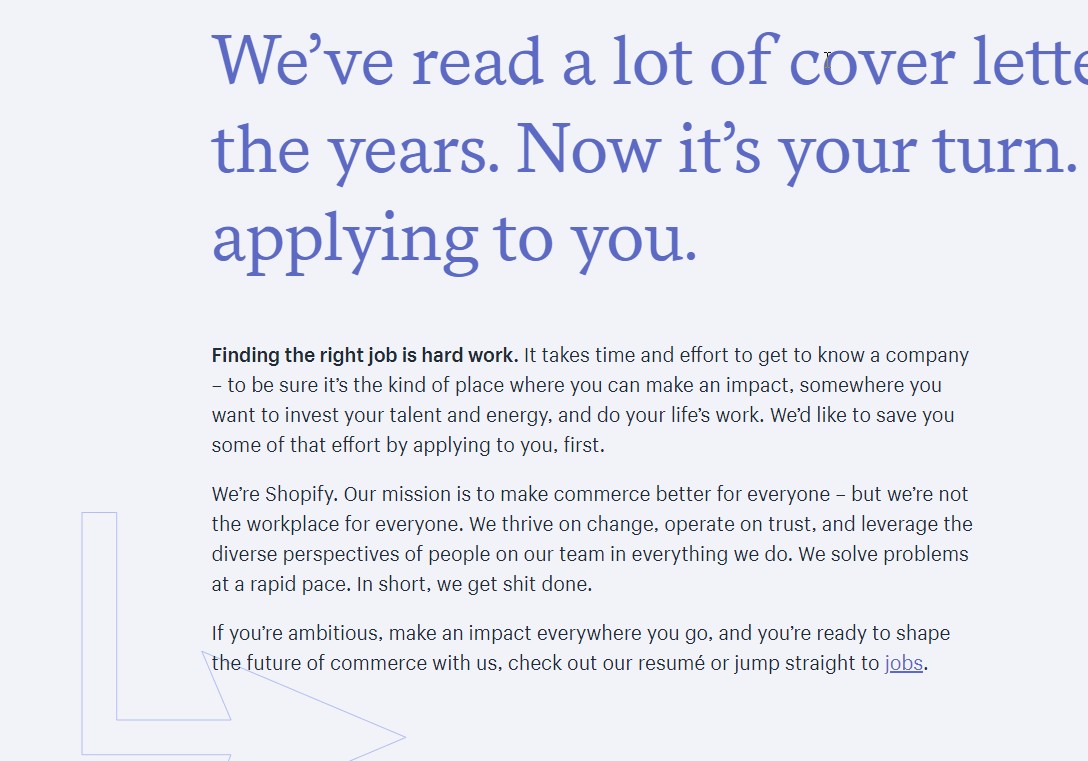 Each one of the examples on this list has in some way shown their empathy, a human element, and a slice of their culture to begin attracting great employees. Human capital is your biggest investment and asset, but remember that your candidates are also investing in you.