In 2018, North America discovered a viral new app called TikTok. Within just a year and a half of its launch, it reportedly grew to over 800 million active users.
As tech journalists and bloggers dug into the origin of the odd video app, some were surprised to discover that TikTok, which took America by storm, was actually inspired by an app created by the same company in China.
Researching social media platforms not founded in the U.S. can be helpful when trying to learn about audiences that live in other countries, especially those that live in highly censored areas like China or Russia. In areas like these, where people might not be able to access common U.S.-based networks, like Facebook or YouTube, tech companies have built their own social media empires.
Whether you're interested in international marketing, or just want to learn more about how audiences around the world interact with the internet, learning about the top global platforms that weren't created in Silicon Valley can be an eye-opening experience.
Below, I'll walk you through eight of the most popular social media platforms around the globe, including TikTok's origin platform -- Douyin.
8 of the Biggest Global Social Media Platforms
Owner: Tencent
Origin: China (Available globally, Chinese language-only)
Name's Origin: QZone and QQ were shortened from the original name, OICQ. The O stood for "open" while ICQ is an instant message term that sounds like "I Seek You" when said allowed.
Reported Users: 517 million active users on QZone with 653 million monthly users on QQ.
QZone is a social media channel while QQ is a messaging app that links to a QZone account. The two apps serve as an alternative to Facebook in countries like China and South Korea, where the U.S. platform is blocked.
The overall platform's story began in 1999 when QQ launched as a desktop messaging site. QZone, a social media site and app, launched in 2005. In 2019, as mobile-first mindsets grew in millennial and Gen Z audiences, Tencent transformed the QQ website into a standalone app. QZone still serves as a social media platform while QQ is now similar to the Facebook Messenger app.
To help you better visualize how people have used QQ and QZone, here's a quick analogy:
When U.S. millennials like me were children, we raced home from school to message our friends on AIM. Then, as we reached our high school years, we ventured onto Facebook, where we could message people, create a profile, and post updates.
Meanwhile, in China, people in my age group might have messaged friends on QQ's messaging website instead of AIM. Now, QQ users might use its sister app -- QZone -- for a social media experience that's comparable to Facebook. Then, to message friends, they use QQ.
Here's an example of a current QZone profile that shows just how similar the platform is to Facebook: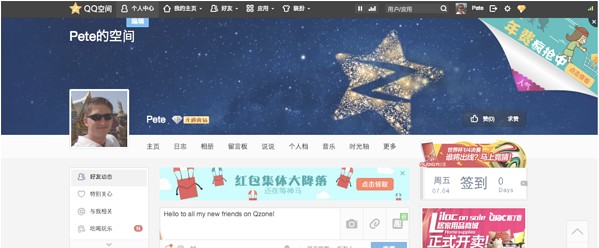 On QZone, users are encouraged to publish posts, videos, or even music. Like Facebook, they can also connect with friends, see a feed of updates, comment, share or react to posts, and update cover or profile photos.
The QQ and QZone are great examples of a social media brand that gained traction long before we signed on to well-known platforms owned by U.S. tech firms. The usership of QQ and QZone might be so strong in China because young audiences discovered the brand for its messaging tool and were able to join and enjoy its full social media network later on.
Although Facebook launched 2004, one year before QZone came out, Tencent had already captured the millennial demographic with QQ, figured out how to grow its product competitively with QZone, and continued to add features to pull in Gen Z audiences.
While QZone and QQ seem like Facebook alternatives, their history of growth is fairly parallel. And, as one of the ten biggest social media platforms globally, QZone is worth knowing about if you plan to market to Asian territories with heavy censorship.
Owner: Tencent
Origin: China (Available globally)
Name's Origin: The app's original name was Weixin, which translates to "micro letters." In a play to become a more globally used app, Weixin rebranded to WeChat in 2012,
Reported Users: 1 billion active users
WeChat launched in 2011, before competitors like Kik and WhatsApp. The messaging app was rolled out by Tencent, which also created QZone and QQ.
Similarly to WhatsApp, WeChat allows free text-based chats and voice calls. It also has a Moments feature similar to Instagram or Facebook Stories. Like many U.S. platforms, you can place fun animated stickers and filters on images or videos sent within the app.
To join WeChat, users need to know someone on the platform and have them scan an activation code that a user receives when logging in for the first time.
Once users are logged in, they can access WeChat's messaging feature, send video messages to friends, and host virtual phone calls with one or more contacts.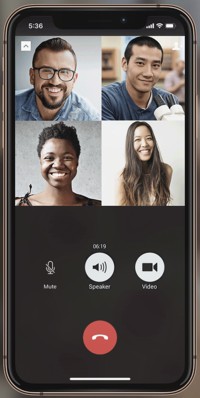 Aside from using the platform for friend-to-friend communication, users can also take advantage of more entertaining features. For example, while one feature allows people to play in-app games live against friends, others include video or photo filters that can be used in chats or video calls.
Here's a quick video that shows a popular game being played on the WeChat app:
https://www.youtube.com/watch?v=lXhLXBTm2tc
WeChat also connects to a number of third-party or Tencent-owned apps so that a user can take on multiple tasks, like hailing a ride or paying friends money, directly from WeChat.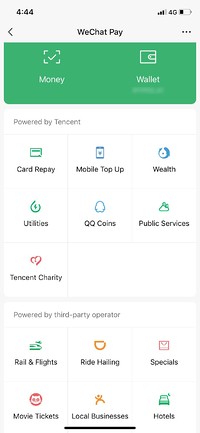 At this point, Facebook, Snapchat, WhatsApp, and other major social media apps are using a similar strategy of pulling additional features into their platforms to keep users logged in longer. For example, many of today's top messengers allow group video calls, offer in-app games, or let users send money.
Weibo (Also known as Sina Weibo)
Owner: Sina Corp.
Origin: China (Available globally with text in Chinese.)
Platform Name Translation: Loosely translates "microblogging."
Reported Users: Projected to hit 500 million monthly active users in 2020
Weibo, also called Sina Weibo, is the biggest Chinese microblogging and social media platform. The social channel made news in 2017 when it reached more monthly active users than Twitter. Since then the app's continued to grow. Reports suggest that more than 30% of Chinese internet users now have an account on the platform.
When you visit the website, it's automatically in Chinese. However, you can use Google Chrome's translator to convert the text to different languages. To give you a better idea of how Weibo works, here's what its desktop site looks like with the English translation turned on.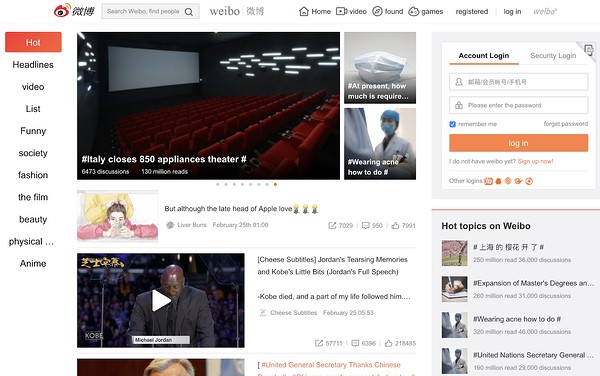 Like Twitter, Weibo offers a central feed where you can see the latest or highest performing posts. To toggle through different types of posts, you can click a category on the list in the left sidebar. On the left, you can log in to an account and see "Hot Topics" similar to Twitter's "Trending Topics." If you continue to scroll down, you'll also see a box that allows you to search for people -- similarly to Twitter's "Who to follow" block.
To help you see just how similar these two platforms are, here's a picture of Twitter's feed.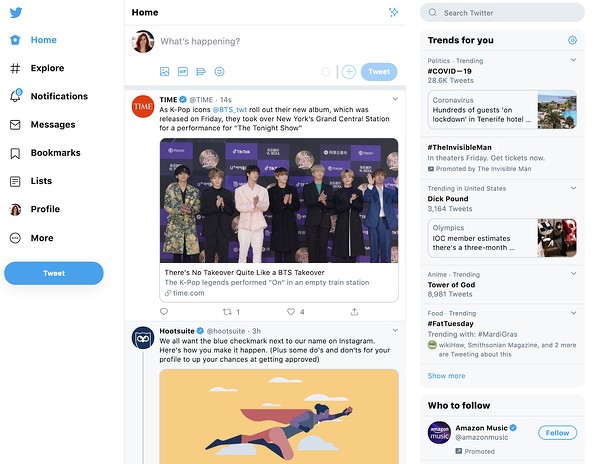 While Weibo's layout and microblogging mission is similar to Twitter's, the Chinese platform emphasizes videos, photos, and trending content, while Twitter still puts an emphasis on the accounts sharing the content.
Although Twitter also prioritizes trending content, you can easily see which of your followers posted, liked, or retweeted it before seeing the content in a tweet. This allows audiences to subconsciously focus on the person who tweeted something as well as the tweet itself.
These slightly different layouts might also suggest that the audiences of each platform prefer to consume content differently. While Twitter's audience might prefer the human connection aspect of its site, those on Weibo might want to jump straight to the content.
Owner: ByteDance
Origin Country: China (Available only in China: TikTok is available globally)
Name's Origin: Douyin loosely translates to "shaking sound" or "vibrato."
Reported Number of Users: 400 million active users
Douyin is the Chinese-only counterpart to TikTok, which is owned by the same company. TikTok specifically is a merger of Douyin and the Musical.ly lip-syncing app. Both social media apps specialize in allowing users to create, edit, and share short-form vertical video that's less than 60 seconds.
After Douyin launched in early 2018, it grew to 150 million active users in year one. ByteDance then purchased a similar lip-syncing app called Musical.ly and created TikTok, a global app that merged the best features from each original app.
Since launching in late 2018, TikTok's also seen viral growth by gaining roughly 800 million active users. Like Douyin, TikTok also sees a large number of international influencers from countries like India.
While Douyin and TikTok are very similar short-video apps and are often confused as the same thing, they have a slightly different set of features, are powered by different servers, and have different levels of censorship due to regulations around the world.
Douyin isn't accessible for us to preview in the U.S., but news outlets describe it as being even more advanced than TikTok -- particularly when it comes to ecommerce.
For example, while TikTok just recently rolled out advertising options, Douyin reportedly allows users to triple-tap a video with a product featured in it to go to a brand's ecommerce store. Users can also use the app for virtual tours of hotels, stores, or travel locations, and then visit the websites affiliated with these tours.
Unlike TikTok, Douyin also reportedly allows users to geotag themselves at a store or location. This could be helpful for providing brand awareness to local brands.
When it comes to what Douyin and TikTok have in common, both are apps where users can share short videos that can feature musical overlays, fun filters, and text overlays. Videos on each platform must be 60-seconds or less.
From photos I've dug up online, it looks like the platform's design is very similar with some slight design differences. The screenshots below show a video ad and the platform's search feature: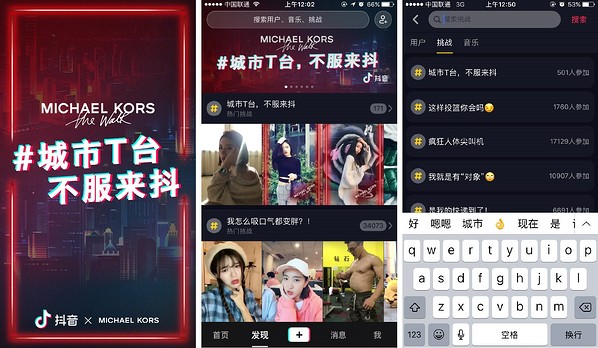 As a comparison, here's what a video ad and the search feature look like on TikTok: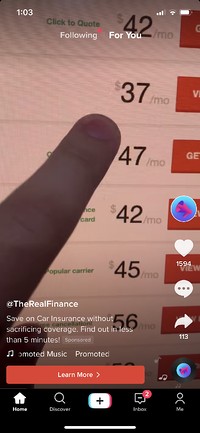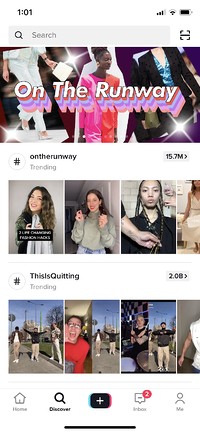 Both apps are also centered around a video feed that algorithmically shows users videos from followers or videos that they might enjoy based on previous content they've viewed on the app. When users enter the app and see the feed, one video will begin playing automatically. To see other videos, users simply swipe up on that feed. Here's what this looks like on TikTok: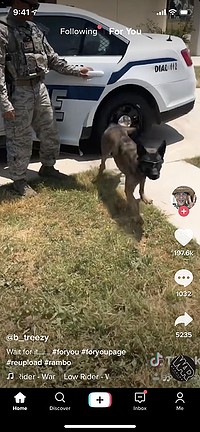 Aside from the shared features, both fast-paced social media channels are favored by younger generations -- especially Gen Z. While over 50% of TikTok's audience is younger than 34, it's also been reported that Gen Z has flocked to Douyin.
Douyin and TikTok's success story is a great example of how one unique international platform can change the way we consume content in other countries. Prior to TikTok's launch in the Western hemisphere, many Americans hadn't seen anything similar to it since Vine -- a similar short video app and feed that was discontinued by Twitter in 2016.
Not only did Douyin and TikTok replace the need for Vine, but both apps also catered to Gen-Z and Millennials, two mobile-first generations known for short online attention spans and heavy consumption of video content.
Owner: Kuaishou Technologies
Country of Origin: China
Name Origin: No translation could be found.
Number of users: 400 million monthly active users
Kuaishou is a short-video app that competes with Douyin. This platform started as a GIF sharing site called Kuaishou GIF. It was like GIPHY in the sense that anyone could create, post, and share GIFs on the network.
In 2012, Kuaishou dropped GIF from its name and pivoted to a short video platform. Its interface is now very similar to Instagram's. It doesn't have a Stories feature like Instagram, but it features similarly looking profile formats and feeds where users share short vertical videos rather than photos or other content.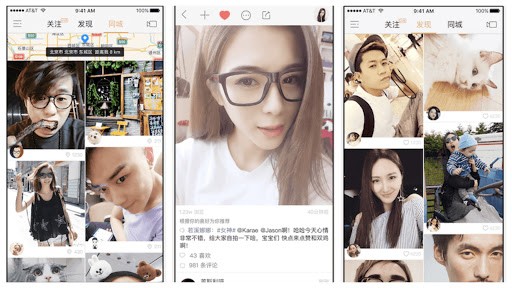 Like Douyin or TikTok, the video features of Kuaishou seem fairly similar in that users can leverage sound bites and basic editing tools in their content. Like many social media platforms with videos, Kuaishou also allows users to overlay text and stickers to images or videos.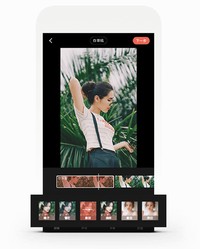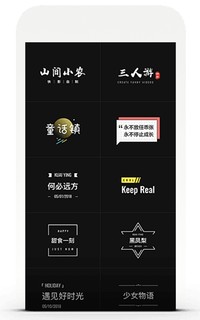 From looking at a variety of videos that have been uploaded on to other sites from this platform, it seems like many Chinese residents have used this app to highlight their unique skills and musical talent.
Here's a video that highlights multiple short videos on the platform:
https://www.youtube.com/watch?v=r0JCLvFVfDU
A number of users have also shared videos that highlight and celebrate aspects of rural China. Here's an example that Kuaishou posted on its own YouTube page:
https://www.youtube.com/watch?v=sINEza-m11k
In 2019, Apple distinguished Kuaishou as a global app that was defining mobile video storytelling trends. This came shortly after the app notably added ecommerce and monetization features that enabled creators in poverty-stricken rural China to make money from it.
Aside from its short-videos, Kuaishou also allows users to live stream content to their friends or followers on the platform. Similarly to the short video feature, the stream has allowed users to film longer videos that highlight their skills.
VKontakte (VK)
Owner: Mail.Ru Group
Country of Origin: Russia
Name's English Translation: VKontakte loosely translates to "in contact with."
Reported Number of Users: 500 million users
VK, the biggest social channel in Russia, is like a mix between Facebook, YouTube, and the illegal '90s downloading service LimeWire. This platform allows users to publish and share text-based posts, photos, video files, and music files with their connections.
When it comes to this platform's user interface, it looks eerily similar to Facebook, with some slight tweaks to page layouts. Here's what VK's main feed looks like: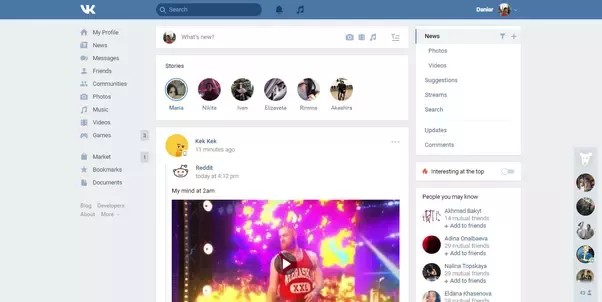 And, here's an example of what a profile page looks like: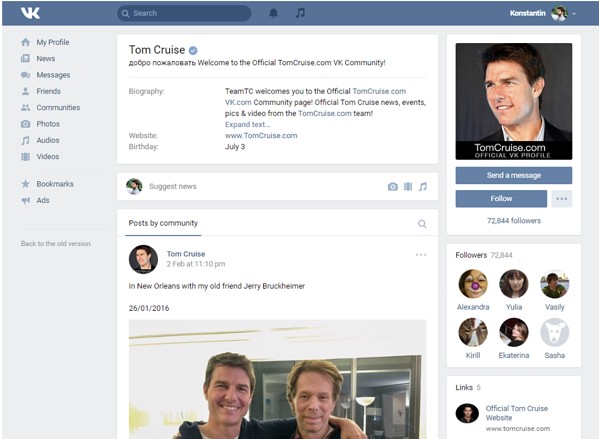 Aside from allowing users to share their own content, they can allegedly upload and stream copyrighted material such as music and movies. This has allegedly been abundant on the platform since its launch, but legal steps have not been taken against it.
The social platform is owned by Mail.Ru Group, a tech company that owns Russia's main search engines and OK.RU, a social platform noted below. Reports also suggest that this company has affiliations with the Russian government.
At the moment, some experts suggest that liberal-minded internet users spend time on Facebook, Russia's more conservative users spend time on Mail.Ru-owned sites.
In a recent Vice article, one user from Moscow described how Facebook was seen as a liberal network.
"It's become more 'woke' to be on Facebook because most Russian liberal intellectuals use it," the user explained. "It's kind of like Twitter for us, it's where you follow people when you want to see what they think."
It is interesting to think that while U.S. internet users of all political backgrounds tend to argue their points on Facebook, people with certain political affiliations might stick to using one platform or another based on political affiliations in countries like Russia.
Owner: Mail.Ru Group
Country of Origin: Russia
Name's English Translation: Odnoklassniki translates to "classmate."
Reported Number of Users: 200 million users
Odnoklassniki, or OK.RU, is a website that specializes in connecting people with their past classmates. The social media platform is set up like a blog, similar to Tumblr, where users can share life updates, images, or videos, which then show up in other user's home page feeds. Along with their classmates' content, a sidebar shows users the most popular videos that have been posted on the platform.
Below is a look at the feed. While the site is in Russian, I've used Google Chrome to translate it so you can get a better idea of what people are posting.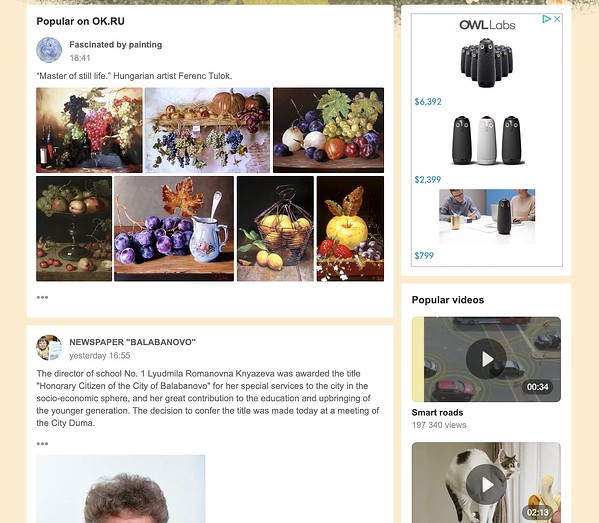 Like Tumblr, users can also click on the name or image of another user in a post to find that person's profile. These profiles are similar to Facebook's layout in that they show a cover photo, a user's top followers (called "participants" in the image below), and then a feed of their own content.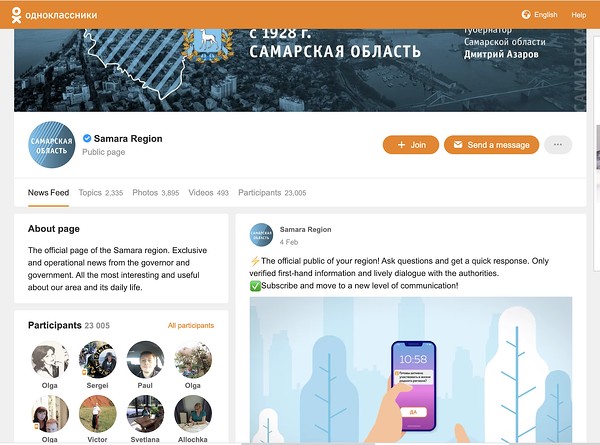 While this platform is similar to both Tumblr and Facebook, Russian citizens don't commonly use those two platforms as much as OK.RU. Additionally, with warnings that Facebook, YouTube, and Instagram could be banned in Russia, it's not shocking that tech companies in this region have innovated to create similar alternative platforms.
As we've seen with the Chinese platforms on this list, many of the top global social platforms have been inspired by or created as an alternative to U.S.-origin sites that were censored or censored. These continent-specific social media industries could be a theme we continue seeing in different areas of the world.
If you're an international marketer, it can be helpful to identify segments of your audiences that might not be able to access the platforms you use for social media marketing. As you do this, you should also research any alternatives that you can access to promote your content or product in those audience's locations.
The Similarities of Global Social Platforms
Despite their critical differences, social media industries around the world have some fascinating similarities to that of the U.S.
For example, while many of North America's most prominent social media apps are owned by Facebook or were created in Silicon Valley. Most prominent global platforms were created by Tencent or other major tech firms based in China. Similarly, the two biggest Russian platforms are owned by the same company.
Although many of the apps above were created and launched in highly censored areas, they don't seem to be falling behind on innovation due to these governances. Because international social platforms have evolved on a similar timeline as many common U.S. platforms, it seems like these geographies are building their own parallel social media industries, rather than just racing to create alternatives to our own platforms.
One thing that does seem different between international and domestically launched social media platforms is that many of the examples on this list emphasize direct communication more than content, while our own platforms emphasize content and user experience. While every social media platform we use today does have messenger with various features, only a few of them are or were ever standalone messengers.
For example, QZone and WeChat built their initial audiences as messenger apps and broadened their features from there. Meanwhile, Snapchat and WhatsApp are the only top platforms that started as direct messengers. While Facebook Messenger is one of the most prominent text messaging platforms, it is an expansion of Facebook's original News Feed-centered platform.
If you're interested in reaching international audiences, you should pay attention to the social media platforms they most commonly use, and what they use them for. This will give you insight on what types of content these groups engage with, what motivates them, and what strategies could persuade buying decisions.
If you want to tap into an international audience, but can't access some of the platforms on this list, you can alternatively consider testing out a campaign on a globally accessible platform like WhatsApp and WeChat.