Everyone wants a personalized and custom experience online, so it's no wonder that social commerce has taken over the online shopping world.
Channels like Facebook, Instagram, Pinterest, Twitter, and WhatsApp already have thousands of businesses marketing on their platforms, and many have adopted shopping and payment functions that allow people to buy a product or service directly on the platforms.
While social commerce is relatively new, it falls under the larger umbrella of eCommerce sales, which are expected to reach $4.2 trillion this year. As a result, the revenue potential is high, and it's attracting the attention of marketers across a variety of industries.
Whether you're looking for information to boost your social media shop or shape your online strategy, read on to discover social commerce stats that will help you understand the current market and learn best practices for attracting buyers and growing your business.
Social Commerce Stats for 2021
General Social Commerce Stats
Social Commerce Stats by Demographic
Social Commerce Purchasing Stats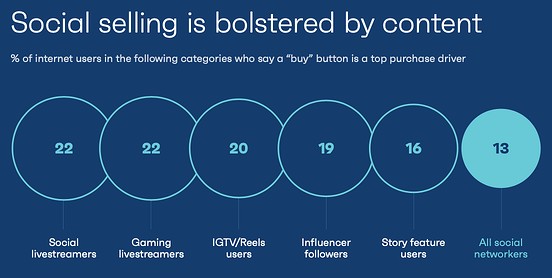 Social Commerce Stats by Platform
Social Commerce Stats for Business