YouTube is the second largest search engine, with over 2 billion users per month -- so it's an undeniably powerful channel for your marketing efforts.
However, if you don't use YouTube for your current marketing strategy, you're not alone. In fact, businesses choose Facebook as a channel over YouTube, even for video content.
In 2018, the HubSpot Academy team didn't take advantage of YouTube, either. But in the latter half of the year, the team feared the major losses in traffic they could face if they didn't hop on board -- so they implemented a strategy that enabled them to grow YouTube subscribers by 25% in just two months. Because YouTube is a search engine, part of that strategy relied on optimizing the videos to increase the chances of discoverability.
One of the most important tactics for optimizing your YouTube channel is writing descriptive YouTube descriptions.
YouTube Channel Description
A YouTube channel description is similar to the "About" page of a website. In fact, it even appears under the "About" tab of your channel's YouTube page.
The YouTube channel description is meant to convey to potential viewers what your content is about: the topics you cover, the themes you tackle, and why. You'll not only need to convey what you discuss but also what you bring to the discussion and why they should listen to you. The goal here is to turn a one-time viewer into a long-term subscriber and consumer of your content. You'll be able to add this when setting up your YouTube channel.
In addition to its primary goal of turning viewers into subscribers, this text can also be crawled by YouTube and could help your channel get found by people who are looking for channels like yours. With that in mind, be sure to use the terms that you think people would use to search for your content.
YouTube Video Description
The YouTube video description can be found underneath the viewport of the video itself.
While the YouTube channel description talks about the body of video content that you upload, each video will also need a unique description to increase the likelihood of your video getting found when someone is searching for a particular topic.
In this video, the creator summarizes the question being asked and specifies the audience that the video is meant for. This text will help audiences (and YouTube) understand what the video is about. In addition, it's also prime real estate to include contact information and calls to action.
Ultimately, if you're ready to begin using YouTube to attract and convert an audience, it's critical you optimize your video descriptions for SEO. If you're unsure how to start crafting compelling YouTube descriptions, keep reading -- here, we'll explore various tactics you can employ, and provide templates to ensure you have everything you need to excel on YouTube.
How to Create Compelling YouTube Video Descriptions
HubSpot has compiled seven YouTube video description templates to help your business provide context to your viewers, rank better in search, organize your team, and link out to relevant webpages on your site.
Download These Templates for Free
2. Explain what your video is about.
To explore the best tactics for writing YouTube descriptions, I spoke with Eric Peters, a Senior Growth Marketing Manager on HubSpot's Academy team. He told me, "[YouTube descriptions] is one of the primary ways YouTube knows what your video is about. Include links, additional resources, links to other videos and playlists, etc. Make sure the description box is easy to read."
As Peters notes, explaining your YouTube video and incorporating keywords into your description doesn't just help with SEO rankings -- it also helps with accessibility for people who are deaf and hard of hearing. For that reason, adding closed captions to your videos is an absolute must, too.
For instance, take a look at one of HubSpot Academy's YouTube video descriptions: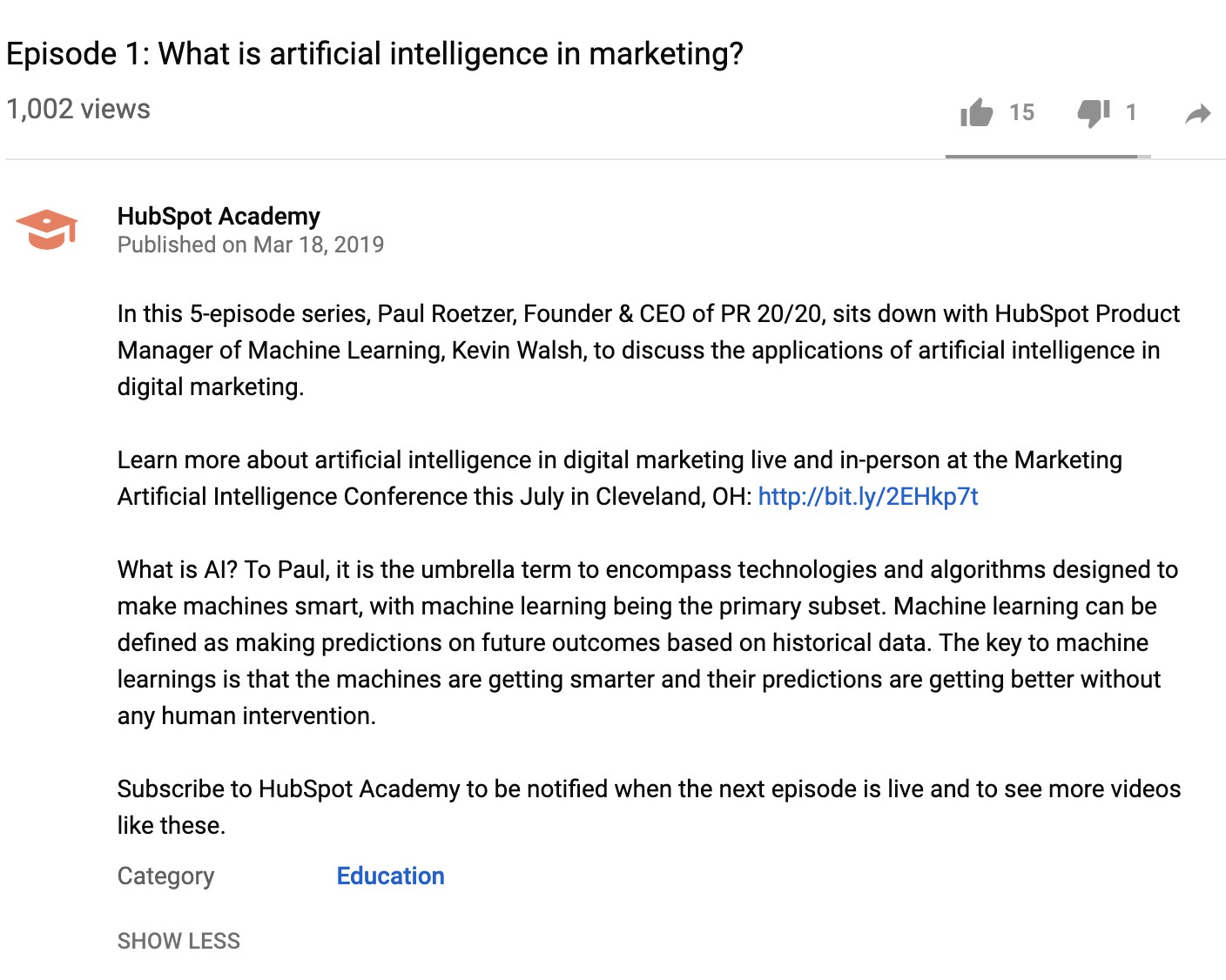 As you can see, a YouTube description is incredibly different from a web page meta description. In a YouTube description, you have the space to go in-depth and explain what your entire video is about, and even link to external resources.
Peters told me, "You get 5,000 characters total, so make use of it. A lot of creators use asterisks or all-caps to differentiate titles from body copy because it's all plain text. Consider writing up a text version of the key points from the video, or even copying the transcription of the video into the description."
3. Include a CTA.
Your YouTube description is a fantastic opportunity to ask viewers to continue to engage with your channel or find additional resources that will help them learn more about a topic of interest.
For instance, let's say you create a brief "How to add filters to Instagram" YouTube video, but you also have an in-depth, "How to Use Instagram for Marketing" blog post -- why not link to it in the description? More than likely, anyone who is watching your Instagram video on YouTube would be equally grateful for the opportunity to learn more via a blog post.
Alternatively, perhaps you simply want to ask viewers to subscribe, turn on notifications, or share your content with their networks. These are all acceptable CTA's for your description.
Additionally, it's critical you format your description to ensure you put the most important information first -- as Peters advises, "The first 200 characters are above the 'more' fold on the description box, so if you want your CTA/link to be seen by the most people, keep it within the first 200 characters."
After the first 200 characters, your text will be cut-off, and viewers will need to click "Show more" to see the rest -- so it's vital you make your first 200 characters count.
4. Add your personality.
A YouTube description should be fun, and demonstrate your brand's personality or unique voice to an audience. Unlike more traditional forms of advertising, this is an opportunity for you to instill creativity and humor into your content.
Brian Dean's YouTube channel is a great example of this -- his YouTube descriptions often mirror the way he speaks. The descriptions are candid and casual, and he makes it feel like he's writing to a friend.
To learn more about using YouTube for marketing purposes, consider checking out HubSpot Academy's comprehensive YouTube Marketing course.
YouTube Description Templates
Now that we've covered the basics, take a look at a few templates you can use to craft compelling YouTube descriptions today.
Templates for Your Channel Description
You might create a playful, easy-going channel 'About Me' description, like this one:
YouTube Channel Description Example
Hi, I'm [Name]. This is my channel about X, Y, and Z that you can use to grow your business.
If you're a marketer who wants to learn X to get [result, i.e. more traffic to your site], subscribe to my channel.
My channel publishes videos that focus on X, Y, and Z. If that sounds like it could be helpful for you, please join me!
Alternatively, you can craft a YouTube description that describes what your company does from a third-person point of view, like this one:
YouTube Channel Description Example
Company A is the worldwide leader in X, Y, and Z. Since 2010, Company A has been on a mission to [insert company vision or purpose here].
To learn more about A, B, C, subscribe to our channel to stay informed.
Templates for Your Video Descriptions
If you've conducted an internal interview, you might keep your description short-and-sweet to describe your conversation and why it matters to your audience, as well as a CTA:
YouTube Video Description Example
Hear how our CEO explains the difference between X and Y, and learn best practices for implementing your own strategy.
Learn more about X and Y in our course: www.XY.com
Alternatively, if you want your description to help new viewers find your various channels, try crafting a description like this one:
YouTube Video Description Example
Hi there! New to [name of channel]? If so, here's what you need to know -- I like [interests related to channel] a LOT, so I use this channel to explore X, Y, and Z, to help you [desired result for viewer].
Where else you can find me:
INSTAGRAM: http://instagram.com/[accountname]
TWITTER: http://twitter.com/[accountname]
LIFESTYLE CHANNEL: http://www.youtube.com/[accountname]
Join our growing community for new videos every Tuesday and Friday!
BUSINESS INQUIRIES
Please contact [PR representative] at [email or phone number].
Finally, if you want to focus on crafting a description that explains what your video is about and incorporates a keyword description, try this:
YouTube Video Description Example
Hey there! This lesson is part of a free online course. Take the full course here: www.company.com/course1
Some people are unsure what X is -- at its most basic, X is [brief definition of keyword]. In this video, you'll learn how to X, Y, and Z, to ensure you're able to grow your brand online.
Additionally, we'll explain how you can avoid doing A. Sometimes, A is all it takes to lose a customer.
Ultimately, YouTube description templates can help you reduce the amount of time it takes to upload and optimize your YouTube videos, getting them out to your audience quickly and with less effort. Just be sure to customize the text to enhance the reading experience because you want to be as helpful as possible for your audience.
Editor's note: This post was originally published in March 2019 and has been updated for comprehensiveness.