(BPT) - Every day, there are small things you can do to keep your mind and body healthy as you approach work, no matter where you work.
Innovative wellness techniques and resources were compiled by health specialists in collaboration with Amazon employees to create WorkingWell, a comprehensive program that addresses how employees can improve their health and well-being through exercises such as stretching, mindful meditation, nutrition practices, regular healthcare visits and better access to healthcare.
"At Amazon, the health and safety of our employees is our number one priority - and has been since day one. Improving the safety, health and well-being of employees means investing in people through state-of-the-art safety training and education, health and well-being programs, and comprehensive benefits," said Bobby Woodruff, Amazon safety team member in Eastvale, California. "We are committed to supporting our employees and keeping them healthy and safe every day.'
The health leaders and employees behind WorkingWell share their tips for improving physical and mental wellness at work.
1. Use mindfulness techniques to relax
Doing a few simple exercises each day, even while sitting at your desk, can help you feel more relaxed.
Tense and relax each muscle group in your body, head to toe. Inhale as your muscles tense, exhale as you relax.
Notice how the muscles feel when they are tensed and when they are relaxed.
When finished, gradually bring your attention back to the present.
2. Be proactive through mobility exercises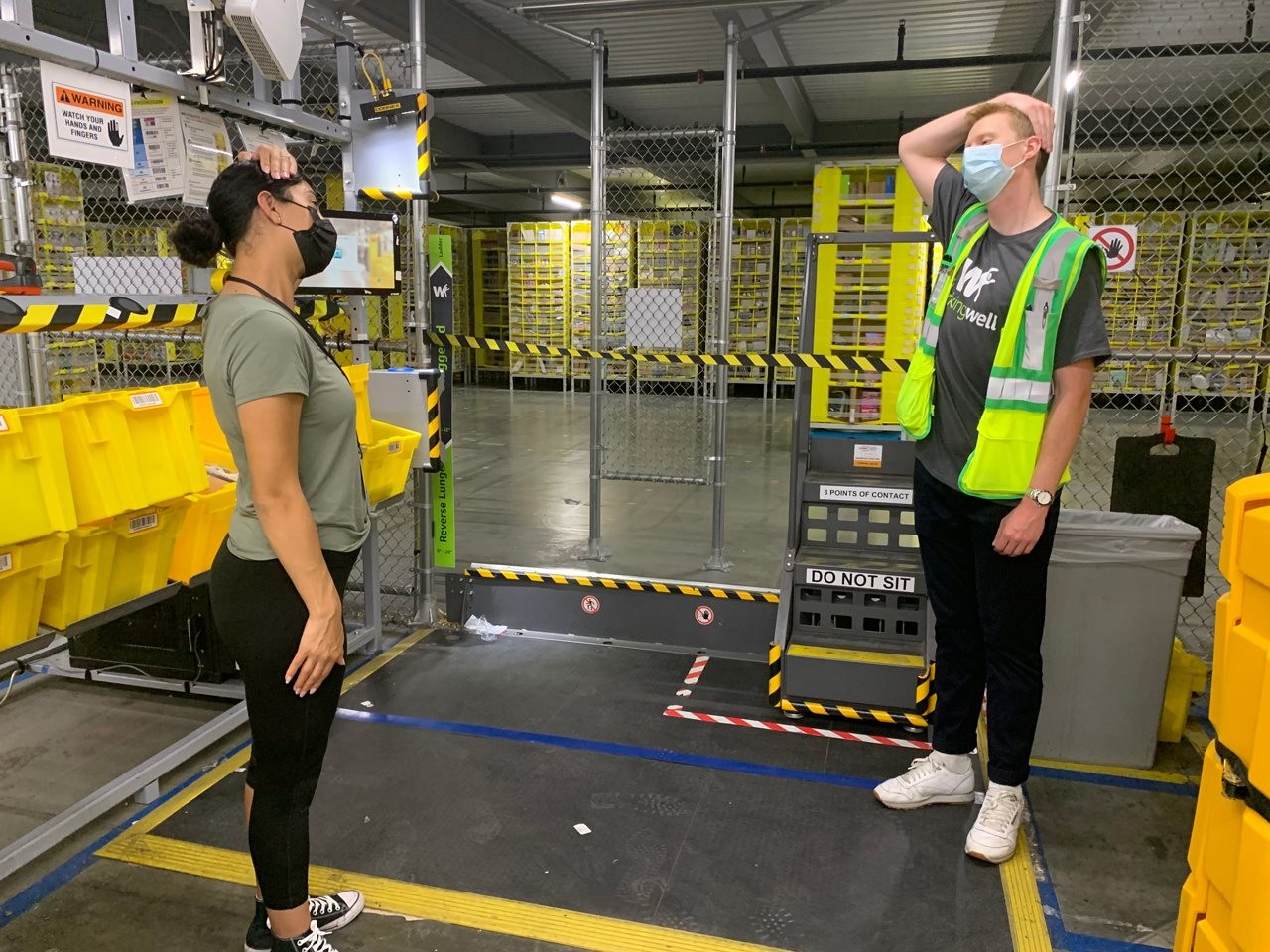 Stretching techniques can help employees in a variety of roles. Here are some tips and tricks:
Stretch your legs if you know you'll be standing for extended periods.
Maintain a natural, ergonomically correct position with your palms up and hands in a c-shape when doing things like opening drawers, grabbing plates or handing a receipt to a customer.
Sit with your shoulders back, and try drawing your belly button in toward your spine to make sure your core is supporting your posture properly.
Stretch your back and shoulders by looking down at your left pocket, then placing your left hand on the back of your head and adding pressure until you feel a gentle stretch along the right side.
"During my work day, I try to find ways to check in with how my body is feeling at regular intervals," said Caley Niday, safety team member at the Amazon Fort Wayne, Indiana, delivery station. "Periodic stretching and readjusting my posture helps me feel better both while I'm at work and when I get back home."
3. Prioritize self-care
Each day, try to do one nice thing for yourself and others as a way to slow down, such as:
Getting at least 8 hours of sleep a night.
Staying hydrated so your muscles work well, and so your body has energy and can replenish itself.
Do something nice for a coworker, like sharing a compliment about their work.
"Taking care of yourself both physically and mentally can become part of your daily routine," said Nicholas Thomas, an Amazon safety team member at the Troutdale, Oregon, fulfillment center. "I find that trying one or two steps first encourages adding more positive habits over time."
4. Observe your movements at work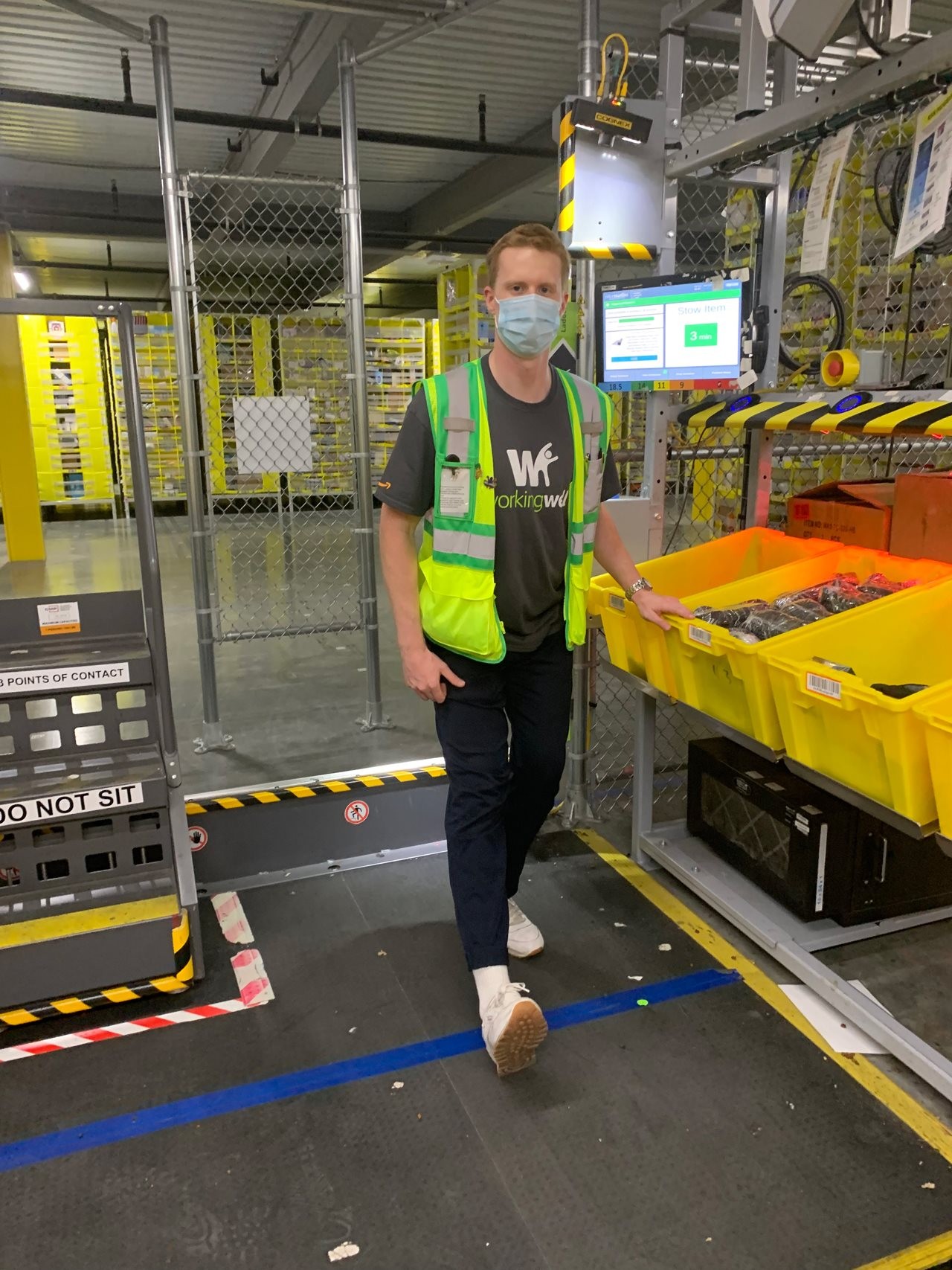 Pay close attention to how your body moves while working. For example, if you need to pick things up continually, pay attention to how your body is bending.
Engage your core to help take stress off your back.
Use heat to loosen the muscles around any tight areas and help the tissue relax, but only for durations of 30 minutes or less so you don't overheat the tissue.
'I listen to the signs my body is giving me during activity,' said Megan Romero, Amazon safety team member at a Dallas, Texas, fulfillment center. 'Proper body positioning and biomechanics can help decrease the risk of strain.'
5. Don't do it alone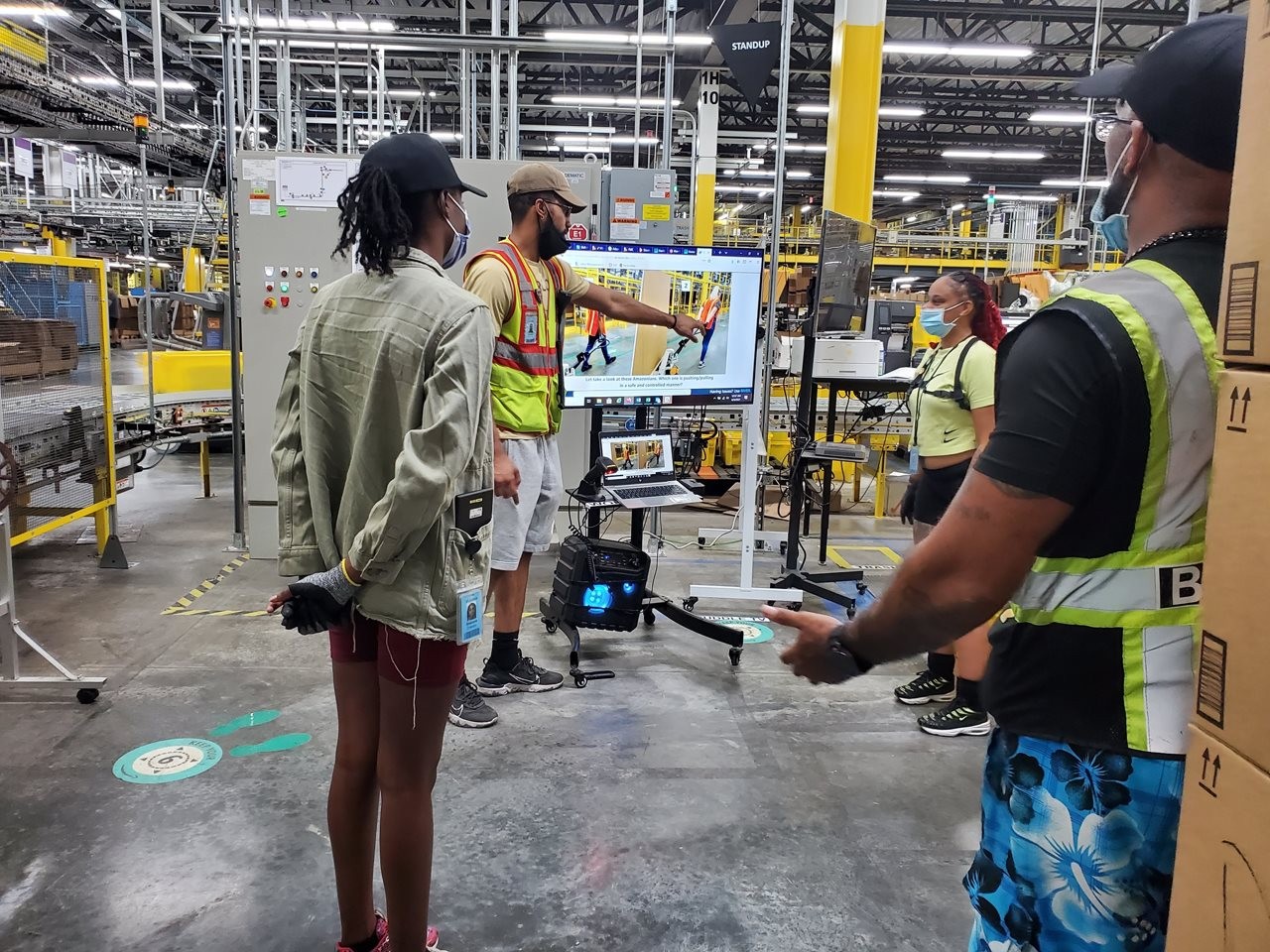 Building relationships at work strengthens your support system.
Try talking to a colleague or opening up with your manager about challenges you may be facing.
Sometimes just talking can help, and your peers may be able to offer advice from their own experiences.
If you need help, reach out. Ask your company's HR team about what employee assistance programs they have in place.
Many of these programs include mental health resources and other sources of support.
"When I added simple steps to boost my well-being during my daily routine it made a world of difference," said Maria Aparicio, a safety team member at an Amazon site in Spokane, Washington. "To me, wellness at work means you'll be living a healthier, happier life overall."