Halloween is a fun holiday, and it doesn't get the attention it deserves. It doesn't have recognizable songs or vacation days associated with it, and it falls on a busy time of year for most people in the workforce.
But that doesn't mean you should skip the festivities at your office Halloween celebration.
How many days of the year are you encouraged to dress up and goof around at work? Probably just one -- Halloween -- and even then, it can be hard to know what's office-appropriate.
We want you to have fun this Halloween, so we're taking the work out if it for you. We've compiled a list of DIY Halloween costume ideas that are easy to put together, inexpensive, and perfect for the digital marketer or tech professional.
If your family and friends don't get your costume, your colleagues definitely will.
35 Office Costume Ideas for Marketing Nerds & Tech Geeks
Computer or App-Related Costumes
1. Alt Text
Alt text isn't just the metadata of an image published on the web -- you could also say it's an "alternative" fashion statement with the text to describe the era. This was HubSpot Director of Content Corey Wainwright's office Halloween costume a few years ago. It's great because you don't even look dressed up if you have a casual office dress code, so you can just blend in.
To dress as alt text this halloween, break out your best 90s alternative garb -- our coworker Corey went with black jeans, combat boots, and a flannel. Then, tape hyphenated text that best describes what you're wearing, much like an image of your outfit would do online to help search engines read the file.
We edited a sash of alt text on to the alternatively dressed girl below, just to help you picture your awesome costume.
Source: That's Life
2. SEO Ninja
Speaking of dorking out on SEO, you could be everyone's favorite LinkedIn title -- the SEO ninja. Dress in all black, buy a black ski mask, and tape keywords all over yourself. Voila ... you're an actual ninja -- just one much more concerned with search engine optimization than lurking in the darkness.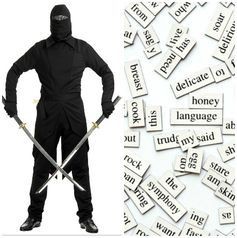 Source: Pinterest
3. Mobile App
Wander around holding an appetizer -- candy, cheese and crackers, chips and dip ... whatever you have on hand. Boom. You're a mobile "app."
This costume also doubles as a great way to introduce yourself and make friends at a party.
Source: Opportunity Max
4. Instagrammer
Want another way to turn handing out food into a costume? Dress up like a hipster and hand out graham crackers. You're an "instant" "gram" cracker server -- or, for short, an Instagrammer. Pun absolutely intended.
5. Ghostwriter
Have you ever written something for somebody else's byline? Such is the life of a "ghostwriter." Turn your author-less accomplishment into this year's office Halloween costume.
To dress up as a ghostwriter, grab a white sheet and cut a hole for your head and arms. Dob some black ink spots on the sheet, get a book and one of those feather quills (or just get a feather, I suppose), and boo -- you're a ghostwriter.
6. Whitespace
Whitespace on the internet might just denote all the blank space you use to help your design stand out, but on Halloween, "whitespace" isn't just the absence of space.
Dress in all white -- add white face paint and a white wig if you're ultra-committed. Then add a hint of color somewhere on the outfit, like a colored tie or scarf, or even a paint splotch. That color splotch will make the white space more prominent, transforming you into "whitespace."
7. Error 404 Code
You've most likely encountered a funny error 404 page before, and you can make it a funny costume, too. Grab a sheet of paper, write "Error 404: Costume Not Found," and tape it to your outfit.
8. (Monty) Python
If you're into programming code, British comedy, and low-effort costumes, being (Monty) Python is perfect. Dress up in anything remotely snakelike in your closet: olive green clothing, snakeskin accessories, and fake vampire teeth that can serve as your fangs.
Then, to amp up the dork factor on this costume, add two coconuts or a gold chalice to embody Monty Python on his quest for the Holy Grail.
9. Facebook
Grab face paint or eyeliner and write "book" across your cheeks. Just like that, you're the world's biggest social network for Halloween.
And for your sake, we hope your colleagues actually get it:
Source: AndPop
10. Unicorn
Here's another tech-friendly, double-entendre costume: Be your own version of a tech unicorn. Here at HubSpot, we love this tech icon, and you can easily make your own version of a unicorn horn with help from this article.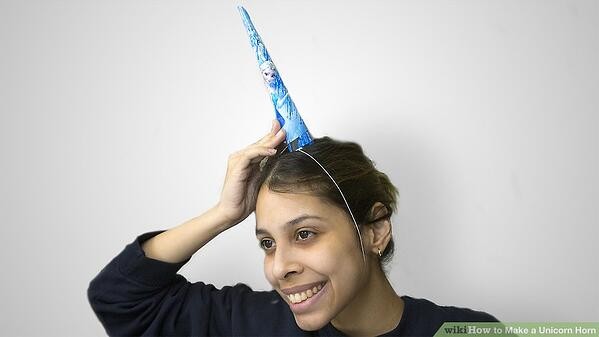 Source: WikiHow
11. Phishing Emails
Phishing emails are nothing to joke about -- they can seriously threaten your technology and data security. But on Halloween, you can dress up as a play on phishing emails for an easy DIY costume. All you need are a stick, a piece of string, and an envelope. Bonus points if you own a bucket hat and vest to complete the ensemble. Check out an amusing version of this costume below.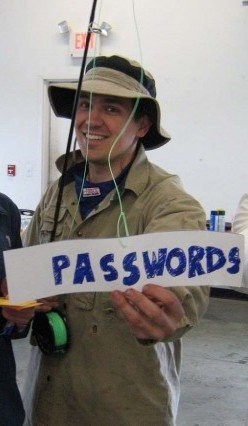 Source: Car and Driver
12. Copycat
"CNTRL + C" is the popular keyboard macro allowing you to copy items from one place to another on your computer. Well, here's a technology spin on a classic Halloween costume. All you'll need are cat ears, eyeliner-drawn whiskers, and a sheet of paper. Write "CNTRL + C" on the paper, tape it to your outfit, and you're a "copycat."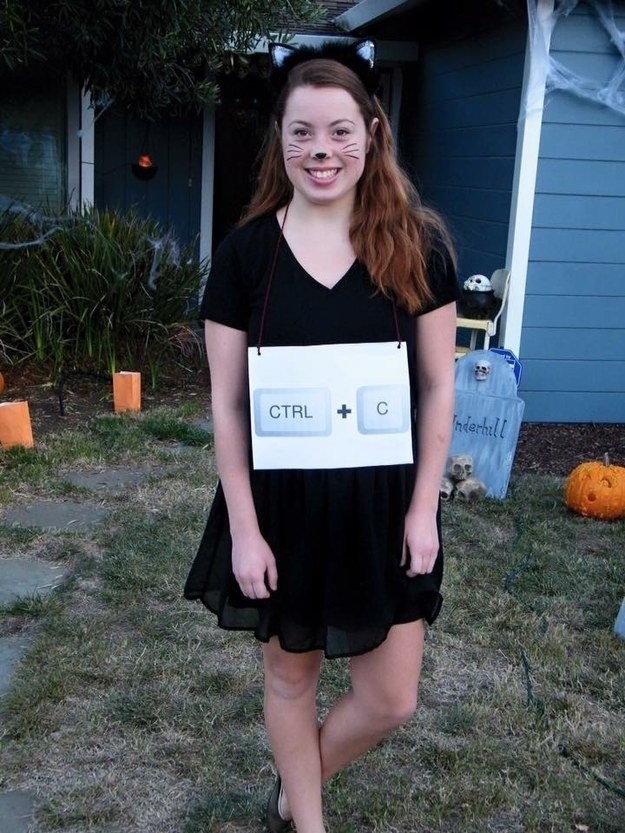 Source: BuzzFeed
13. The Blue Screen of Death
You know the screen, even if you don't know the morbid nickname the tech world has given it. This classic error screen is known for signaling the end of a computer's useful life, and you know it when you see it. It causes so much stress on site, in fact, that the color alone is scary enough for October 31.
Believe it or not, there are official T-shirts you can get with the blue screen of death copy printed on them. Want to make your own? All you need is a royal blue t-shirt and a printed version of this horrifying error message to pin to it.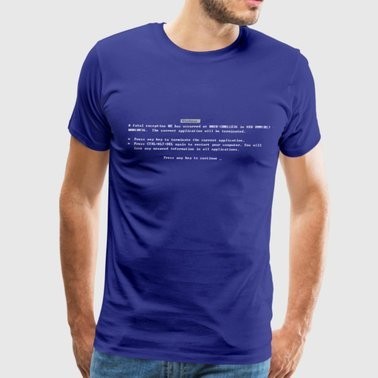 Source: Spreadshirt
14. GPS Costume
This will work best with two people. You can cut a Point A and Point B pin shape out of cardboard, paint both red, and simply write A and B on it. From there, you can personalize the costume whichever way you'd like. You can even get more intricate by finding a T-Shirt with a map on it.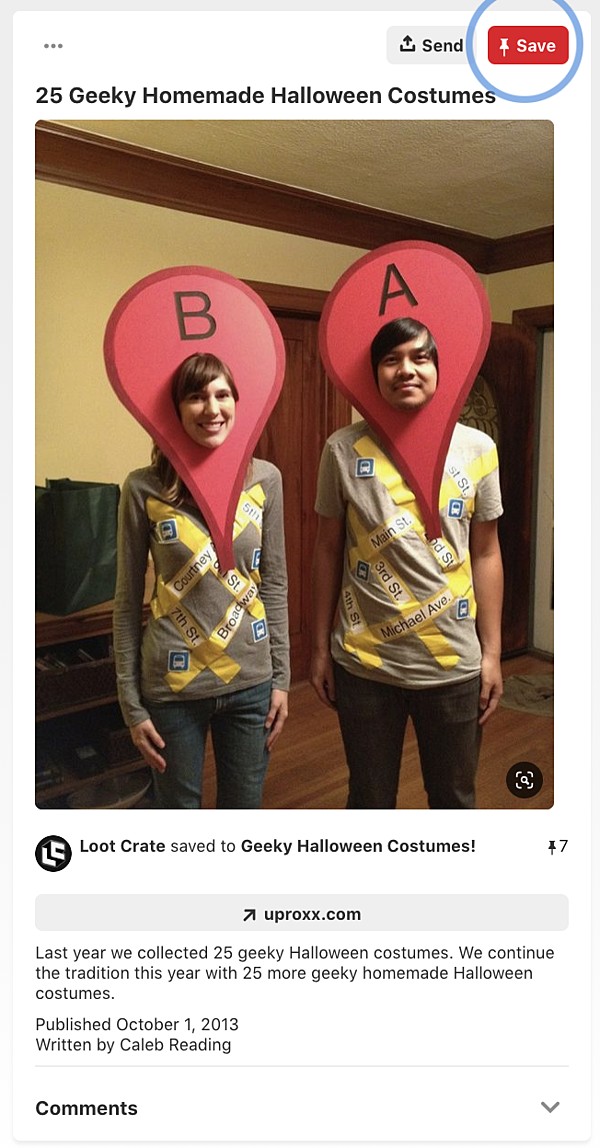 Source: Pinterest
15. Dead Battery and Low Wi-Fi
Nothing is more terrifying than a dead battery or no Wi-Fi. This costume brings all of techy's fears to life. It's also pretty simple to create. Just tape or glue images of dead Wi-Fi and low battery signals on to a black shirt. To emphasize the low-connectivity fears, put on some zombie or skeleton makeup.
Although this can work as a couples costume, this could also be a fun option for office colleagues. Since both costumes within the set don't rely on each other to be understandable, an individual could also wear either the Dead Battery outfir or the No-Wi-Fi suit and still be easily recognized.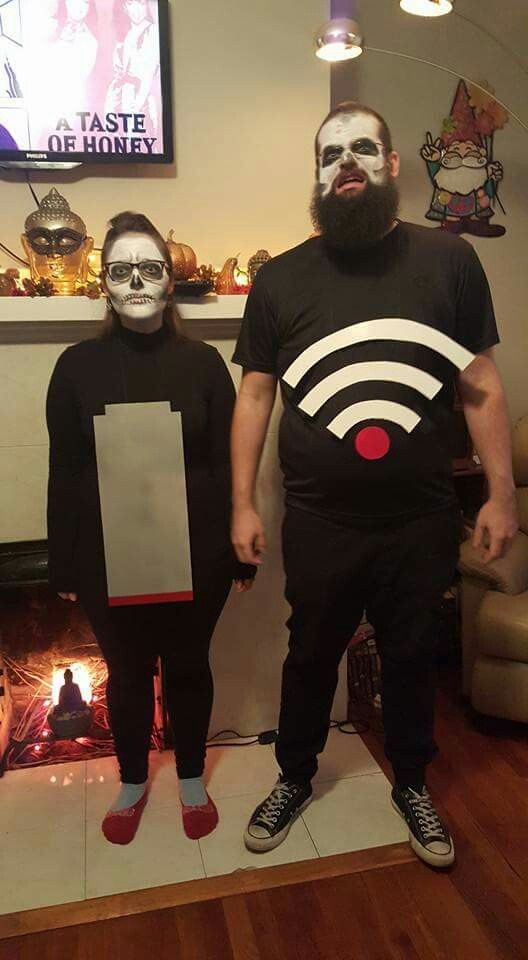 Source: Pinterest
Emoji Costumes
16. Information Desk Girl
This genius professional found a golden (or, rather, purple) opportunity to be the "information desk emoji, the many gestures of whom we've all come to know, love, and use at some point in a text conversation.
The best part about this awesome tech reference is that you don't need to alter your regular attire to make it work. As Naomi shows us below, it's all in the hand gestures.
17. Dancing Girls Emoji
If you're the owner of one of the nearly more than 1 billion Apple iPhones sold worldwide, you're probably familiar with the dancing girls emoji, shown below.
The easiest version of this costume is to find a buddy and dress all in black together. If you're committed to emoji authenticity, buy black bunny ears to complete the look.
Source: Brit + Co
18. Heart Eyes
Are you just in love with Halloween? Prove it with this passionate emoji face. You don't have to paint your entire face, chin to hairline, to get the Heart Eyes Emoji just right, but it certainly helps. It'll also disguise your stress when you're at your most focused during the day.
"This employee just seems to love her job, I can't put my finger on why," your manager will think ... See how to paint this emoji onto your face below (you'll need some help for this one).
Topical Office Costumes
19. Fully Vested
At work, "fully vested" usually refers to one's ability to earn all matching funds of a 401(k) retirement plan. But for some, you just can't help but picture someone wearing lots of sleeveless jackets at the same time. Now's the time to personify that image.
If you work in a company where people would get the joke, put on a bunch of vests (at least three, but even more is encouraged), and that's about it. You're fully vested.
20. Nerd
What I love about the nerd costume is that it's effortless and always unique -- there are many ways to be a nerd in this day and age. Are you a tech nerd, a video game nerd, or a book nerd? The sky is the limit with this costume. Show up wearing glasses with your favorite accessories, such as a magic wand, book, or lightsaber, to complete the effect.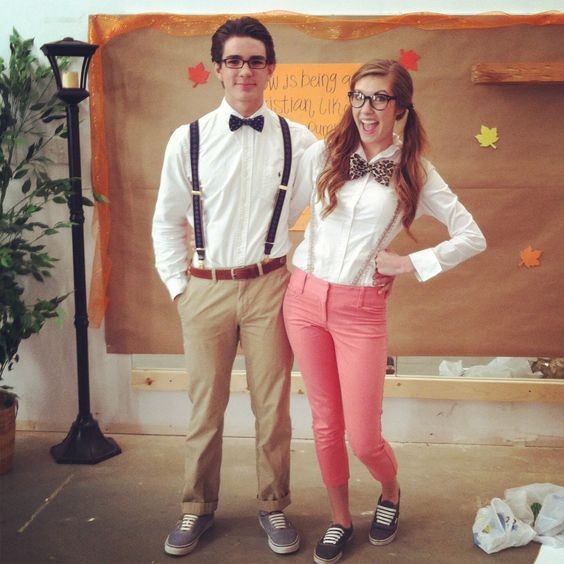 Source: Pinterest
21. A Solar Eclipse
Last year, the solar eclipse took over the internet -- and the country. As millions of people flocked to the path of totality to (hopefully) catch a glimpse of this rare event without burning their corneas, millions more made jokes about it on social media.
To dress up as a solar eclipse for Halloween, you'll need a work pal to dress up as the sun and the moon with you. One of you wears black, the other wears yellow, and you both wear dark sunglasses. Then, at the Halloween party, the one dressed in black spends the whole time standing in front of the one in yellow.
Source: Pinterest
22. The 'Evil Kermit' Meme
If you haven't heard of this mega-popular meme this year, you've probably seen it somewhere: It features Kermit the Frog, face-to-face with his evil twin, Evil Kermit. Evil Kermit looks identical, except for the black cloak.
For this costume, you and a coworker can keep it simple: You both wear green shirts, and one of you wears a black hoodie or jacket on top. If you really want to commit to the costume, you'll spring for some green face paint to complete the ensemble. Walk around the party together, facing one another, for maximum effect.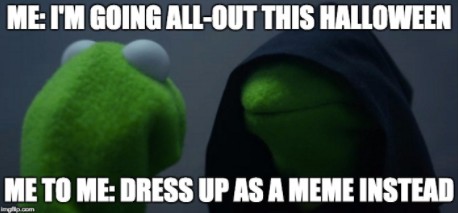 Want to do something cheeky, but still office friendly? This is PG pun costume shares the name of a popular romantic novel and film, "50 Shades of Grey."
Go to your local paint or hardware store and buy 50 grey paint swatches. Then, tape them to a black shirt and tell your colleagues you're, "50 Shades of Grey."
Source: Fox 24 of Kansas City
24. The "But That's None of My Business" Meme
If you love Kermit the Frog, but don't have a colleague to team up with for the "Evil Kermit" costume, consider going solo with a costume based off of the "But That's None of My Business" meme, where Kermit is seen judgmentally drinking coffee.
All you have to do is stick a pair of eyes on a green hoodie and start sipping your tea or coffee. For an added effect, you can cut a white photo frame to hold in front of you so you can look like an image posted on social media.
Source: Pinterest
25. Eleven from Stranger Things
Eleven from Netflix's hit series Stranger Things is universally beloved, and it's a bonus that her signature look is a comfortable and easy-to-assemble costume. Rock your best Eleven with a dress, a denim jacket, and a box of Eggo Waffles.
Source: Business Insider
26. Scoops Ahoy Employee from Stranger Things
While Eleven, noted above, is an absolute classic Stranger Things character, 2019's season inspired another great costume opportunity. During the newest installment of episodes, Stave, a main character played by Joe Keery, worked at an icecream shop called Scoops Ahoy. As a server, he had to wear a goofy sailor uniform alongside his coworker Robin.
Since the season aired, the uniform has been regularly worn by cosplayers and at Comic Con as people mimic Steve and Robin.
Since it's a pretty generic sailor uniform, you might be able to easily find one that's similar in a variety of Halloween shops. This costume could work for both individuals or two colleagues.
27. Pokémon GO Trainer
Pokémon GO had roughly 45 million people walking around in cities glued to their phones last summer (I, among them). To pay homage to the explosion of this tech trend, you'll need a t-shirt that's red, yellow, or blue. Using fabric paint or permanent marker, write Valor (for red), Instinct (for yellow), or Mystic (for blue) on your shirt.
Spend Halloween walking around pointing your phone at objects, and you're the spitting image of a Pokémon GO trainer. Gotta catch 'em all, right?
Group Office Costumes
28. The Sales Lifecycle
At HubSpot, we love embracing team costumes. In 2018, a handful of HubSpot employees grabbed some T-Shirts and wrote the stages of the sales lifecycle on them. Then they lined up accordingly and passed a fake prospect listing around to symbolize the process of making a sale. This was such an easy costume to coordinate that the team could even include an out-of-office employee over a video call.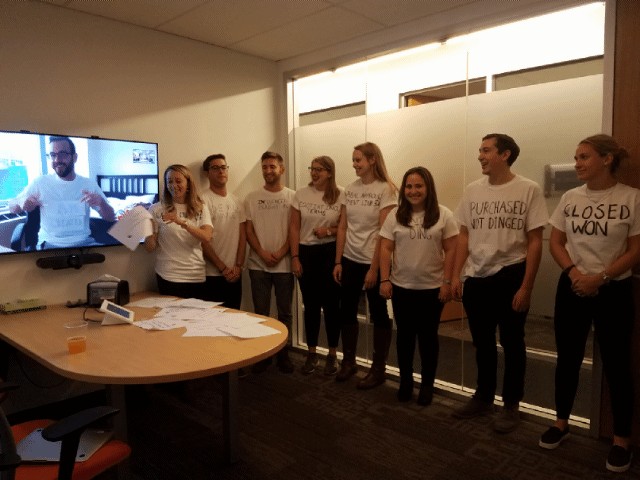 Source: Maggie Bomze, Principal Customer Success Manager of Strategic Accounts at HubSpot
29. Social Media Channels
While this Pinterest image shows classmates posting as the major social media networks, this could easily be modified to fit the office setting.
Simply pick out a solid list of the hottest social networks, then by blank T-Shirts that match the colors of each platform. From there, you can either draw, tape or glue the logos on to each shirt. If you're not interested in the tutus worn below, you could also find matching pants, or just wear jeans and keep things simple.
Source: Pinterest
30. Google Algorithm Update
Find a couple of office buddies for this one -- one panda, one penguin, and one pigeon. You might be thinking, "what the heck is the pigeon algorithm update?" 1) It's a thing, and 2) we checked Amazon for hummingbird costumes and there aren't any cheap ones available.

Source: Opportunity Max
31. Black Hat and White Hat SEO
This is another SEO-related costume, and I think you can figure this one out on your own. I recommend wearing a black hat for one, and a white hat for the other, and having "SEO" embroidered on each one -- which you can easily custom order.
Source: SEO-Hacker
32. Snapchat Filters
Here's another group costume idea that pays tribute to Snapchat's filters feature.
There are numerous options that you and your team can choose from to embody this costume. You could dress up as vomiting rainbows, cat and dog ears, a flower crown, or a face swap, and this could be as DIY or store-bought as you're interested in pursuing. For example, here's some inspiration for a couple of the dog filters: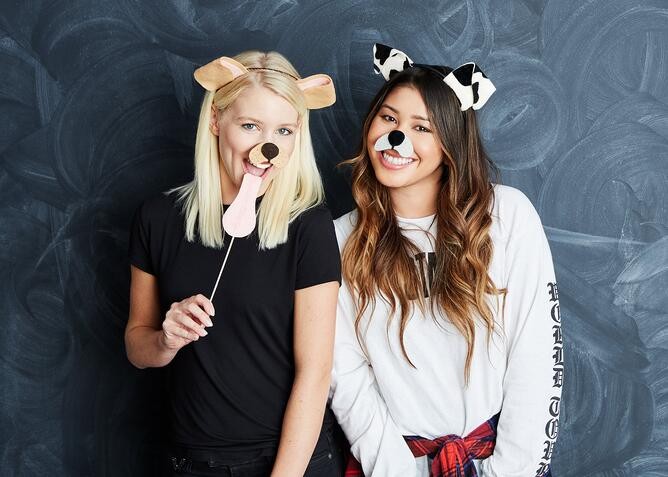 Source: PopSugar
33. Snapchat Ghosts
Put a marketing spin on a classic Halloween costume by arriving as a Snapchat ghost. You'll all need a white sheet and to pick which ghost you like the most.
Source: YouTube
34. PAC-MAN and Company
Here's yet another awesome ghostly costume idea your whole team at work can get in on. Have your team lead wear the yellow pie-shaped garb of PAC-MAN, with each team member dressed as the multi-colored ghosts that roam the screen in this vintage arcade game.
Just make sure the team lead doesn't actually try to eat the ghosts -- you're in an office, and you're all technically on the same team.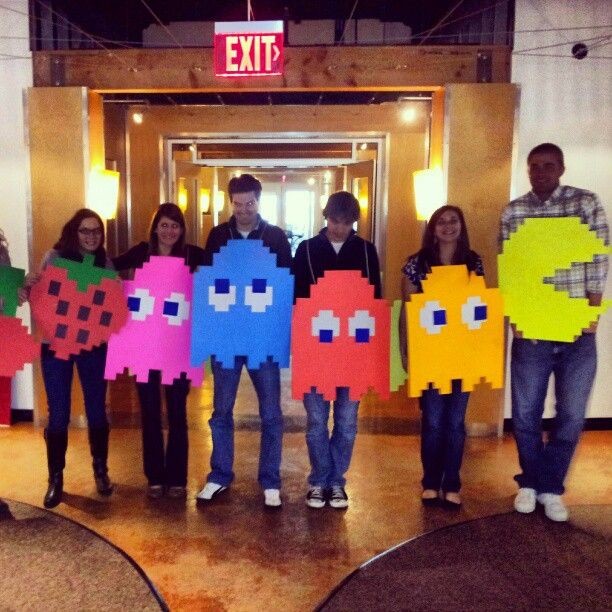 Source: Meningrey
35. Instagram Filters
For this group costume, you'll need white t-shirts and fabric markers. Draw an Instagram photo frame on the front of your shirts, and each team member can write a different Instagram filter's name inside the photo frame. Or, create frame props with different filters on them like the group did below: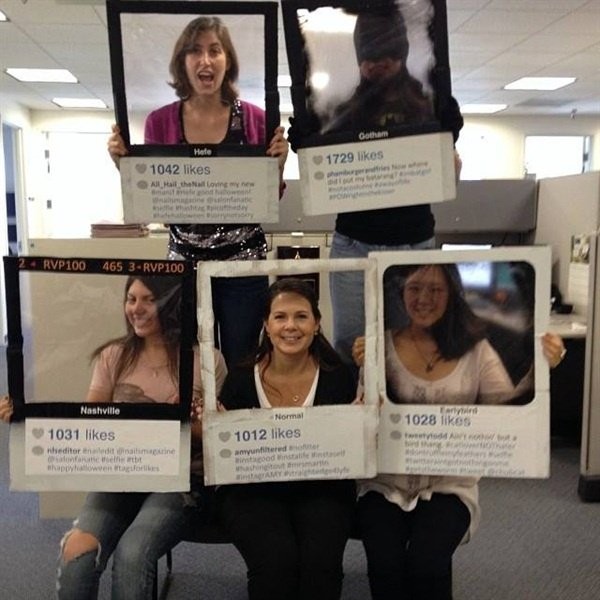 Source: Nails Magazine
The clothes don't make the marketer, but the costume can certainly make the culture at your company. Find out what it takes to hire and train the best fits for your open roles in the free ebook, available below.
Editor's Note: This post was originally published October 21, 2018 but was updated in October of 2019 for comprehensiveness.