Your customers are consuming messages in more ways than ever before -- online, in publications, on TV, the radio, and on their phones...to name a few.
Companies that invest effort in choosing the right platforms for the sake of customer acquisition and retention -- and the right messages to promote on them -- are engaging in media planning, which has become a requirement for organizations hoping to reach their audiences across multiple channels.
The process of media planning is ongoing -- one that requires diligence, an understanding of your audience, and knowledge of the various outlets where you can spread the word of your company.
However, it's almost impossible to do this without tools, templates, software, and resources that give you insight and provide the needed structure for your efforts.
Media planning tools can help you juggle the different sources, publications, numbers, and messages involved in media planning and buying. These resources can help you calculate your reach, measure your messages' impact, and keep track of which messages are going out where and when.
To help you with your media planning efforts, we've compiled a list of the essential media planning tools, templates, and software to use this year.
HubSpot's paid media template will help you keep track of how much you're spending on paid media, where your messages have gone out, and how much attributable revenue has been generated from each source.
You'll also gain access to charts that automatically adjust when you add your spend and ROI. This resource is free -- click here to get your copy now.
Bionic prides itself on its media plans, flowcharts, RFPs and IOs, trafficking, reporting, and client dashboards.
It has an average of 3.1 software updates on a monthly basis, meaning agencies using the software are provided with up-to-date planning tools to run and organize their campaigns.
The most valuable resource for media planners is data. To feel confident promoting media on a specific platform, media planners need to know who is on each channel, in addition to understanding their target audience. SRDS gives media planners access to extensive datasets on audience statistics and demographics so media planners can choose the right platform, message, and audience to target.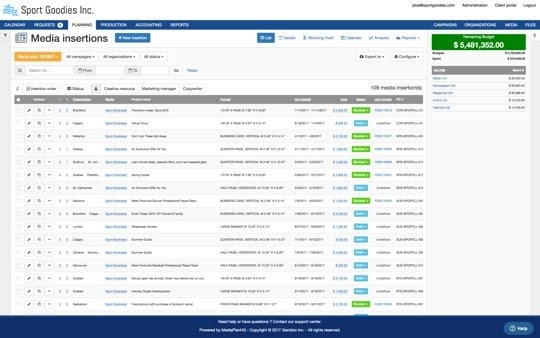 Not a fan of spreadsheets? No problem. Media Plan HQ's got you covered. The tool tracks dates, placements, and budgets in real-time over an organized interface without having to deal with Excel. The tool is also collaborative, allowing you to work alongside your team members without the headaches caused by back-and-forth emails.
Promising easy media planning and buying, BluHorn integrates with Nielsen and Comscore to provide users with instant access to data-rich insights. The tool is rich with useful features, such as post-buy, a vendor database, and data filters.
Quantcast is an audience insights tool, with audience data from 100 million websites. Quantcast uses AI so users can "better predict and influence [their] desired audience" in an era where consumers are showered with ads and messages wherever they go.
Rated the #1 demand-side platform on G2 Crowd, Basis "addresses your direct, programmatic, search & social through a single interface." The software gives users access to 9,000 vendors and 11,000 publishers and informs them with more than 180 unique data points. It also contains a messaging tool for seamless team communication.
Comscore is an essential tool for "planning, transacting and evaluating media across platforms." Best known for providing data for digital platforms, film, and television, Comscore provides audience measurement metrics for companies looking to promote their products on a visual medium.
A household name, Nielsen is synonymous with audience measurement. Known mostly for TV viewership metrics, Nielsen's global strategy also provides users with metrics for podcasts, streaming services, and social media. This gives users an all-encompassing view of where their audience is. It's no wonder media planners and sellers have relied on Nielsen for nearly a century.
Fun Fact: Nielsen is considered to be the first company to offer market research and is responsible for the term "market share."
Looking to keep things just to a social media audience?
HubSpot's Social Media Software allows for easy publishing and audience analysis for Facebook, Twitter, LinkedIn, and Instagram on a single platform.
Plus, you can measure how your audience converts from social media in your CRM on their journey to becoming a customer.
Another appearance from Nielsen on this list, Scarborough is a media planning tool for companies hoping to get more local, hyper-focused audience insights. This tool is great for region-specific messaging or promotion and can facilitate a more systematic rollout of the word you want to spread.
Marketed as "The Essential Consumer Truth Set," MRI-Simmons provides both national and regional focus studies to those looking to learn more about their audience and plan media more effectively. Its clientele includes companies spanning multiple industries like Dell, Spotify, Coca-Cola, and Men's Warehouse -- which makes sense, given the massive amount of segmentations available to users.
HubSpot Academy's course on How to Build a Paid Media Strategy is the perfect introduction to media planning. Whether you have a generous budget or none at all, this course provides marketers with the fundamentals of developing a paid media strategy, utilizing media throughout the buyer's journey, and finding the ROI of your efforts. Click here to take the free course.
Media planning is an essential task for marketers. But doing it alone, or with disconnected software, will make it unnecessarily difficult. That's why it's important to look at the available tools and use ones that make sense for your goals.