Welcome to Breaking the Blueprint — a new blog series that dives into the unique business challenges and opportunities of Black business owners and entrepreneurs. Learn how they've grown or scaled their businesses, explored entrepreneurial ventures within their companies, or created side hustles, and how their stories can inspire and inform your own success.
The support for Black-owned businesses has increased drastically over the past year due to the disproportionate impact of the COVID-19 pandemic and the influence of the Black Lives Matter protests that took place last summer to combat racial injustices in the nation.
Consumers have been actively seeking to buy from Black-owned businesses to help them stay open and increase the economic advancement of Black Americans.
As a result, the search for Black-owned businesses increased by 7,043% on Yelp, and the search term for "Black owned" on Google reached a value of 100 last summer.
Since then, Black-owned businesses have been proactive in increasing their visibility and accessibility through marketing strategies to optimize their outreach.
I spoke with Dana James Mwangi, the founder of Cheers Creative LLC and a Grow with Google Digital Coach, to learn about effective marketing strategies, tools, and approaches Black business owners can use to promote their businesses.
Marketing Strategies for Black-Owned Businesses
1. Use social media platforms to connect directly with your consumers.
Social media is one of the top tools businesses use to promote their services or products. Platforms like Twitter, Instagram, TikTok, and Facebook have unique features. Black business owners can use these networks to connect directly to their customers, and to the broader community.
Although some businesses want to have a strong presence everywhere, Mwangi suggests entrepreneurs focus on one platform where they receive the most visibility, instead of trying to be present on all of them at once.
"You want to use social media to get people to your website," Mwangi said. "You can also use it to get people to sign up for your email list, or both."
For instance, check out how Rihanna promotes her Fenty Beauty, Fenty Skin and Savage X Fenty brands on Instagram with catchy captions and visually appealing posts. Her content is not only relatable, but inclusive to people of all backgrounds.
This tactic can help you secure a potential sale and maintain continuous, effective engagement with your audience. It also enables you to expand your brand reach.
2. Create targeted ads for high-converting audiences.
Social media platforms and search engines like Google offer entrepreneurs the opportunity to create ads that show up on their targeted audience's timelines or feeds. Mwangi says ads are a great way to market yourself to receive a faster return.
One benefit of using ads is it allows you to choose what audience you want to target. Facebook and Instagram, in particular, offer the option to market to people who follow your brand, or you can customize your targeting preferences by choosing specific details, including age, location, and search behavior.
This gives you more control over who sees your ads, so you can ensure you're only serving your ads to those most likely to purchase your product or service.
3. Generate an email list, and send out unique case studies or behind-the-scenes information.
Email lists have plenty of benefits for businesses — ultimately, email is one of the strongest opportunities for lead generation and nurturing.
Once you've begun growing your email list, consider sending emails with exclusive information, such as your business' story, or what your company stands for and what matters most to your employees.
Mwangi also recommends companies provide case studies, advice for email subscribers, or sneak peeks of products and services ahead of launches.
Alternatively, you might consider highlighting a consumers' story to demonstrate the impact your business can have on your email subscribers' if they choose to purchase.
4. Become a thought leader in your space.
Another way businesses can market themselves is by participating in public speaking, podcasts, or blogging engagements. Although this form of marketing has a slower return to influence sales, Mwangi says it leaves a trail of breadcrumbs for people to reach out online.
This strategy also gives potential collaborators or customers the chance to warm up to the company because they've already gained some value from the brand.
For example, take a look at how Tiffany Aliche, the founder of "The Budgetnista", has been able to use speaking engagements to promote her company and teach women how to properly handle their finances.
Aliche has spoken at 300 events across the country and over 1,000 globally, including EssenceFest and multiple hospitals and colleges.
5. Have an effective, well-designed website.
Once you've used the strategies listed above to drive traffic to your website, you want that traffic to feel delighted by what they find. It's critical, then, that you pay as much attention to the design of your website and its usability as you would to a physical storefront.
A few Black-owned businesses that have aesthetically pleasing websites are Teflar, Pyer Moss, and Bevel.
All three websites incorporate attention-grabbing visuals and videos that immediately catches visitors' attention once they visit the site. Business owners should not be afraid to stand out when it comes to securing a sale on their webpage.
If you already have a website but don't feel it's doing the job, take a look at The Ultimate Guide to Building a Website Redesign Strategy.
6. Use Google My Business and Google Analytics.
Google My Business is a helpful tool for business owners to create custom content to advertise to their target audience. Owners can also use the service in collaboration with Google Analytics to track data and see where people are accessing content.
For instance, Mwangi says that Google Analytics has helped her learn that people come to her website based on the content she posts on her Instagram Stories.
Not only is it showing her that people love her storytelling from this specific feature, but she's also able to share certain links and information. Google Analytics is a beneficial service to collect data and figure out what's the best platform for your brand to use.
Black-Owned Business Tips to Keep in Mind
Mwangi emphasizes that the marketing strategies listed above are all valuable pieces of the pie. Still, there are also specific approaches business owners must keep consistent across-the-board to promote company growth.
Let's dive into those, now.
7. Be authentic.
Authenticity is an integral approach to ensuring a company's success. Mwangi says a benefit in garnering customers is a company informing its audience on where it stands.
An example of a Black-owned business that consistently leverages this approach is Black-owned, plant-based feminine care product line, The Honey Pot Company. The Honey Pot Company has always been transparent about where they stand and who they make their products for, which has helped them maintain loyal customers over time.
Black women, in particular, stood in solidarity with the company's owner, Bea Dixon, when she received bad reviews from predominantly white buyers after Target featured her in a Black History Month commercial.
While people were trying to sabotage her brand, Black women not only took the initiative to combat the company's rating with positive reviews, but they also spread the word on social media. Although the events that occurred were unfortunate, the publicity ended up working in the company's favor because people became more aware of the company's purpose and knew what Dixon stood for.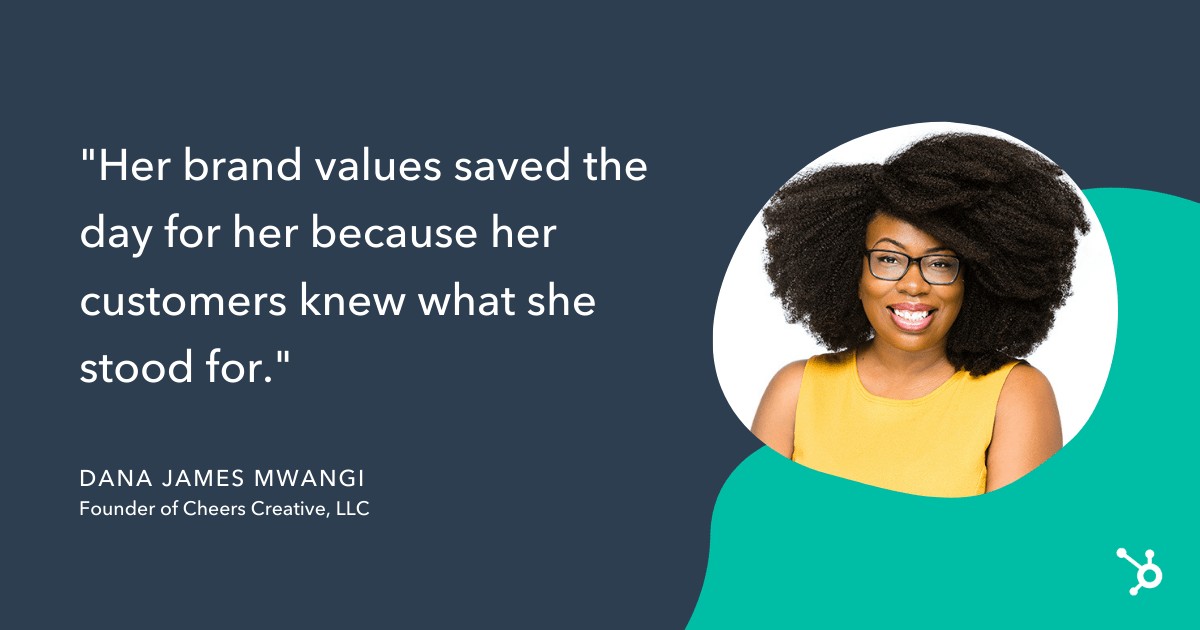 "Her brand values saved the day for her because her customers knew what she stood for," Mwangi said. As a result, they supported her and bought out the shelves.
8. Define your target audience.
When entrepreneurs first launch their business, they have the goal to serve everyone, but Mwangi states that "if you're trying to talk to everyone, then you are talking to no one."
It's okay for a business to choose a specific community it wants to advertise to and be unapologetic about it. The benefit of being an entrepreneur is that it guarantees a person the freedom to choose who they want to serve.
"You get the liberty to be as specific as you want and be niched as you want," Mwangi expressed. "There is still a lane for you to make incredible amounts of profit."
9. Speak your customers' language.
The language of your business is also crucial, especially now. With all of the events currently taking place, Mwangi proposes that business owners need to be aware of what's going on within the community and market accordingly.
Despite current events, business owners should keep in mind that their language should cater to their customers' identity.
For example, the Black-owned cosmetics line, The Lip Bar, uses its platform to dispel mainstream standards of beauty.
Mwangi highlights how the brand is unapologetic about its purpose, and it takes pride in catering to customers who like to be bold with their makeup and define their beauty standards.
10. Start by marketing one (or a few) products.
Additionally, marketing one product rather than multiple products at once has proven to be effective. Mwangi recommends that customers sell one product in different ways or colors to avoid spreading marketing dollars and gain fast momentum.
Mwangi also used the founder of The Lip Bar, Melissa Butler, as an example of this approach. Butler first sold lipstick in different shades, then expanded her product line to lip liners, foundations, tinted moisturizers, eyeshadows, and more.
Another Black-owned business that used this approach is mesh body exfoliator product, Luv Scrub, founded by entrepreneur Caroline Owusu-Ansah. Owusu-Ansah sells cloths in a variety of colors.
"This marketing strategy is also an offering strategy or a product strategy," Mwangi said. "You don't have to give people all of these choices when you say that you can fix a problem. You can have one great product that fixes the problem and when you have that, what that means is now your marketing is super concentrated on that product."
11. Maintain engagement with your community.
An essential factor for staying in business is maintaining customers and keeping them coming back for your product or service. One way to keep people buzzing about a company's brand is by promoting various offers such as giveaways, contests, hosting Q&As, and doing customer features. Business owners can conduct these offers via social media and newsletters or their website to garner participation.
"Not only are you getting people engaged, but you're also getting ideas on how to refine [your product or service]," Mwangi said. "They're literally telling you what they want, how to refine your current products, and what they want out of the next product from you. If you look at it, the people will tell you what they want. You don't have to make stabs in the dark."
"Interacting with your customers is good because it's showing people that you care," she added. "It also helps you to get information on what your customer is thinking. Now you know even more about what they talk like, what they sound like, and you can make your website talk directly to them because you've been talking to them all this time. And listening and asking them questions."
Overall, when it comes down to marketing, customer service is also needed to cater to customers fully.
Mwangi notes that customer relationship management software helps with this effort.
"Marketing is how you deliver that story, and customer relationship management software helps you back up who you say you are with excellent customer service," she said.
The above marketing advice, branding, and customer service helps business owners develop successful business strategies and keep up with the demands of the business to attract customers.