On TikTok, anyone can go viral. But due to its quirky nature, it's often the most creative or silly videos that skyrocket.
Of course, it also helps that TikTok has a massive audience who are super engaged. To increase your chances of being seen, there are a few tips and tricks we recommend you try.
From leveraging trending audio to green screen effects, read on to discover the 10 best TikTok tricks.
1. Stitch top-performing or relevant videos.
Stitch is a tool that enables you to combine another video on TikTok with one you're creating. It's yet another way to collaborate with other TikTokers, leverage user-generated content, and expand your reach.
Start by looking for top-performing videos in your niche. You can do this by using the search bar and typing keywords relating to your brand. Or, check if any videos directly mention your brand.
Once you find a video to stitch, tap the Share icon on the right-hand side.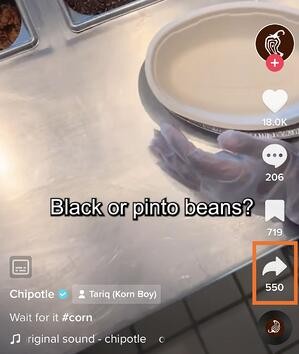 Then, tap Stitch. This will open an editing tool where you can select five seconds of the video to use in yours.
Let's look at stitching in action with an example from Puma.
Example: Puma
In case you're out of the loop, latte art is a huge deal on TikTok — amassing over 2.4 billion views. When one user put the Puma logo on top of a steaming cup of coffee, the brand decided to join the action by "stitching" the original video and attempting to recreate it.
This is a great example of a brand collaborating with its audience and leveraging user-generated content.
2. Use the green screen effect.
TikTok has many filters and effects, but one stands out from the crowd: the green screen effect.
Like a traditional green screen, this effect lets you stay on-screen while different images appear in the background. It adds a whole new level of storytelling by incorporating visual aids.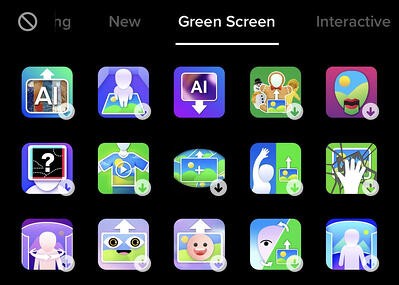 This filter is ideal for explaining topics, providing recommendations, or whenever visuals could complement your story.
For instance, suppose you're a fitness influencer. You could explain the proper form of an exercise by referencing photos in the background. In this case, the background visuals enhance your commentary rather than distract from it.
Using the green screen effect, Levi's recommends different jeans using product photos in the background. Viewers can easily follow along, and seeing pictures of the jeans may pique their interest.
3. Leverage trending audio.
88% of TikTok users say sound is essential to the TikTok experience. It grabs people's attention and adds flavor to your content. And for many users, it's the starting point for creating a great video.
Not sure what sounds are trending right now? TikTok's Creative Center ranks the most popular music and audio clips each day. You can even filter the results by region, which is helpful if your audience is in a different location from yours.
Duolingo is a fan favorite on the platform, especially for its funny, trendy, and sometimes chaotic videos featuring its mascot, Duo the Owl. Duo can be seen dancing to popular songs and acting in skits that incorporate popular audio clips, like in the example below.
4. Try vlog-style videos.
Vlog-style videos feel more personal and intimate — which might explain why they're so popular on TikTok.
These videos typically include multiple clips tied together with a voiceover describing the series of events. It's highly engaging and lets viewers feel like they're living in your shoes.
This example shows Netflix using the vlog style to take its audience on a journey. While most of us won't walk a red carpet in our lifetime, we can still get a peak of what the experience entails — and how our favorite actors behave off-screen. It's also a great way to showcase "behind the scenes" content.
5. Incorporate both niche and trending hashtags.
Making a TikTok is half the battle — you also need to ensure it lands in front of your audience. Hashtags are one way to get there.
Adding hashtags in your description gives your videos a better chance of being seen, allowing you to drive discoverability, build brand awareness, and extend your reach. But how can you do it?
This may sound counterintuitive, but only targeting popular hashtags is ineffective. While they command a larger audience, they're also highly competitive. On the other hand, niche hashtags have fewer people searching for them, but those who do are highly engaged and interested.
For example, #workout is a popular hashtag with over 95 billion views, but #coreworkout is more niche with a fraction of the audience.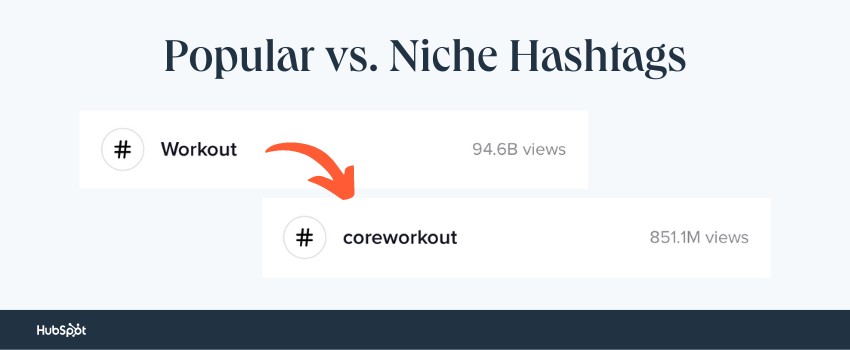 A well-rounded hashtag strategy should include both niche and popular hashtags. Take a look at the example below.
Fall is just around the corner, and Dunkin' is getting everyone hyped for its seasonal menu. To get the word out, the brand incorporates a variety of hashtags to reach more people.
For instance, the video below uses #fall, a trending hashtag (15+ billion views), and #pumpkinszn, a more niche hashtag with fewer views (40+ million). By including #pumpkinszn, Dunkin' can tap into a smaller, more engaged audience.
6. Reply to comments with video.
On TikTok, almost every brand has the same goal: to connect with its audience. So often, that connection forms in the comment section. It's where viewers go to ask questions and share opinions.
Before, creators were stuck replying to comments with text, but now they can reply with video. This feature allows you to dive deeper into topics, answer questions, and keep your audience coming back for more.
When a TikTok user asked Glossier how to use one of its products, the brand didn't miss the opportunity to reply with a video explaining all the ways to use it. In doing so, the brand adds value while highlighting the product's versatility.
7. Add value with "How To" TikToks.
"How To" videos and tutorials are an easy way to provide value to TikTok viewers without sounding overly promotional. Plus, positing yourself as an expert or authority in your niche keeps your brand, products, and/or services top-of-mind for viewers.
For instance, if you're a travel brand, you could film videos of must-see attractions, restaurant recommendations, and travel tips — like the example below.
Travel + Leisure provides all the content you need to "kick your wanderlust into high gear." From hotel recommendations to photography tips, the brand has you covered, positioning itself as a gold mine of advice for the travel obsessed.
8. Leave a CTA in your description and/or comments.
Need more engagement? Sometimes, it's as simple as asking for it.
The ultimate goal of a CTA is to persuade users to do something — follow your TikTok page, visit your website, leave a comment, and so on. So ask yourself, what do I want my viewers to do? Whatever you choose, it should help you move closer to your primary goal (i.e., drive website traffic, increase brand awareness, etc.).
Your description and comment section are prime real estate f9=or CTAs. Use this area to ask questions, encourage users to follow you, or drive traffic to your website, blog, or other social channels (ex., "More tips on my blog, link in bio!").
On top of that, if you're running ads, we recommend using a marketing integration tool, such as LeadsBridge, to sync all your lead data to your CRM.
In this TikTok, Fenty Beauty shows different ways to use one of its products. Then, to encourage engagement, they add a relevant question in the description that also incorporates a brand-specific hashtag ("Which #POUTSICLE look was ya fave?").
9. Add subtitles to your videos.
In 2021, TikTok became more accessible with the introduction of auto captions. Although you can manually add captions — which allows for greater flexibility to play around with text color and font — you can also use the Captions tool. With just a click, you can generate subtitles for your videos, allowing others to read or listen to your content.
Image Source
By adding subtitles, you make your videos fully accessible, which means you can reach an even wider audience. Plus, it also helps viewers who want to browse TikTok but can't turn the sound on.
If you're into car racing, there's a good chance Formula 1's TikTok is on your radar.
But have you ever noticed how often they add subtitles to their videos?
Take the example below, which uses colorful captions and emojis to add an extra layer of interest to the video. And if you mute your phone, you can still follow along without skipping a beat.
10. Explore top-performing videos in your niche for inspiration.
The most successful videos on TikTok are creative, out-of-the-box, and often quirky by nature. That's a tall order — which is why every brand should explore the top-performing videos in its niche for inspiration.
Start by typing keywords relating to your brand in the search bar. Then, click the filter icon and select "Most liked." This will populate TikTok videos that have gone viral using that specific keyword.
Once you've identified some top-performing videos, brainstorm ways to recreate them while adding your own spin.
Back to You
TikTok is a quirky platform, and brands willing to get creative see the most success. If you're new to TikTok, start with the tips in this article — and give yourself room to experiment with different videos, filters, and concepts.