As algorithms and trends evolve, managing social platforms effectively has become one of the biggest challenges for marketers.
Fortunately, social media AI tools have emerged as powerful solutions that can streamline the process and enhance overall performance.
In this blog post, we'll introduce you to 10 cutting-edge social media AI tools that can help you optimize your social media strategy, boost productivity, and drive positive ROI.
From social listening and analysis tools to AI-powered content creation platforms, these tools can help you gain deeper insights into your audience.
So, let's dive in and discover how these innovative AI tools can transform your social media strategy.
3 Ways to Implement AI in Your Social Media Strategy
The 10 Best Social Media AI Tools
3 Ways to Implement AI in Your Social Media Strategy
As a social media marketer, you wear many hats. You're a content creator, analytics expert, and advertiser. Luckily, AI can help with each of these roles. Below we'll explore how AI can augment your work and free up your time.
1. Use AI software to create basic post content.
Are you stuck writing filler posts instead of filming viral videos and creating detailed Instagram stories? Creating the right captions and tweets uses brainpower that can be better spent elsewhere.
Many marketers are using generative AI like ChatGPT to write full blog posts. However, there are specialized AI tools that can help social media marketers create the content they share online.
So how can AI craft and suggest a tweet for you? One subset of AI is called natural language generation (NLG). It can be trained to create written narratives out of data, like simple reports or fact sheets.
So let's say your department produced a huge, data-driven report, and you want to create a few high-impact social shares from it. You can put your copy into AI platforms, like Copy.ai, and make sort posts with your critical data.
2. Monitor and analyze your social media channels with AI.
Writing content and responses is only half the battle of social media management. A huge portion of social media marketing is managing and monitoring social channels.
Luckily, AI can shoulder data-heavy tasks and help you make better marketing decisions. That's because AI tools can collect information from millions of posts at scale and use that data to make predictions.
"Managing" a channel is a loaded term. A few of those tasks, like discovering high-impact influencers, can be handled by tools like Emplifi.
3. Create, optimize, and manage paid social media advertising.
As mentioned above, AI is capable of developing social media posts. The same can be said for ad copy that resonates with different audiences. AI can help you write ads optimized for clicks and conversions using predictive technology.
The 10 Best Social Media AI Tools
1. Lately
Lately makes generating posts easy. This tool can recognize context from a larger piece of content and create social media posts for promotion.
Within the Lately dashboard, you can use a simple form to generate a number of tweets at once related to a URL, document, or information posted in a text box.
You can also include campaign information and hashtags that you'd like to work into your social posts.
When you click "Generate Content," the tool will create tweets related to it. Once your content is created, you can schedule your work and manage your projects.
Lately also analyzes the historical metrics of your pages to recommend the best posting times for maximum impact.
Best for: Creating post content.
What we like: Lately offers a standout AI feature that lets you quickly and easily generate social media by repurposing any long-form content.
Pricing: Lately offers three different plans. The Startly plan costs $29 per month. The Litely plan costs $49 per month, and you can opt for the Professional plan for $129 per month, which includes additional features.
Case Study
Erica Mitchell, the Director of Marketing at Supporting Strategies, has successfully used Lately's dashboard to enhance the company's online presence.
Initially, she faced the challenge of managing over 179 social media channels for her company, which provides outsourced bookkeeping services with over 90 locations in the United States.
To simplify her workflow while ensuring compliant messaging at scale, Erica implemented Lately.
By using 35 Lately dashboards linked to all 179 social media channels, Erica was able to amplify Supporting Strategies' organic social content.
This effort yielded impressive results, with the company experiencing a remarkable 2x increase in web traffic within just one year.
2. Sprout Social
Image Source
If you use your social platforms for community management, Sprout Social's automated technology can help you reply to fans, customers, or followers.
You can see and respond to posts directed at your company all through the Sprout Social dashboard. Sprout admins also have the power to manage direct messages through the platform.
In both the dashboard and direct message view, Sprout can analyze the wording and sentiment of a message and suggest an auto-response that you can use or tweak.
Although AI is not having a full conversation with all of your followers, automation makes the process faster.
Best for: Managing messages from customers.
What we like: Sprout Social's Social Listening solution is a great feature that leverages the power of global conversations using AI-driven technology.
You can extract valuable insights from thousands of unfiltered thoughts, opinions, and feedback to enhance your strategy.
Pricing: Sprout Social's Standard plan starts at $249 per month. The Professional plan is priced at $399 per month, and the Advanced plan is priced at $499 per month.
Case Study
Goally, a company that offers a skill-building app and electronic devices for kids, has experienced success with Sprout Social's Smart Inbox.
By leveraging the personalized customer care and engagement features of Smart Inbox, Goally has been able to maintain a 100% action rate on TikTok content, ensuring a high level of responsiveness and satisfaction among their target audience.
3. HubSpot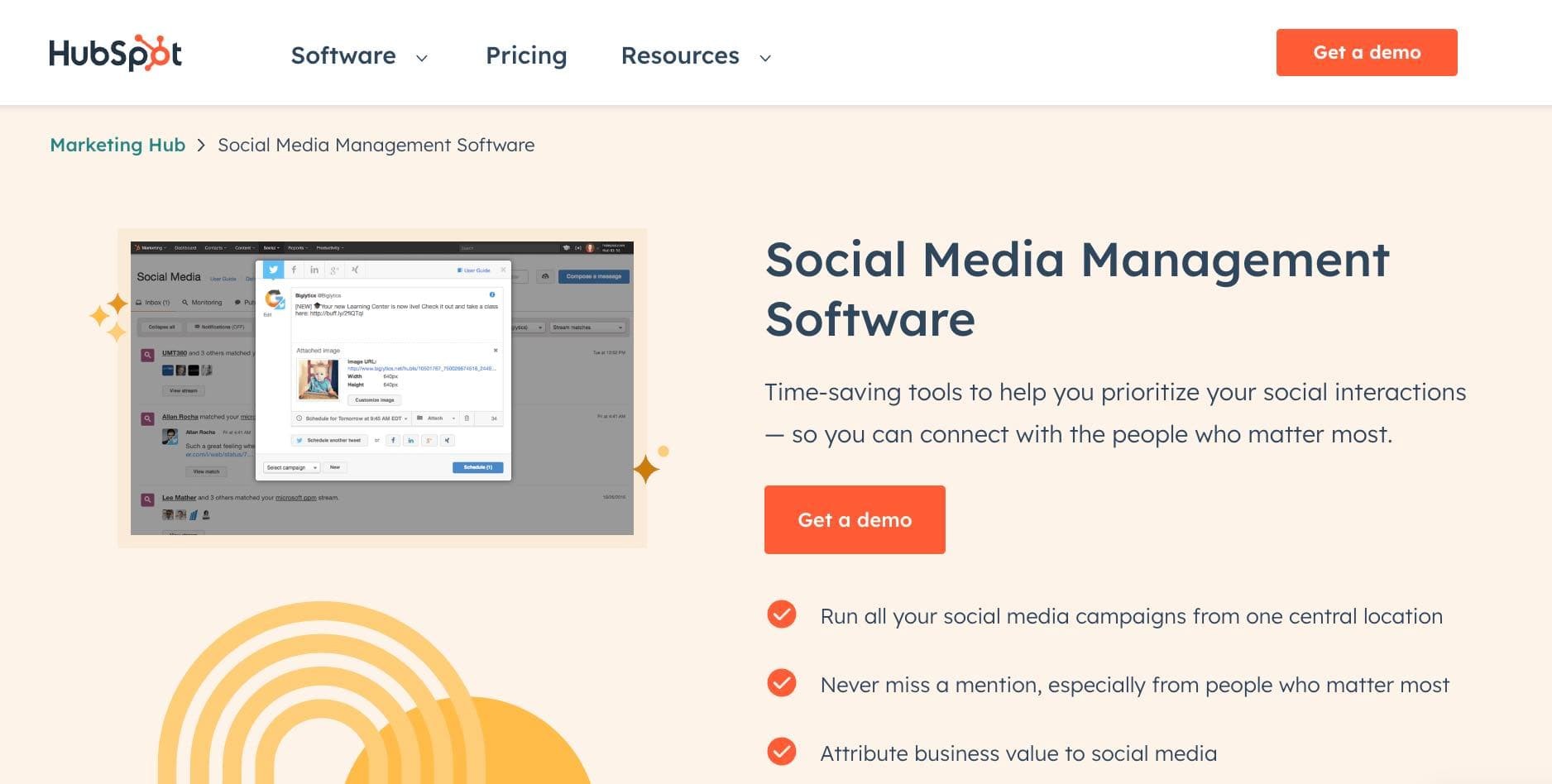 Image Source
We can't ignore HubSpot, either: HubSpot's social media software is designed to simplify your social media content creation and posting process with the help of AI.
The software automatically creates engaging social media posts by analyzing the provided link's metadata.
Anyone subscribed to HubSpot's Marketing Hub or higher can use the tool, which can be found in the platform's Social section.
Click "Create Post" and choose a social channel. Once the text box opens, attach a URL from your own site or another location.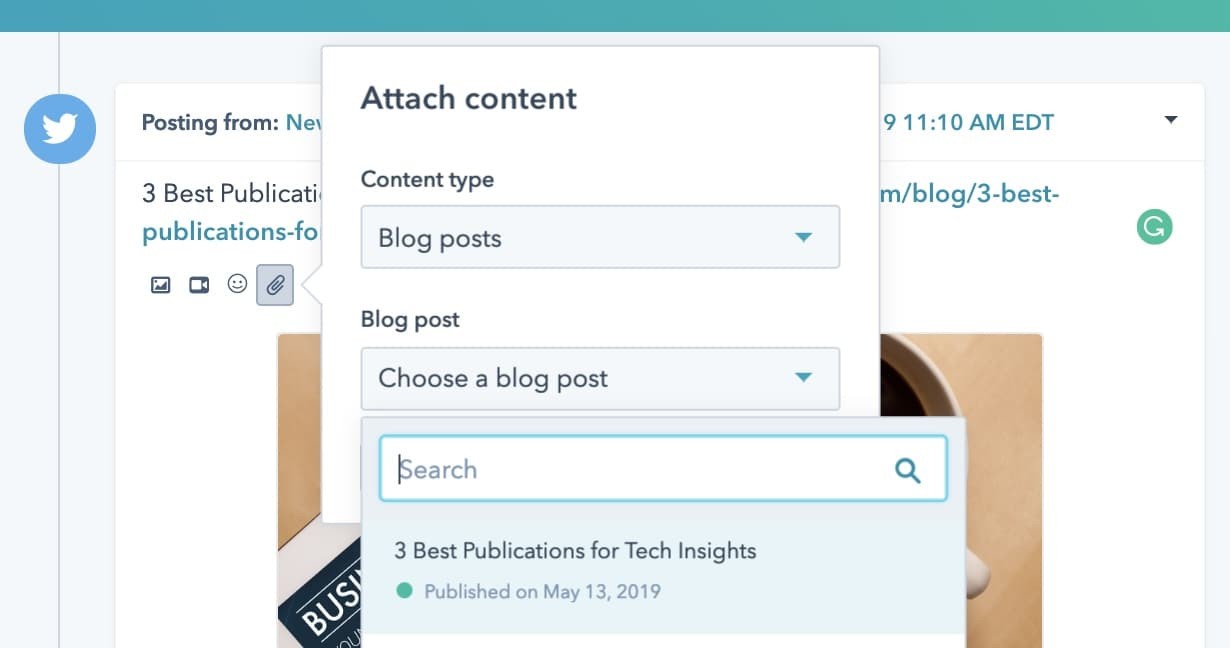 Once you insert post attachments, like the URL, you'll either see a short headline or a meta description of the page along with its link and a photo.
After the post copy is pulled and generated into the text box, you can tweak the copy to fit your social voice or add more depth or comprehensiveness to the overall post.
Best for: Creating post content.
What we like: HubSpot's social media management tool facilitates seamless content publishing across LinkedIn, Facebook, Instagram, and Twitter.
Moreover, the software enables you to connect your social media accounts to your blog, automatically sharing content as it's published.
Pricing: HubSpot's pricing varies depending on how many users you have and whether you want to purchase just the Marketing or other Hubs.
However, HubSpot's Starter pack begins at $50 per month and includes Marketing Hub functions plus the free features of HubSpot's CRM.
Case Study
Aermec North America is a leading brand that offers innovative HVAC solutions in the North American market. However, despite their high-quality products, they struggled with low social media engagement and few followers.
The company's marketing team leveraged HubSpot Marketing to enhance its social efforts to address this issue.
Over one year, the company saw a remarkable 44% increase in its collective followers across all social media and a significant 60% surge in social media shares.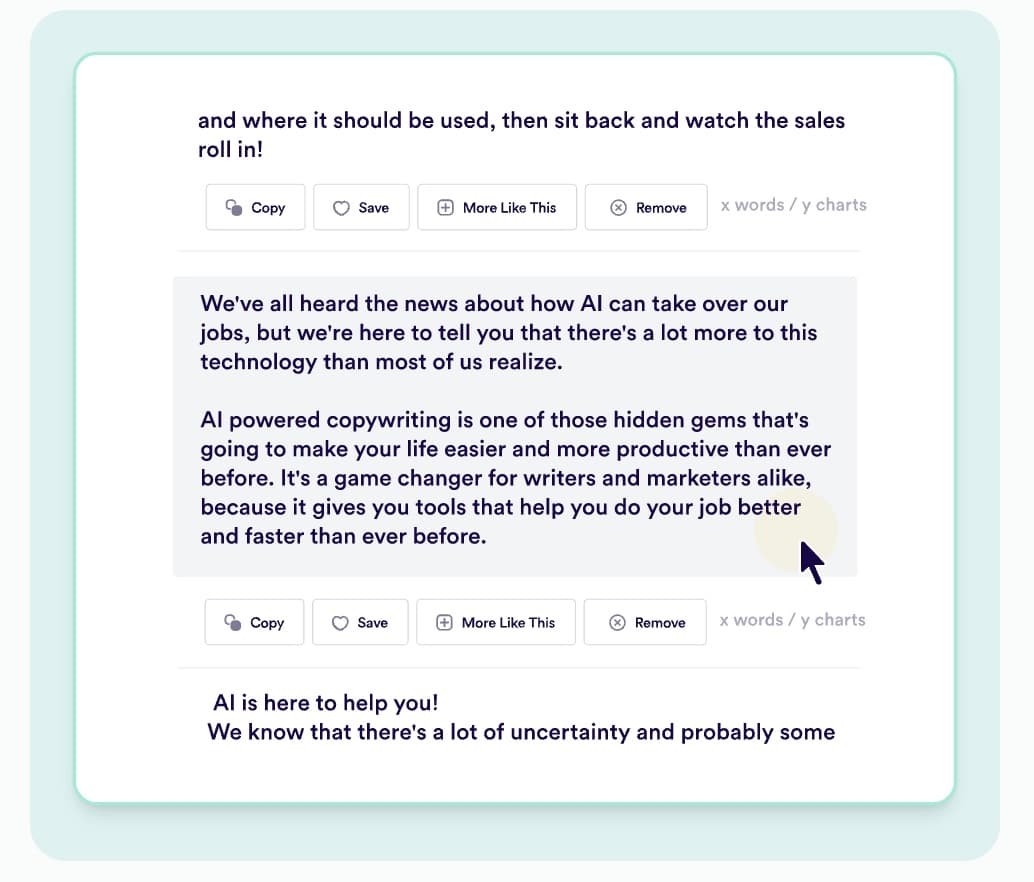 Image Source
Writing the perfect copy, with the right word count for each platform, can take hours of your day. Copy.ai helps automate the process. All you need to do is follow these three steps.
Specify what platform the copy will be for, including Twitter, LinkedIn, and Facebook.
Give the AI context for your post. That could be a command related to the topic of your post or a larger portion of text, like a section of a blog post.
Choose from multiple options and make the tweaks you see fit.
Best for: Creating post content.
What we like: If you need to write multiple posts for the same campaign, Copy.ai gives you multiple options that you can choose from — or you can schedule them all.
Pricing: Pro plans start at $36 per month.
Case Study
Copy.ai can help you feature keywords that generate traffic and help your users find your posts.
Lucy Werner, PR and branding expert at The Wern Agency, is a frequent user of Copy.ai. She uses the rewrite with keyword function to help optimize her content for search.
"It will pop them in for you with a rejig at the click of a button," she writes.
5. Emplifi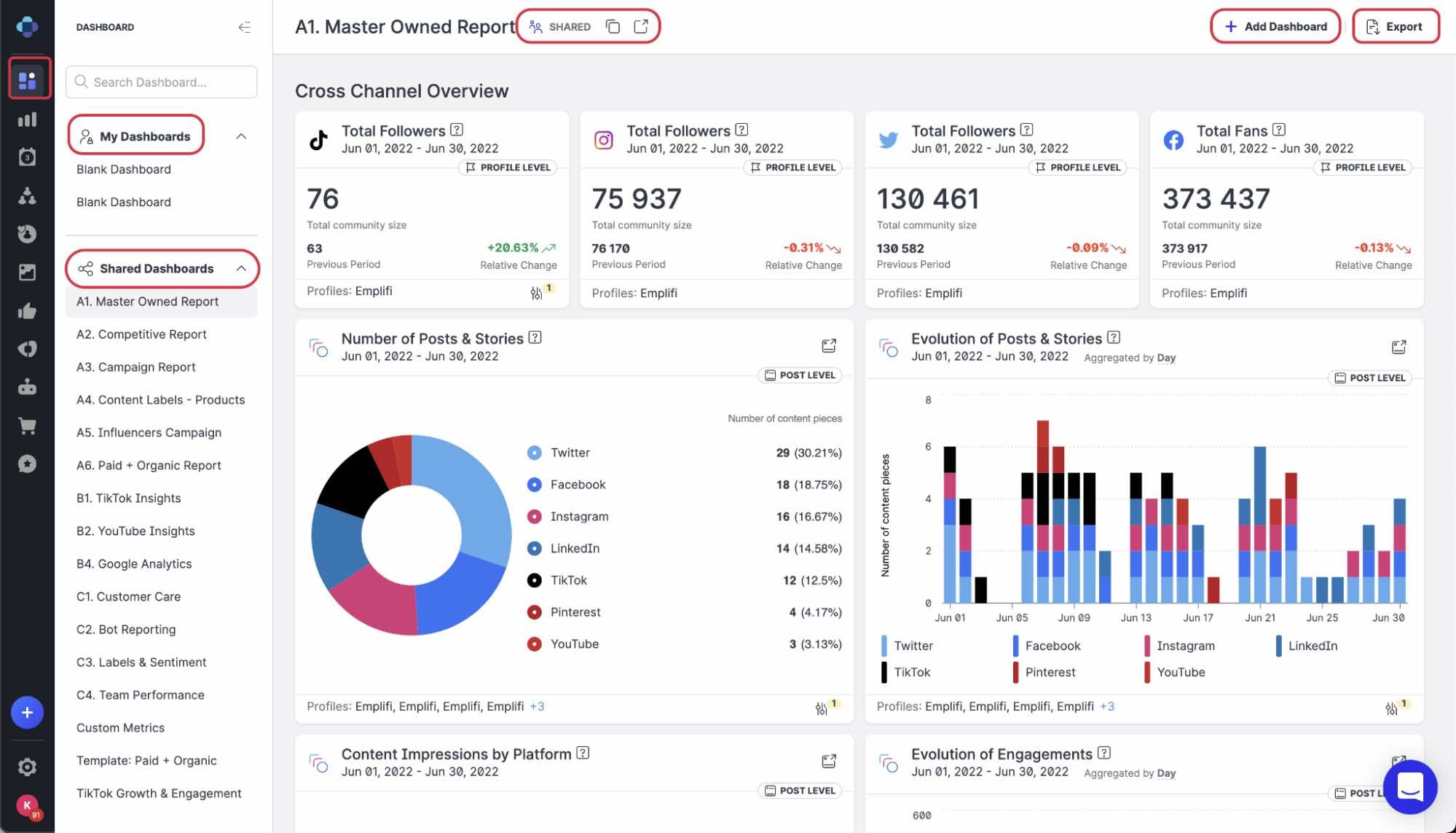 Image Source
Emplifi, previously known as Socialbakers, is an AI-driven social media management platform that provides advanced audience insights.
The platform includes a unified content feed, an analytics dashboard, and smart scheduling tools.
If you've found that it takes too much time and resources to find, vet, track, and keep up relationships with influencers, Emplifis' AI-driven influencer dashboard will streamline the processes.
Image Source
When you click into the influencer dashboard, you can toggle between different social media platforms and categories, like "Food" or "Health."
You can then see influencers that match the most with your audience, which Emplifi continuously analyzes.
Best for: Finding influencers to work with.
What we like: Emplifi Social Marketing Cloud offers top-of-the-line analytics and insights capabilities. The software allows you to generate custom reports to uncover actionable insights that drive real business results.
Pricing: Emplifi Social Marketing Cloud costs $200 per month, billed annually with a 10-profile limit. If you'd like to run 20 platforms, you can subscribe to Essential's second tier for $400 per month, billed annually.
The Complete Social Marketing Cloud plan, which offers influencer tools, is available upon request.
Case Study
Organix, the UK's premier baby and toddler finger food brand, collaborated with influencers for their WonderDen campaign. The goal was to establish authentic and trustworthy connections between the brand and its community.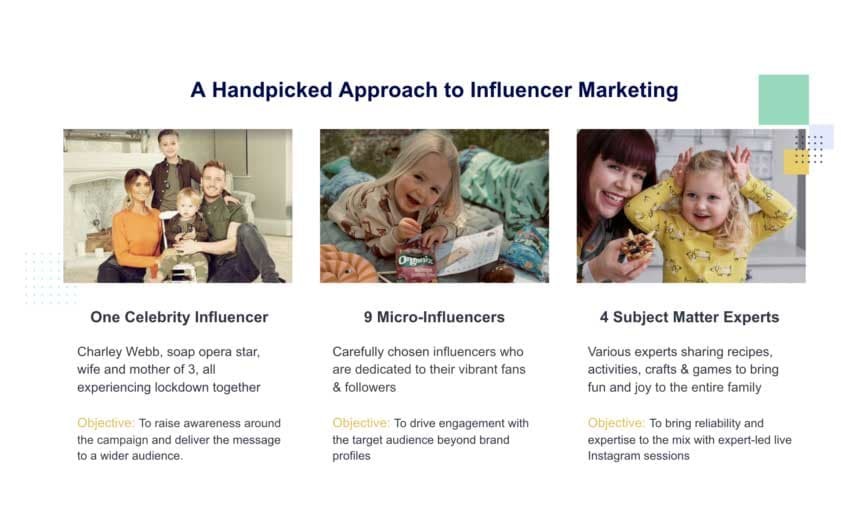 Image Source
To manage the campaign, Organix leveraged the powerful Emplifi Social Marketing Cloud.
The software allowed the brand to track content performance across all social media touchpoints, including both influencer and brand-generated content.
As a result, Organix achieved a remarkable 34x engagement efficiency.
6. Cortex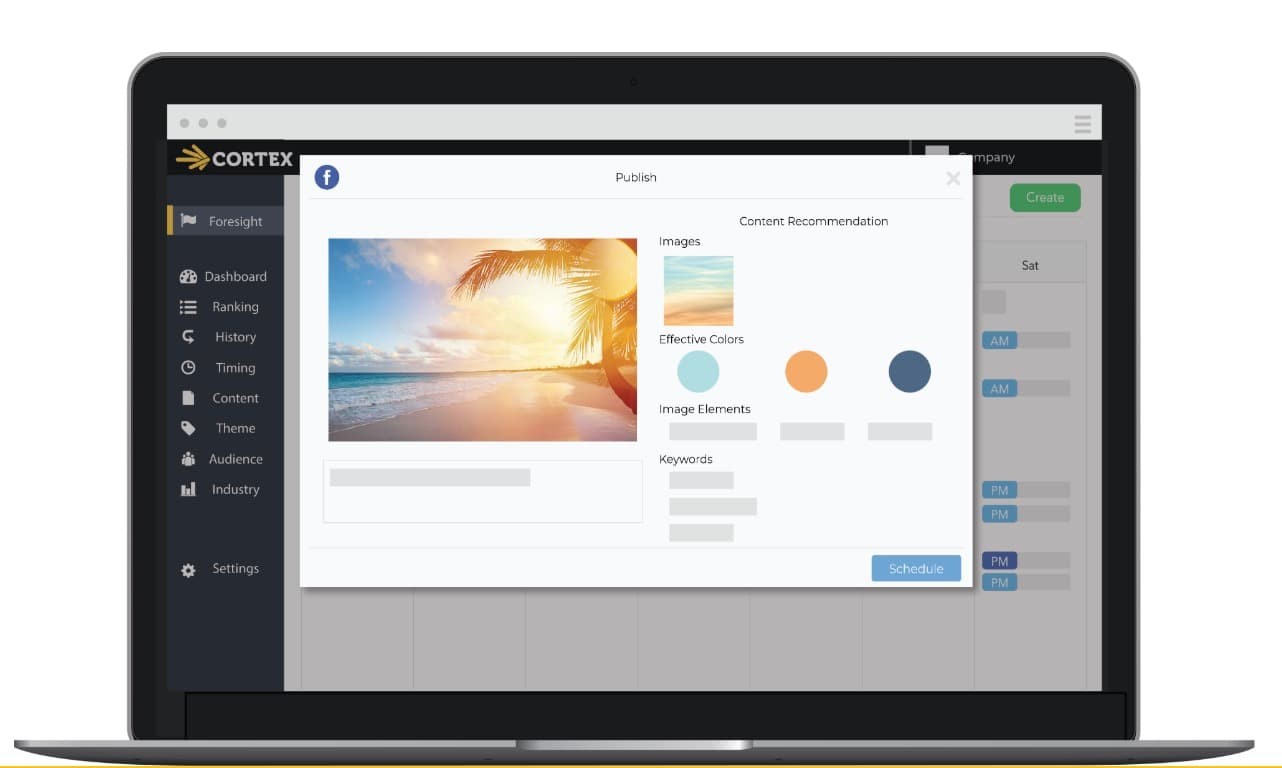 When it comes to sharing content, you can use Cortex to receive recommendations on when and how often to post based on historical metrics. Cortex can also generate detailed analyses of your competitors.
Cortex has a dashboard that shows off your posts and your social schedule. When you create a post, Cortext uses data to suggest posting times.
If you upload one or more photos, the software will also note colors that are most engaging for your audience to help you pick the best image for the post.
Best for: Analyzing your social media performance.
What we like: Cortex's ability to monitor content trends and identify emerging keywords and layouts can help you stay ahead of the curve.
Additionally, you can leverage their advanced analytics and insights to better understand your audience.
Pricing: Prices are available upon request.
Case Study
St. Regis, a luxury hospitality brand with a strong visual focus, recognized the need to improve their images to better connect with both existing and potential future guests.
By leveraging the advanced insights provided by Cortex, St. Regis saw an astounding 72x increase in engagement on Facebook. Their Instagram page also saw a significant 61% increase in followers on Instagram.
7. Linkfluence Radarly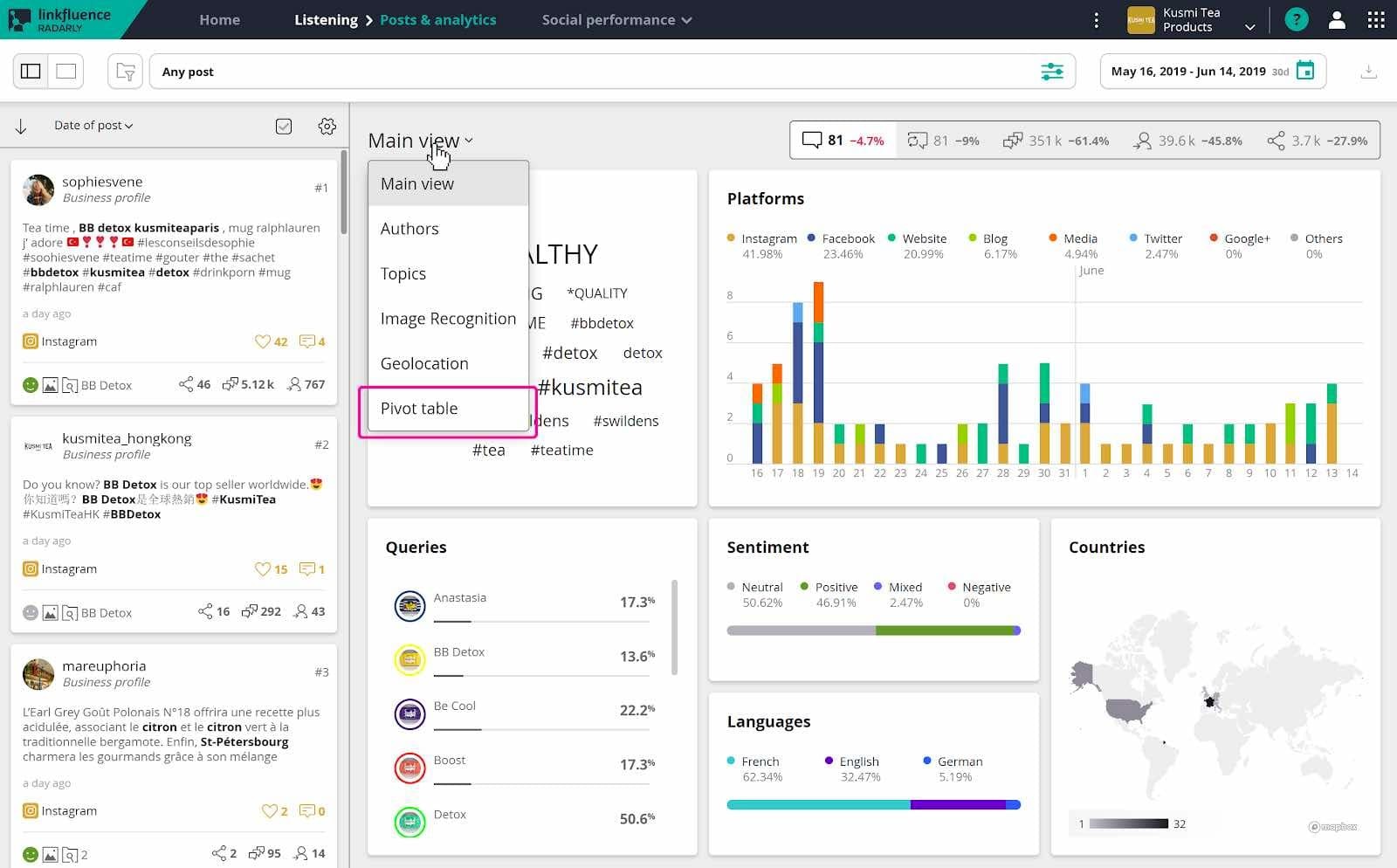 Image Source
You can also use something like Linkfluence's Radarly software to assess the mountains of data social media audiences produce daily.
That means measuring your brand impact, detecting trends, and pulling specific insights on your most important target audience.
With Radarly, you're able to log on and see a dashboard that connects data from all of your accounts. In the first column, you can see a live feed of posts and tweets that acknowledge your brand name or handle in some way.
Then in the next columns, you can see scoring that explains how negatively or positively people are talking about you on social.
You'll also view which platforms people are discussing you most on and data about your audiences, such as interests, languages, or hashtags they're using.
Best for: Analyzing your social media performance.
What we like: The social listening platform analyzes live streams of social data to give you a better understanding of your customers, including their behavior and sentiment.
Pricing: Prices are available upon request.
Case Study
Pernod Ricard, one of the world's largest spirits brands, wanted to leverage social data and consumer insights to drive business decisions.
With the help of Linkfluence's advanced social listening and contextual analysis platform, Pernod Ricard gained a comprehensive understanding of its target audience.
This enabled the company to tailor its products and marketing efforts accordingly. This customer-centric approach drove Pernod Ricard's annual sales to a staggering €8,987 Million in 2018.
8. Phrasee
Phrasee pulls data from past marketing assets, including emails, social media copy, and other online posts, to determine the most and least effective.
From there, Phrasee can show you the weak or strong copy-related aspects of past ads. You can then draft prospective copy and test its effectiveness within the software. You can also use ad copy that the software suggests for you.
Best for: Optimizing social media advertising.
What we like: Phrasee's AI-powered technology allows you to generate, optimize, automate, and analyze marketing messages in real time.
Pricing: Prices are available upon request.
Case Study
Wowcher, a prominent ecommerce brand in the UK, partnered with Phrasee to enhance its social media marketing.
Wowcher used Phrasee's AI-driven content creation software to optimize its Facebook and Instagram ad campaigns. Within a few campaigns, the company achieved a remarkable 31.2% decrease in cost per lead (CPL).
9. Pattern89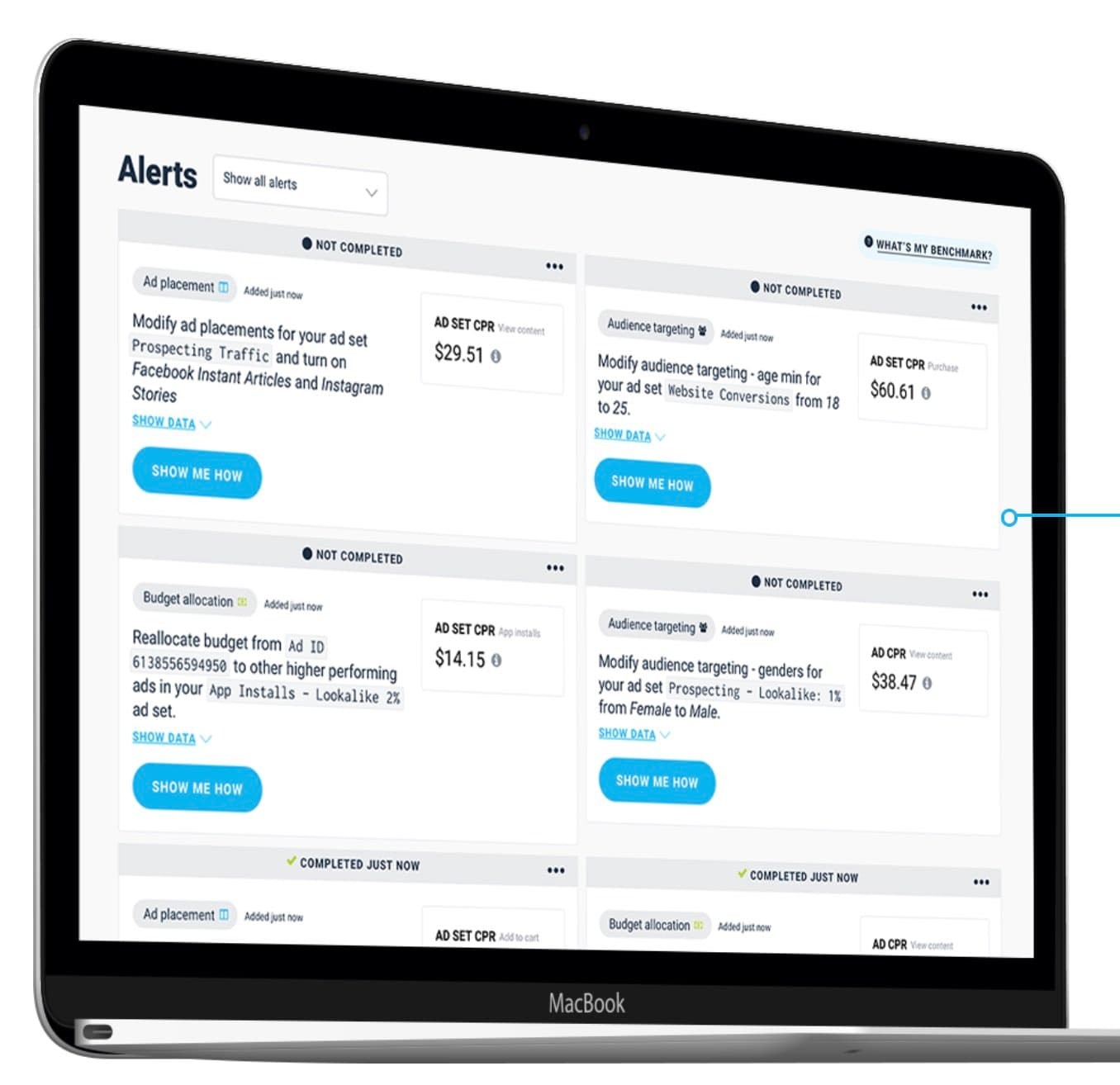 Image Source
AI can tackle some of the nitty-gritty ad management tasks, like optimizing bids, divvying up a budget, and recommending channels to help your ad perform.
Pattern89 is an AI marketing tool that provides recommendations on almost every aspect of your ads, including recommendations for adjusting your spend and audience targeting to massively increase performance.
When you log into the tool, you'll see a screen filled with alerts and suggestions related to improving your ad's effectiveness. If you'd like to follow the platform's suggestions, you can click "Show me how" to learn how to make ad adjustments.
If the platform shows you a "Do this automatically" button next to a suggestion, you can click that to have the platform make the adjustment.
Aside from allowing you to monitor live and completed ads, the tool also offers a Creative Ads Manager. This allows you to search and analyze past ads with filters including ad set, campaign objective, audience, and other ad targets.
Best for: Optimizing social media advertising.
What we like: Pattern89 is a top pick if you want to conduct in-depth analyses of customer behaviors on social media, particularly on platforms like Facebook and Instagram.
Pricing: Prices are available upon request.
Case Study
SnapShyft is a marketplace that offers flexible staffing solutions for the food service and hospitality industries. The company partnered with Pattern89 to enhance its marketing efforts and increase conversions.
Using Pattern89's marketing AI, SnapShyft was able to analyze ad creative and audience engagement in real time, optimizing its in-flight campaigns for maximum impact.
In just four months, Pattern89 drove 75% of new add-to-carts and 96% of new checkout for SnapShyft.
10. LocaliQ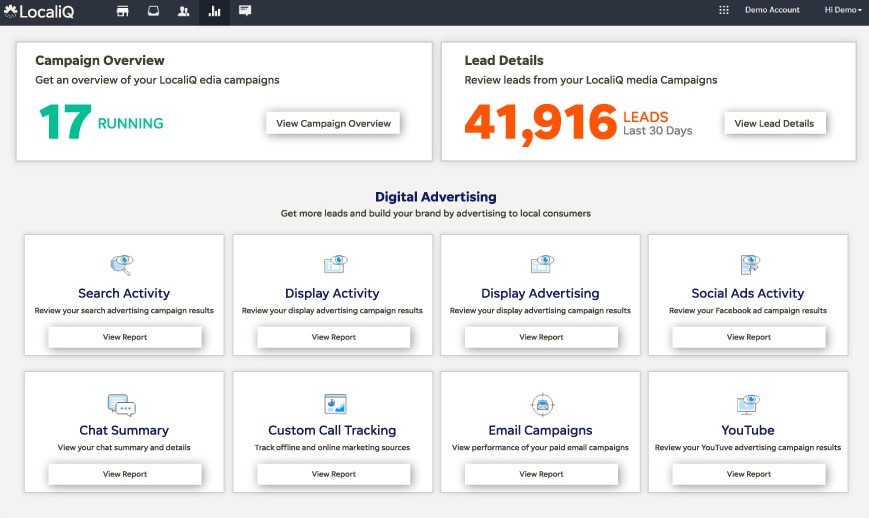 Image Source
LocaliQ, previously known as Wordstream, is an innovative social media marketing tool designed to help you reach potential customers through social ads.
With LocaliQ, you can collaborate with their team to create a tailored social ad strategy that aligns with your unique objectives.
The LocaliQ platform provides a unified lead dashboard, allowing you to monitor and analyze your campaign's performance.
Additionally, you can use the platform to generate leads, connect with prospects, access reports, and automate your marketing initiatives with ease.
Best for: Optimizing social media advertising.
What we like: Using LocaliQ's XMO technology, you can allocate one budget for your business objectives and automatically adjust spending across multiple channels based on real-time performance data.
Pricing: Pricing is available upon request.
Case Study
Aubuchon Homes is a leading luxury home design company based in Southwest Florida. Despite its reputation for exceptional design, the company faced challenges in generating new leads.
To address this issue, Aubuchon Homes sought the expertise of LocaliQ.
Leveraging LocaliQ's Smart Social ads tools, Aubuchon Homes drove remarkable results quickly. The targeted advertising campaigns drove a 300% increase in leads, with the new leads being of higher quality.
As a result, the company saw a 42% increase in the average home sale price, leading to greater revenue and profitability.
AI for Every Social Media Marketer
If artificial intelligence still seems like an overwhelming topic, you're not the only one who might be intimidated by it. After all, we're marketers, not data scientists.
Good news: You don't need to be a data scientist to understand, start using, and make a massive impact with the help of various AI. You just need to start using AI platforms for social media. Get started with these tools today.